Points leader Gaige Herrera became the first rider in Pro Stock Motorcycle history – and the first NHRA competitor since 2009 – to sweep the three-race NHRA Western Swing, racing to the victory on Sunday at Sonoma Raceway at the 35th annual Denso NHRA Sonoma Nationals.
Justin Ashley (Top Fuel) and J.R. Todd (Funny Car) also won the 12th of 21 races during the 2023 NHRA Camping World Drag Racing Series season.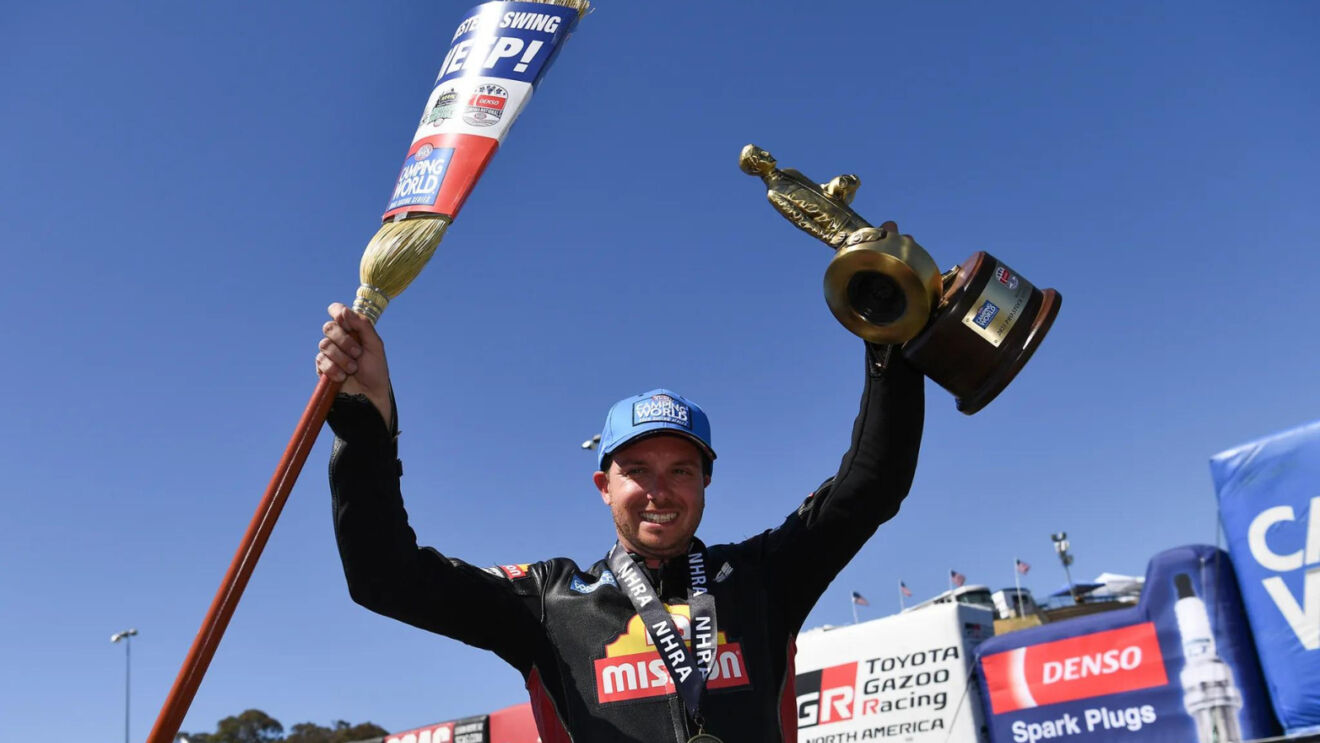 In the final round, Herrera put together a run of 6.775-seconds at 198.12 mph on his Vance & Hines/Mission Foods Suzuki to defeat defending world champion Matt Smith, who broke on the starting line. Herrera, who was also the No. 1 qualifier, collected his sixth win in what has been a dominant 2023 campaign, rolling to consecutive wins in Denver, Seattle and then Sonoma on Sunday.
He reached the finals with wins against Ryan Oehler, Marc Ingwersen and Karen Stoffer, putting together an incredible three-race stretch in the first season Pro Stock Motorcycle ran the full Western Swing. Herrera also notched a Mission #2Fast2Tasty NHRA Challenge win and a victory in the Pro Stock Motorcycle All-Star Callout over the past three weeks, becoming just the eighth different competitor in NHRA Camping World Drag Racing Series history to sweep the Western Swing.
"I can't even put this into words," Herrera said. "To be able to do this and accomplish what we have over the past three weeks, it's incredible. The Denver win got us the momentum and the drive to keep pushing forward to get the sweep, and to do it, I never thought I would add my name to that part of history.
"I try to focus on the big picture, but as soon as go on the starting line, I'm focused on what I need to do. The class is tough, but I've got one bad machine right now. The team has my back and I was able to do my job today. I'm not a big person to show emotion, but when that win light came on, I was screaming and yelling in my helmet, and all that. To do what all of this, I'm out of words. I don't talk much as it is, but this is just an incredible feeling."
Smith advanced to the finals for the second time this season and 73rd time in his career with victories against Lance Bonham, Steve Johnson and Eddie Krawiec.
In Top Fuel, Justin Ashley moved back into the points lead with his fifth victory of the season, slipping past Antron Brown in the finals with a run of 3.778 at 328.78 in his 11,000-horsepower Phillips Connect/Toyota dragster. It gives the young standout his first career victory at Sonoma Raceway and the 10th win in his career, ending the Western Swing on a positive note.
He reached the finals with round wins against Doug Kalitta, No. 1 qualifier Austin Prock and Josh Hart, defeating Brown by just .001 in the championship round in what was a thrilling side-by-side run. The victory gives Ashley a 32-point lead over Steve Torrence heading into the final three races of the regular season.
"It was tough out there," said Ashley, who also earned his 100th career round win in the semifinals. "The competition is so tough right now in Top Fuel and it feels like four final rounds every time you get up there. The margin of error is so small and it takes a real team effort to get a win like this. I was happy to win such a close race against Antron and that's the way to close out a weekend like this at Sonoma Raceway.
"We just had a great car on raceday. This team just doesn't flinch and they've got such a good handle on the car. We're just focused on what we need to do each and every time and that speaks volumes with the culture and leadership we have. We've got a lot of championship-winning people on this team and that makes a big difference."
Brown reached the final round for the third time in 2023 and the 133rd time in his career, getting past Mike Salinas, defending world champ and defending event winner Brittany Force and Torrence.
Todd put together a weekend to remember in Funny Car, making a clean sweep at Sonoma Raceway with his victory over Chad Green in the final round. The former world champion also broke a 52-race winless streak on Sunday, knocking off Green with a run of 3.972 at 322.81 in his 11,000-horsepower DHL Toyota GR Supra. Todd, whose last win before Sunday came at the season-opener in Gainesville in 2021, won the Mission #2Fast2Tasty NHRA Challenge on Saturday and then used that momentum a day later to collect his 20th overall win and his fourth at Sonoma Raceway.
Todd started the day with round wins against Blake Alexander, No. 1 qualifier Bob Tasca III and points leader Matt Hagan, finishing the day with a victory against Green. After coming close to a victory on the Western Swing, including a runner-up last weekend in Seattle, Todd was thrilled to close the deal in Sonoma and get Kalitta Motorsports back on the winning track.
"It's been a long road to get here," Todd said. "We're getting a good handle on it and the consistency is coming around. When you're going down the track like we are, it just gives everyone more confidence. I keep saying Funny Car is the toughest class in the sport and it's definitely not easy. When you go two-plus years without winning, you don't know if it's going to happen again.
"This is my favorite track on the tour. I love coming here and anytime you can win here, it's special. I caught myself going down the track, I don't think I've had the gas pushed down that hard. I was trying to shove it through the floorboard. I was just wanting those win lights to come on and when that win light comes on in the final, it's just instant relief. To come back and win a week after a runner-up (in Seattle), it's just awesome."
Green advanced to his first career final round on Sunday, knocking off Cruz Pedregon, Paul Lee and back-to-back world champ Ron Capps. Hagan leaves the Western Swing with a 19-point lead over Capps.
The NHRA Camping World Drag Racing Series returns to action on Aug. 11-13 with the 34th annual Menards NHRA Nationals presented by PetArmor at Heartland Motorsports Park in Topeka, Kan.