The prestigious North Carolina Drag Racing Hall of Fame recently held a ceremony to honor the achievements of NASCAR team owner Rick Hendrick. Held near the NC Auto Racing Walk of Fame in downtown Mooresville, NC, the ceremony recognized Hendrick's drag racing past and the empire he created in the stock-car world.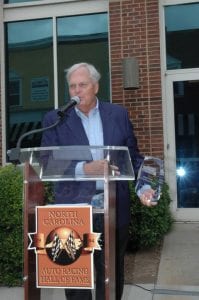 While most fans only know of Hendrick's achievements as a hugely successful NASCAR Sprint Cup team owner, he actually started his motorsports career as a racer on the North Carolina drag boat racing scene. He later moved on to NASCAR competition with driver Geoff Bodine and hall-of-fame drag racer Richard Broome calling the shots. Hendrick made a name for himself in the circle-track world, but his collection of historic drag cars make it clear that he's still a drag racer at heart. His list of restored legendary cars include Lee Shephard's Pro Stocker, the Snake and Mongoose Funny Cars, Darrell and Jerry Gwynn's last Top Fuel dragster and AA/Fuel Altered, and the Sox & Martin '68 'Cuda. The Hendrick collection also includes multiple modern COPO Camaros.
Hendrick graciously and humbly accepted the Jeff Byrd Memorial Lifetime Achievement Award, named after one of the sports marketing directors at R.J. Reynolds who helped bring Winston backing to NASCAR stock car racing and NHRA and IHRA drag racing. Byrd was also instrumental in the evolution of Bristol Motor Speedway and Bristol Dragway. His son, Christian, is the general manager at zMAX Dragway.
Also honored at the ceremony with a spot on the NC Auto Racing Walk of Fame were NASCAR team owner Richard Childress and Don Miller, founder of the NC Auto Racing Hall of Fame.
Under the guidance of executive director Jim Turner, the NC Drag Racing Hall of Fame has grown from a group of five inductees – Don Carlton, Sox & Martin, Alan Starr, and Danny Johnson – to having a permanent position in Don Miller's NC Auto Racing Hall of Fame, also in Mooresville. The group will honor its 11th class in February of 2017 that will include: Terry Adams, Jean Howard, Frank Teague, and the one and only Richard Petty. Also honored will be Thomas Pope with the Lifetime Achievement Award, and David Bishop with the Pioneer Award. For more info about either group, please check out the website: www.ncarhof.com.
Story and photos by Greg Burrow