The fastest name in credit card processing, GETTRX, powered by Global Electronic Technology, Inc., returns to the world's fastest motorsport for the second consecutive season with Pro Stock Motorcycle Champion Hector Arana Jr., and the Arana Racing team.
Over the 2022 two-race partnership, Hector Arana Jr was able to park his GETTRX Buell in the winner's circle during one of them: the NHRA Nevada Nationals, which was one of two consecutive National event wins in the NHRA Countdown to the Championship spoiling other full time rider's hopes of clenching the world title early.
"I am so grateful for Steve, Scott (Bryson) and the entire GETTRX family," Arana said. "They gave us a shot last year to prove what our program can do, and we were able to get them a win! Playing spoiler during the countdown to the championship was awesome! We weren't racing for the title then, but I am optimistic that with this 2023 full-time backing, we will experience greater success as we race for a Pro Stock Motorcycle World Championship this season."
With accomplishments such as winning consecutive 2022 National Event titles, in addition to being the first motorcycle to run 200mph, Mr. 200mph, as they call him, has high expectations.
"With only running a limited race schedule in 2022, due to lack of primary funding, we were able to qualify at every event we attended, and even came out victorious on race day. A partner like GETTRX will help showcase what our Pro Stock Motorcycle program is capable of, as well as bring visibility to both GETTRX and our program," Arana Jr. continues.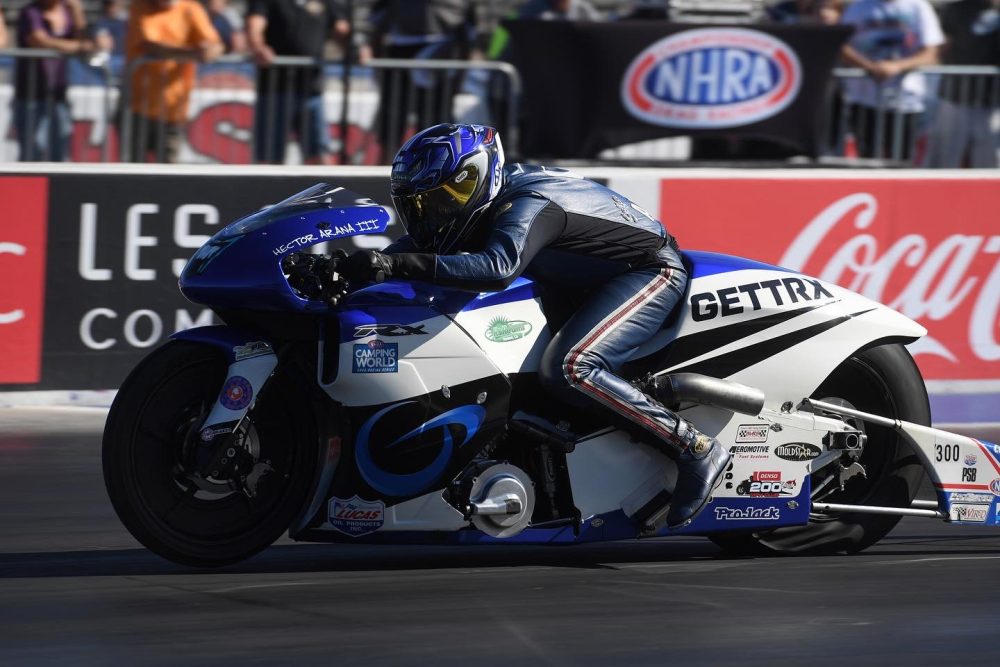 "Hector (Arana, Jr.) is a true champion in every sense of the word," Entrepreneur Steve Bryson, founder and CEO of GETTRX reflects. "With his unwavering passion, sheer dedication, and unparalleled skills, he has made a remarkable impact on the world of motorsports. We're honored to have him as a part of Team GETTRX and we can't wait to see him in action on the track! Our collaboration with Hector is not just about supporting him in his quest for victory; it's about creating a legacy that will be remembered for years to come."
NHRA Pro Stock Motorcycle takes center stage at the NHRA Gatornationals March 10-12 at Gainesville Raceway. For more information regarding tickets visit NHRA.com
For more information regarding Arana Racing, visit Hector Arana Jr.'s social media platforms.
Instagram: HectorJr300
Twitter: HectorJr300
Facebook.com/HectorAranaJr