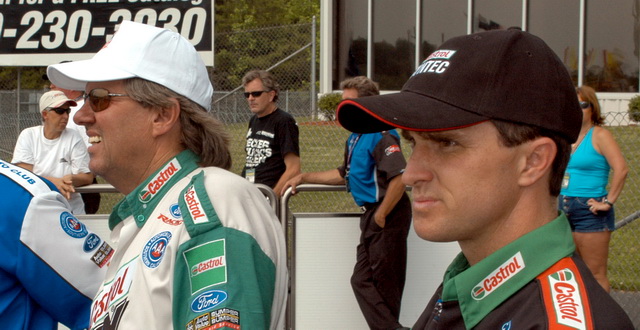 John Force can never forget Eric Medlen (above right), the talented, young Funny Car driver who lost his life in a testing accident more than five years ago.  Still, there are times when the 15-time NHRA champion feels the presence of his former teammate more than others.
This weekend is one of those times – when the NHRA Full Throttle tour returns to Medlen's home track for the 25th running of the NHRA Sonoma Nationals, the lynchpin of the critical Western Swing that concludes next week in Seattle, Washington.
Medlen's death hit Force with all the impact of a Urijah Faber right hand.  In fact, it caused drag racing's biggest winner to rethink everything he believed about the sport he loves.  Ultimately, it compelled him to effect massive changes not only within John Force Racing, Inc., but throughout the sport.
"I used to go with Vince Lombardi," said the driver of the Castrol GTX® HIGH MILEAGE™ Ford Mustang, alluding to the NFL coach from whom he gleaned much of his motivational acumen.  "I used to tell my guys that winning is everything.  That changed when we lost Eric.  I don't think Lombardi ever lost a man on the playing field."
Medlen, who won the Sonoma race in 2006, was more than just a driver.  He and his boss were roommates for awhile in Force's Yorba Linda condo and they regularly discussed their respective dreams.
In fact, it was Medlen who gave a face to Force's Next Generation, an initiative that has developed a slew of standout drivers – from Force's daughters, Ashley, Brittany and Courtney, to Robert Hight and Mike Neff.
Medlen, who grew up in Oakdale where he aspired to a career in rodeo as a protégé of team roping champion Jerold Camarillo, was injured when his car shucked a rear tire on an otherwise unremarkable test run at Gainesville, Fla., in March, 2007.
A harmonic imbalance created when part of the tire remained affixed to the rear wheel caused massive, un-survivable head injuries.  In the aftermath, Force was not willing to accept the premise that it was just a fluke that could never happen again.
"If it happened once, I knew it could happen again," said the recent inductee into the International Motorsports Hall of Fame in Talladega, Ala.  "I wasn't going to let Eric's accident go for nothing."
With the active assistance of Eric's dad, crew chief and master fabricator John Medlen, who continues to play a major role at JFR, Force founded The Eric Medlen Project and embarked on a complete redesign of the Funny Car, something that had not occurred in 25 years.
The results are reflected not just in the Funny Car division but in Top Fuel and the Top Alcohol classes as well.  JFR's three-rail design shares the spotlight with a beefed-up two-rail version preferred by Don Schumacher Racing, among others.
Either way, the cars that compete this weekend are seven times as strong as those with which everyone began the 2007 season, a statistic in which Force places great pride.
Nevertheless, even at 63, winning is still the goal for Force and, considering his history with Medlen, there's little question as to which of his record seven Sonoma victories was most meaningful.
"When we had the TV show (Driving Force, which aired for two seasons on A&E Network), we shot a segment before Sonoma (in 2006)," Force recalled.  "The girls took me and Eric to a spa and then Eric took us out to ride horses.  At the end of the day, Eric won the race.  For me to come back the next year and win on Eric's track, that was special."
(DI.com file photos by Ian Tocher; Click to enlarge)