The Professional Drag Racers Association (PDRA) crowned world champions in four of its five professional categories Sunday evening at the 4th annual Brian Olson Memorial World Finals at Virginia Motorsports Park. The Drag 965 Pro Extreme Motorcycle and sportsman world championships will be decided Monday at the weather-delayed conclusion of the event.
First-time PDRA world champions Tommy D'Aprile (Moroso Pro Boost), Steven Boone (Liberty's Gears Extreme Pro Stock) and Johnny Pluchino (East Side Auto Transport Pro Outlaw 632) joined 2014 Switzer Dynamics Pro Nitrous presented by MoTeC world champion Jason Harris as the drivers clinching world titles.
Race officials decided to postpone the balance of eliminations during the second round of Pro Outlaw 632 competition Sunday night. Racing will resume Monday at 11 a.m. The PDRA will crown the World Finals winners and decide the world champions in MagnaFuel Elite Top Sportsman, Top Sportsman 32, Lucas Oil Elite Top Dragster, Top Dragster 32, Coolshirt Pro Jr. Dragster and Gilbert Motorsports Top Jr. Dragster.
PRO NITROUS
After leading the points standings for nearly the entire eight-race season, Jason Harris decided his own championship fate in the opening round of eliminations when he defeated Chris Rini on a holeshot. Harris used a .031 reaction time and a 3.705-second pass at 202.03 mph in his Musi-powered "Party Time" '69 Camaro to take down Rini's 3.702 at 200.29 in his Buck-powered, ATI-backed '69 Camaro.
"It feels really good to be back on top," said Harris, the 2014 world champion. "We had a runner-up to start the year and I thought, 'maybe I'm back on top.' Then we went out second round at the next race. It's really just been about learning the car. Danny Perry's been helping me tune the car and learn what we need to do between rounds and race to race. We learned more at every race and even lucked up and won a couple. We've had a great year."
Harris, who admittedly struggled for the three seasons since his championship in the PDRA's inaugural season, earned his second championship on the strength of back-to-back event wins at Martin and the Virginia summer race. He held off the late-season charge of two-time and defending world champion Tommy Franklin.
"Coming into this race, we had a lot of weight on our shoulders," Harris said. "Even though Tommy had to win the race to pass us, we still needed to win some rounds. Tommy is a great competitor and anyone in Pro Nitrous can win at any time. It feels good to win a championship in Pro Nitrous because I feel like they're the elite of drag racing.
"I can't help but thank everybody who's stood behind me: my crew, my wife, the Boone family. Hoosier Tire stood behind me even when I was blowing stuff up left and right. It just feels good to be back on top."
PRO BOOST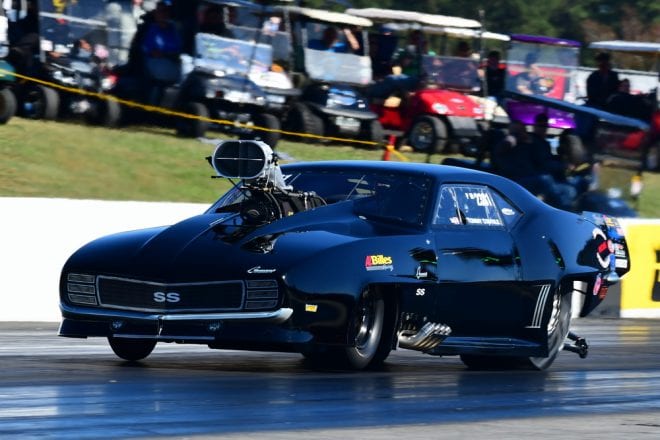 The season-long championship battle between Pro Modified veteran Tommy D'Aprile and Outlaw 10.5 star-turned-Pro Boost rookie Chuck Ulsch ended in the first round of the World Finals as Ulsch lost his match with Andy Jensen. D'Aprile and his Al Billes-led team were declared the world champions, then four pairs later recorded a 3.688 at 204.45 to move on to Monday's quarterfinals.
"I still don't believe it," D'Aprile said. "We came into this race with the lead, but anything can happen out here. All of the weather delays made it like pulling off a Band-Aid; you just want to rip it off. We were having some issues with the car, so we were just hoping everything would work out. We just couldn't stop crying when we knew we won it."
D'Aprile, who competed in Pro Extreme for the last several seasons, teamed up with longtime crew chief Al Billes for a 2018 Pro Boost championship bid with a '69 Camaro powered by a Noonan engine and supercharged by one of Billes' roots-style blowers. The formidable duo qualified No. 1 at all but one of the seven contested races and reached the winner's circle at the North-South Shootout, Drag Wars and the Fall Nationals two weeks ago.
"I give all the glory to God for this championship and for putting this team together," D'Aprile said. "This is about more than just me and Al and our team; this is also about our families who made sacrifices and supported us all season. I can't wait to go to the banquet and celebrate with everyone."
EXTREME PRO STOCK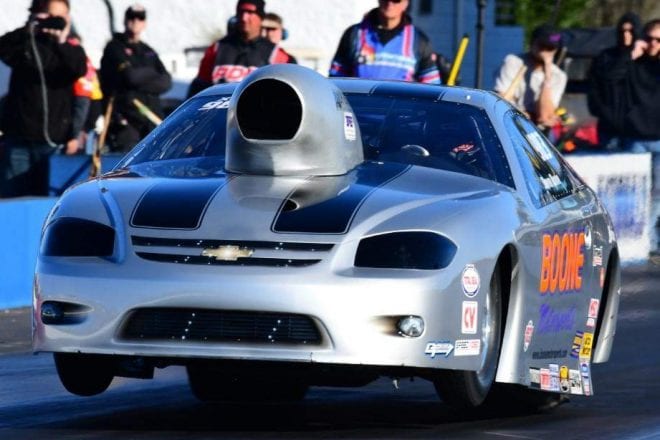 Longtime mountain motor Pro Stock wheelman Steven Boone will be officially declared the 2018 Extreme Pro Stock world champion. While 2016 world champion John Pluchino won first round and is mathematically eligible, the New York native is unable to stay for the completion of the event. Boone's first-round winning pass of 4.063 at 179.14 in his Boone Motorsports '07 Cobalt gave the North Carolina business owner all he needed to secure the title.
"It's surreal," Boone said. "We've never been in this position, we're proud to be in this position, and we hope that we represent mountain motor Pro Stock to its highest level. That is our goal. This is one big family here and we're proud to be the No. 1 representative."
Boone's thoughts of a championship chase started in May when he won his first PDRA 660 Man trophy at the North-South Shootout in Maryland. A second victory followed two weeks ago at Darlington, where Pluchino's first-round exit boosted Boone's title hopes going into the World Finals.
"We were very concentrated on this championship," Boone said. "Instead of swinging for the fence and trying for the 3-second barrier, we were concentrated on being conservative but fast. We knew we had to go a round or two. Pluchino is a very tough customer. I have great respect for those guys."
PRO OUTLAW 632
Second-generation PDRA world champion Johnny Pluchino clinched the Pro Outlaw 632 title in style Sunday afternoon as he charged to a 4.204 at 169.94 on a single in the opening round of eliminations. To the thousandth of a second, the pass was exactly what Pluchino needed to back up his record run of 4.163 seconds and consequently clinch the title over defending world champion Dillon Voss.
"This championship couldn't have come together in a better way," Pluchino said. "What makes it special is doing this with the people I did it with: my dad and my guys. We all work so hard. We weren't able to win a championship with the Pro Stock car, but we did it with this car. We were there all year long, and at the end of the day we're underfunded guys who just work really hard at this and love it."
The world championship trophy is Johnny's latest addition to the Pluchino family trophy case, which includes John Pluchino's 2016 Extreme Pro Stock world championship trophy. Driving Dominic Addeo's Kaase-powered '06 Ford Escort, Johnny qualified No. 1 at four races this season and won both GALOT events. In Extreme Pro Stock, John won the Firecracker Nationals at Virginia and was in the championship hunt until Sunday.
"To race together, win this championship and cement our name in PDRA history like this is pretty special," Johnny said. "Now we both have one of those trophies, jackets and rings. My dad is my best friend and my idol, so it's pretty special."
The 4th annual Brian Olson Memorial PDRA World Finals at Virginia Motorsports will conclude Monday with the balance of eliminations beginning at 11 a.m.