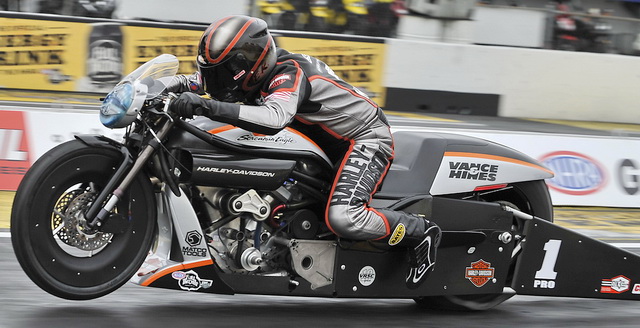 NHRA announced changes Sep. 19, to the Pro Stock Motorcycle category. For 2013, Harley-Davidson and Buell will both be allowed a maximum 160-cubic inch displacement (cid), for a 60-degree, two-valve, pushrod engine. Minimum weight for both motorcycles will be set at 625 pounds. The four-valve Harley-Davidson engine combination will no longer be allowed.
Suzuki will still have a maximum of 107-cid, for a two-valve engine. Minimum weight on the Suzuki will be 595 pounds. NHRA also will discontinue the four-valve option on the Suzuki motorcycle.
In the interim, NHRA announced a minimum weight increase of 10 pounds for Harley-Davidson competitors in the Pro Stock Motorcycle class. The change will be in effect at this weekend's 27th annual AAA Texas NHRA Fall Nationals at the Texas Motorplex in Dallas. The new minimum weight for Harley-Davidson motorcycles will be 670 pounds.
"We have been working on a long-term solution for the Pro Stock Motorcycle class for the last several months," said Glen Gray, vice president of technical operations, NHRA. "Today's announcement is part of our ongoing effort to provide great side-by-side racing for NHRA fans."
(Photo courtesy NHRA/National Dragster)