It's cold outside, but this is Buffalo in February and that's the way it's supposed to be. Inside the Town Ballroom, though, a carefully restored downtown concert venue that once hosted the likes of Miles Davis, Frank Sinatra and Nat King Cole, Snapcase is about to bring the heat. The hometown quintet will be celebrating its 25th anniversary with a one-off reunion show before a sold-out crowd of more than 1,500 enthusiastic hardcore punk fans.
"Our music is super aggressive. To the general public I've always explained it being like heavy metal with a conscience," says noted Pro Mod crew chief and tuner Jon Salemi, who alongside Frank Vicario, provides the rhythm half of a frenzied, two-pronged guitar attack for Snapcase. Singer and lone original member Daryl Taberski, bassist Dustin Perry and drummer Tim Redmond complete the band's lasting roster, which originally came together in 1991 with Salemi joining less than a year later.
Until January 2005 when the band officially retired, Snapcase played up to 200 gigs a year, often touring with the likes of the Deftones or Papa Roach and headlining Van's Warped Tours in 1997, '98 and 2000.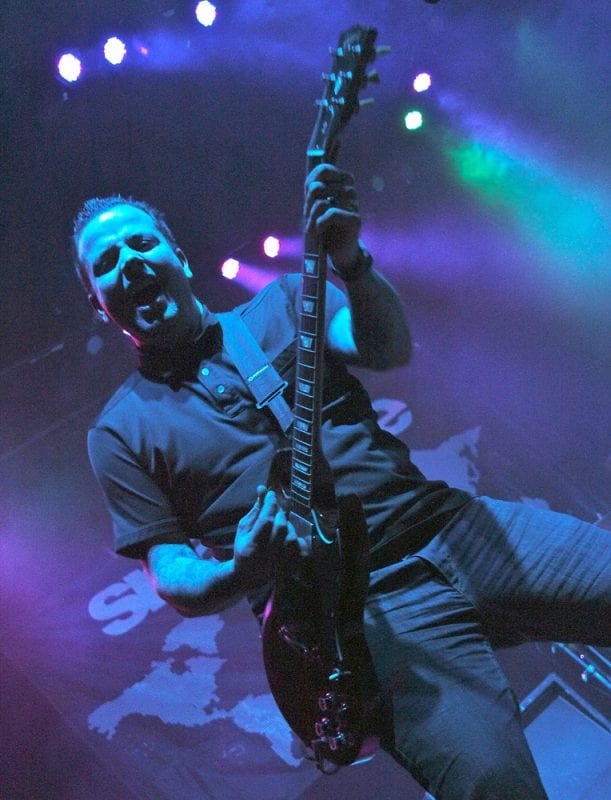 "We tried to have our lyrics and Snapcase be very super-positive minded and uplifting, self motivating. But the tough thing for a lot of people is to see or hear that through the music because the music is so aggressive," Salemi realizes. "For a normal person it's so angry, but when you sit down and read the words, people are like, 'Oh man, that's not anything like it sounds.' Most people thought we played that 'Kill your mother, kill your father' music, and you got to the point where you just agreed, but it's so much more than that. I can't tell you the countless times that kids came up at our shows and would say, 'Man if it wasn't for this song and this album I never would have gotten through this part of my life. Thanks so much for those inspirational meanings and that song.'
"It's totally changed me for who I am," the 42-year-old Salemi adds. "It's like I am really doing the right thing; this is really a great thing that I'm doing. The audience connects with it in an emotional way and it really makes a difference."
Regardless, whether music or drag racing, Salemi is one of the fortunate few who has been able to turn a passion into a profession—twice.
Hailing from Buffalo, New York, Salemi grew up in a large family, and as his father was often working, he spent a significant amount of time with his oldest brother, Jim. "He took me everywhere, and that included going to the races every weekend," recalls Salemi, who credits his big brother with inspiring his love of racing.
As Jim's racing career progressed, so did Jon's. Jim eventually went on to found G-Force Race Cars, a doorslammer fabrication shop in Tonawanda, New York, and Salemi went along for the ride. "My brothers and I were alongside Jim the whole time. We worked as crew, and at the shop, and it all evolved to where I'm at now," says Salemi, in reference to how he began his own successful business as a tuning consultant and crew chief extraordinaire at Resolution Racing Services in Buffalo.
In the late '80s, Jim partnered with Mike Stawicki of MSR Performance and the two started Pro Mod racing together. This piqued Salemi's interest, and when he graduated from school in the early '90s, he became more serious about his own future in the industry. "Jim and Mike, they laid the brick work for me to walk on and be able to do things the right way. I owe so much to them," he states, grateful at having been brought up by such positive influencers. "Now, I'm the younger guy comparatively trying to keep everything going, and their wisdom and experience speaks worlds for me."
Meanwhile, Salemi was still playing with Snapcase, often embarking on tours that took them across America and sometimes through Australia, Europe and Japan. It made for a hectic schedule, juggling two major pursuits of power and speed.
"Most of the guys didn't do anything besides the band," he says. "But I was always doing race car stuff when we were doing the band. Like we get home from a tour, the next morning I'd be at the shop working at race car stuff."
Still, fairly early in his racing career, Salemi chose to leave home, spending five years working for supercharger manufacturer DMPE in Stevensville, Michigan. With the knowledge gathered there, he went off on his own to pursue tuning professionally, beginning in 2005 with a Top Dragster team for the Florida winter series. From there, Salemi worked from 2007-'10 with Pro Mod driver Kirk Wilmes on his '68 Firebird. The pair ran the NHRA circuit, and picked up a Pro Street win at the PSCA Street Car Super Nationals race in Las Vegas, Nevada, in '08. "Working with Kirk, it was my first real deal doing things on my own. I was still a little wrapped up with my brother since it was one of his cars and one of MSR's engines, but I went and tuned it myself."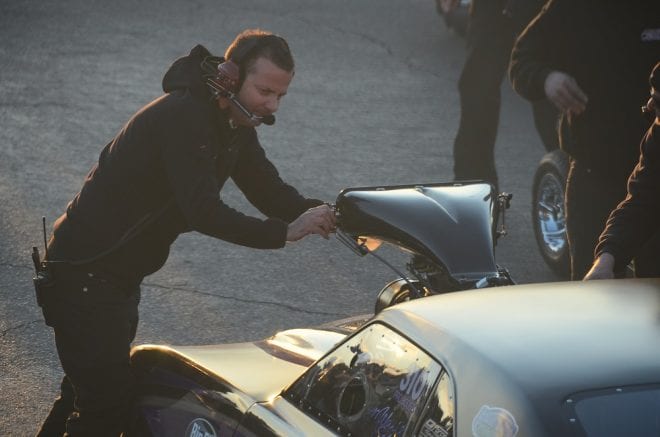 It was Salemi's collaboration with Stawicki, however, that really propelled his name into the history books. Together, the Resolution Racing Services/G-Force Race Cars/MSR Performance team with Stawicki behind the wheel of their supercharged '68 Firebird ran 5.97 to become the ninth member of the DRO 5-second club. The guys also won the PMRA championship in 2010, and as a result were one of eight US-based teams to be invited to Qatar to compete in a special eight-race ADRL-sanctioned Pro Extreme series. That same year, Stawicki won the Pro Extreme class at the Shakedown at E-Town race in New Jersey, and became the quickest and fastest Pro Mod in the world when he went 5.73 at 256 mph in the quarter mile.
Salemi's tuning skills also helped Paolo Giust cruise to victory in the 2015 Shakedown at Norwalk race at Ohio's Summit Motorsports Park, and picked up a Pro Boost win at the PDRA Dragstock XII race in 2015 at Rockingham Dragway in North Carolina with his wife Melanie driving, as well. Additionally, the husband-and-wife team briefly held the national PDRA Pro Boost elapsed time record in 2016 when they ran 3.78 at 196 mph before rival Kevin Rivenbark snatched it away.
Despite his in-depth involvement with drag racing from a very young age, Salemi says he never tried his hand at driving one of the supercharged doorslammers he routinely worked on.
"I've screwed around at the local eighth mile in street cars. And my nephews, they're serious snowmobile racers and I've taken some laps on a snowmobile—they run 6.40s in the eighth mile and go over a hundred miles an hour—so I felt the acceleration. But I've never driven like a fast, fast car. I've always wanted to—it was a huge part of my childhood dreams to drive a race car—but I missed my calling for that when I was doing the band."
In the race shop, Salemi says his inspiration and motivation can be directly accredited to his brother, Jim, and to Stawicki. "They both came from the school of 'you have to work for what you get and if you work hard, good things happen'," he professes.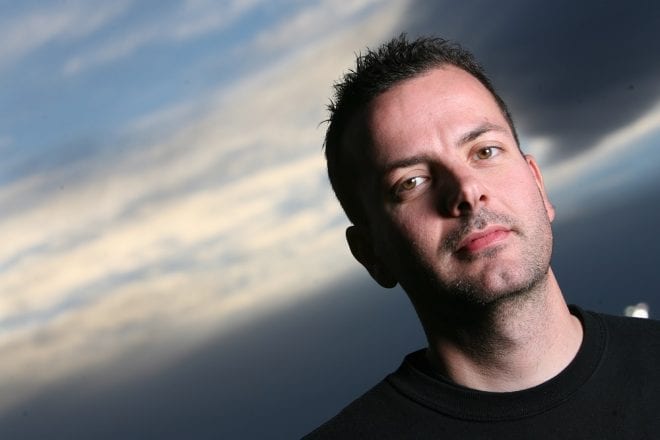 Within the greater drag racing community, it's the folks who have established themselves as industry greats based on their ability to achieve success through perseverance that Salemi most looks up to. "Alan Johnson, I don't know him personally, but he worked hard and built his own parts and was innovative and now he's a top manufacturer, successful business guy, and a great crew chief. Bill Barrett, too, would always talk to me about how they used to do things without new-school electronics and fuel management, and I learned a tremendous amount from him."
Salemi has found the most useful tool in his tuning arsenal isn't available for purchase; instead, he believes that listening and learning are the best things someone can do. "Pay attention, because every experience in this sport will teach you something," he asserts, knowing he's amassed priceless information from having surrounded himself with intelligent people.
Now, while he works with several other teams, the primary driver that Salemi tunes for is none other than his own wife, Melanie, who fields a roots-blown, G-Force Racing-built '68 Pontiac Firebird known as "Purple Reign" in PDRA's Pro Boost class. Salemi met his Canadian-born wife in May 2010, when both were competing at a drag race in Canada.
"I'd been through a divorce—a lot of which had to do with being gone racing all the time—and I always thought if I ever get serious with another girl it would definitely be a girl that would want to go to the race track or be part of racing. Anyway, I had a friend there who said, 'Hey there's this hot blonde girl driving this dragster here, so you should go talk to her.' I remember there was a break because of a crash or oil down or something and she walked by our pit area. I decided to follow her and was almost in a light jog to catch up with her. I followed her all the way up to the starting line and awkwardly started talking to her. Then the inevitable Facebook friendship turned into marriage a couple of years later and a racing partnership and everything else that we have was started."
Salemi also laughs when he recalls the first time Melanie attended a Snapcase concert with him.
"I tell this story all the time because when I met Melanie she knew that I was in a band but she had no idea what it
was about or anything. So probably about eight months into our relationship we got these large offers to play these shows and she came with us for a weekend when we played in New York City at Webster Hall with friends of ours, a band that was very parallel to ours, one we had toured Europe with," he says. "Anyway, when we struck our first note and the crowd went crazy, she was standing on stage off to the side and she thought a huge fight had started. People were running across the stage and jumping off into the crowd. People were swinging their arms and kicking their legs on the dance floor, and she was like, 'Oh my gosh, what the hell is going on?' She had this look on her face like she was thinking, 'what in the hell is happening to me right now.' I told her, 'It's okay; this is how it's supposed to be.' Somebody came running across the stage, jumped over our singer's head and landed in the audience, and Melanie was like, 'Oh my gosh, I can't believe somebody's not dead!'"
Given his involvement in Pro Boost, Salemi's power adder of choice is most definitely a supercharger. Although he's dabbled in some turbocharged setups and has yet to get his hands on a worthwhile nitrous project, it's the blowers that still give him goose bumps.
Alongside his brother at G-Force, Salemi pioneered the use of electronic fuel injection in supercharged applications, such as Melanie's. As one of the lesser-funded PDRA Pro Boost teams, Salemi finds he has to outsmart the other guys, rather than outspend, and switching to EFI gives him a competitive advantage. "It's so costly to do this that if you don't have enough brainpower on projects, they can go awry, so we all try to work together," he says.
"My main deal at Resolution is flowing fuel systems for supercharged alcohol combinations," Salemi notes. "But we stepped into EFI on supercharged applications this year and we've been using Melanie's car to showcase our work."
Alongside fellow crew chief Jeff Pierce from Jeff Pierce Race Car Tuning, the team unveiled their car's new FuelTech GT500 EFI system (with Atomizer fuel injectors) in January while racing in Florida. There's tremendous synergy between the Salemis' business and its associated entities, as the EFI install was performed at G-Force and dyno'd at MSR.
In regard to his signature tuning style, Salemi is fairly uncomplicated. He prefers to simply get the car running as efficiently as possible and believes the person who keeps all variables in check will be most successful. "If you're not making efficient runs where you're using the most power you can as quickly as possible, you're not doing the best job," Salemi states confidently. "It comes from understanding all angles: chassis setup, clutch, converter, gear ratios, and how that all relates to power. If it's not all in synch, you're not making as efficient a run as possible."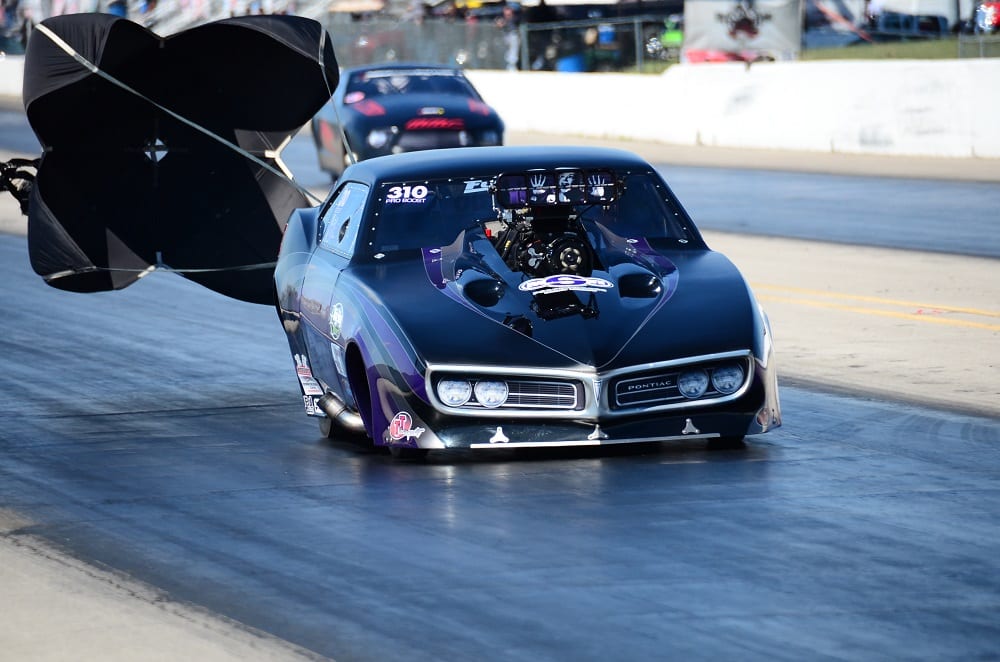 Salemi can see parallels in the ways he developed as a musician in the early '90s and how an engine tuner has to learn the basics but still remain open to new ideas.
"Having to play to tape made me so much better of a player and more precise," he explains. "I'm not sitting here down playing modern technology either because Pro Tools (computer-based recording) is amazing also, but it's your same parallel in drag racing. Now we have two steps on the starting line, we have auto-shifted cars, where before you had to rev them up and swap feet and shift them yourself. It's the same parallel with having two-inch tape versus ProTools to having two steps and auto-shifters versus swapping feet and pulling levers or whatever. It's just technology. You're never going to be able to slow it down and people that want to should just go do something else. You can't slow that human progression down and anyone that tries to is just a naysayer. It's development; it's productivity stuff, you know?"
Not surprisingly, Salemi prefers modern-day electronic fuel injection systems over old-school mechanical injection for the dynamic flexibility it offers when tuning. "It gives you control over the engine at any point in the run, where with mechanical injection, if you make a change it effects a run from the lower RPM to the highest," he clarifies. Salemi has seen EFI recently experience a rise in popularity for supercharged engines, but knows most are still using the older, tried and true technology. "It's a learning curve for me, and I've hurt some parts with EFI, but it's made me faster on some runs over what mechanical injection would have."
To help expand the acceptance of EFI within his world, Salemi has partnered with FuelTech, Pro Line Racing, his brother Jim, and Jeff Pierce to deliver a supercharger EFI kit which bundles the necessary components and is sold through Salemi's Resolution Racing Services.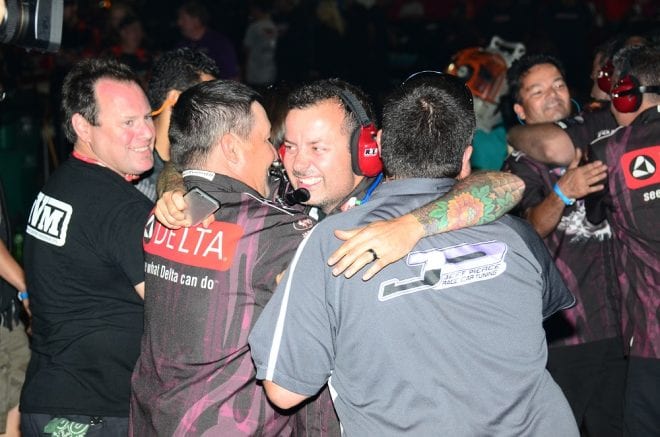 His daily life, though, isn't simply tuning cars and slinging parts; it's running a full-scale business, managing operations with his partner companies, answering customer calls, and just juggling the responsibilities of being an adult. "One day I'm on the flow bench, then I'm flying to go tune a car, and my phone is ringing the whole time. People look at me and think it's easy, but they don't realize all the work that's going on behind the scenes," Salemi says. Being a husband, caring for his two children from a previous marriage (son Evan, 14, and daughter Akyra, 11), in addition to handling mundane household chores like mowing the lawn often throws a wrench into Salemi's actual wrenching schedule.
At first glance, Salemi may just seem like an average "race car dude" and family man, but he's also an internationally recognized rock star who jokes that when he explains Snapcase's impact on the hardcore music scene, unless people are involved in that specific genre, they often don't really understand.
"It's a lot like explaining to someone who doesn't care about drag racing that I do car stuff and they just assume NASCAR because to them it's all the same," he laughs. "Racing is a lot like hardcore music; both are very underground, and not a lot of the general public really knows about it. Both represent such a small niche, but it's a small community of people that are very specific in like and passionate about what they do. We all travel all over the country just to get together for what we love to do. I actually see a lot of parallels between a rock band hitting the road and a race team."
Back in Buffalo, the Snapcase show is over, the stage is silent, and all that remains of a crowd bent on reliving its glory days is the usual trash and debris. Salemi and his band mates are backstage now, relaxing, but still riding the wave of adrenaline that inevitably accompanies whipping their fans into a frenzy, where band and audience become one, feeding off each other's energy.
"I never dreamed something like this would happen to me," Salemi admits. "It's surreal to think that 25 years later, people still care and we've had an emotional impact on their lives."
Having been able to successfully translate two of his life's passions into sustainable careers, Salemi knows he's one of the lucky few who are truly living the dream. "I want to try and be the best at what I'm doing and I hope that I can still live comfortably doing what I'm doing in the future," he says. However, his long-term plan is centered on growing his business to the point where if his children choose to continue his legacy, they will have the platform to be able to do so.
"I'm super fortunate, but I've worked hard for what I have," Salemi says. "Everything comes with struggles, and we all have our faults, but the sooner you can take constructive criticism from someone you respect, the sooner you'll be able to grow your own life."
Photographs by Ian Tocher and Mike Santoro
This story originally appeared in Drag Illustrated Issue No. 113, the Crew Chief Issue, in September of 2016.