Brothers Matt and Zach Sackman have signed a primary sponsorship agreement with Hangsterfer's Laboratories, a New Jersey-based company specializing in the research, development and manufacturing of metalworking lubricants. Hangsterfer's will back Sackman Boyz Racing as they embark on their third season in NHRA and PDRA Top Dragster competition.
"We're excited to have Hangsterfer's Metalworking Lubricants on board for the full 2017 season," said Matt Sackman. "It's nice to be partnered with a family-owned company. We race as a family so it's fitting to be partnered with a company like Hangsterfer's. We're happy to have them supporting us again this season. We made a lot of consistent progress with the car last year, so we're looking to continue that this year."
Matt Sackman, who finished off the 2016 season with a win at ADRL Dragstock XIII, will drive the Sackman Boyz Racing dragster at as many races as possible between his commitments as the clutch assistant and tire specialist on Antron Brown's Matco Tools Top Fuel dragster for Don Schumacher Racing. The 23-year-old Illinois native is entering his fourth season as a crew member on the three-time NHRA Top Fuel world championship team.
Zach Sackman, 21, is chasing the 2017 NHRA North Central Division championship as he will drive "The Unit" at most of the divisional events on the Sackman Boyz Racing schedule. He also plans to compete in four NHRA national events and a handful of PDRA and ADRL eighth-mile races.
"I feel good about the opportunity to compete for a championship at one of sportsman racing's highest levels," said Zach Sackman, who finished fifth in Division 3 points last season. "I'm going to focus on the NHRA Division 3 points, but if we start out with success on the national level then we'll pursue national points too."
Hangsterfer's Laboratories has been a supporter of the Sackman Boyz Racing team since the brothers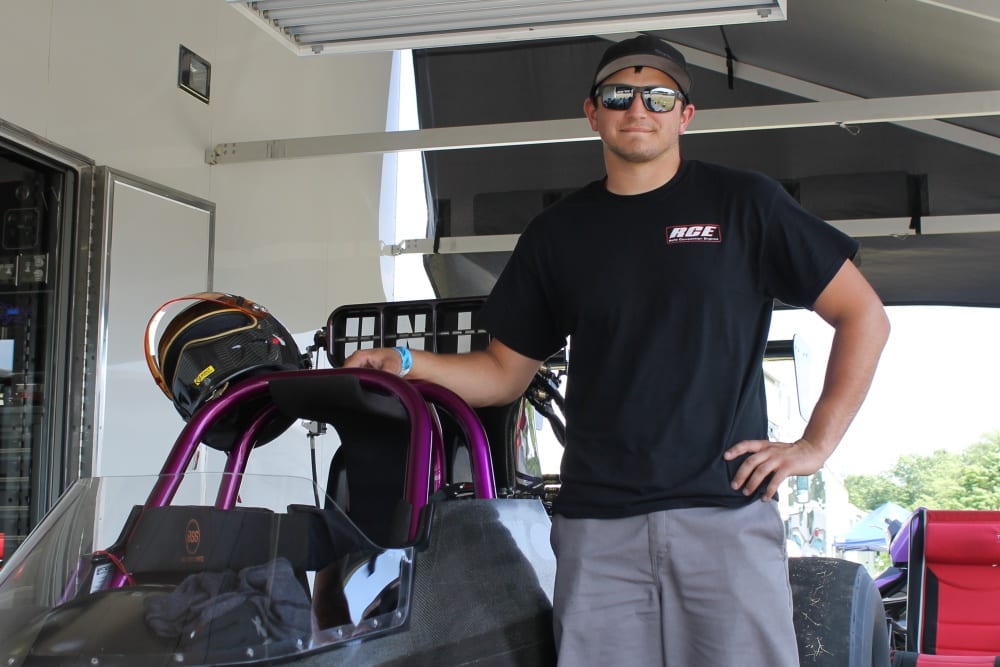 joined the Top Dragster class in 2015. Celebrating 80 years of business in 2017, Hangsterfer's produces over 300 products for a variety of applications in the metalworking industry. Their metalworking lubricants are used in the machine shops of most of the Brownsburg, Indiana-based NHRA drag racing teams, including Don Schumacher Racing. Hangsterfer's is also increasing their involvement as a DSR sponsor in addition to backing the Sackman Boyz Racing team.
"It's an honor to be able to sponsor Matt and Zach and help them progress through the sport," said Bill Jones, Hangsterfer's Metalworking Lubricants vice president. "I've been talking to Matt for years and I've always told him that we'll be sponsoring him someday. This year it's finally come to full fruition. We've done a few races every year, and this year it's the full deal. We want to keep the sport going. We want to keep Matt and Zach going. They're a great family and we're proud to support them."
"We're a family company so we respect the family aspect of the sport and the Sackman family team," added Mike Ditzel, Hangsterfer's Performance Racing Product Specialist. "We believe in supporting the sport at all levels. We support the Midwest Jr. Super Series as young racers begin their driving careers. We support the Sackman brothers, who started driving Halfscale cars in the Junior Dragster ranks and now race NHRA and PDRA Top Dragster. At the sport's highest level, we support Antron Brown and the DSR Top Fuel and Funny Car teams."

The Sackman Boyz Racing Top Dragster received several upgrades for the 2017 season, including a new Hangsterfer's-branded wrap designed by Larry Williams Graphics and applied by Harmonic Designs. A freshened supercharged engine from Rolla Competition Engines was dropped between the frame rails, along with new Lucas Oil fluids, Brown & Miller Racing Solutions hoses and lines, and Goodyear tires. A new T&E Auto Haulers stacker trailer was built for the Sackman Boyz team over the winter and will debut early in the season. Also back on board as an associate sponsor is Novak Electric, a Fairfax, Iowa-based electrical contractor. EmiLee Novak will join the Sackman brothers as a team car with her supercharged, American flag-themed Top Dragster at several races in 2017.
Sackman Boyz Racing will kick off their 2017 season at the NHRA Arizona Nationals at Wild Horse Pass Raceway, February 24-26, in Chandler, Ariz.