It's been 10 months since Keith Haney last raced "Enigma," his nitrous-boosted, drag radial-equipped 2016 Camaro. Regardless, he's hoping to capture one of the sport's crown jewels with it this weekend (Feb. 14-17) at Lights Out 10, the prestigious radial-racing season opener from promoter Donald Long at South Georgia Motorsports Park (SGMP).
"I'm excited to get back in the ring of fire. I've had a lot of great fans across the country ask me if I was ever going to race the little-tire car again. Well, yes I am, it's down in North Carolina at Brandon Switzer's shop getting a little tender loving care," says Haney, owner or co-owner of several Tulsa-area new car dealerships, as well as co-owner with Todd Martin of historic Tulsa Raceway Park.
"And Lights Out sets the tone," he declares. "I proved it in 2015 when I first went there. I made the drag radial world go faster then and now they're going even faster and it's time for me to pick up the pace with the nitrous and you know, get back in the game."
Haney won the Mid-West Pro Mod Series radial race his last time out with Enigma last April at his home track. But heavy business demands combined with racing a second Keith Haney Racing (KHR) Camaro and getting started in NHRA Pro Mod kept him away from the small-tire world.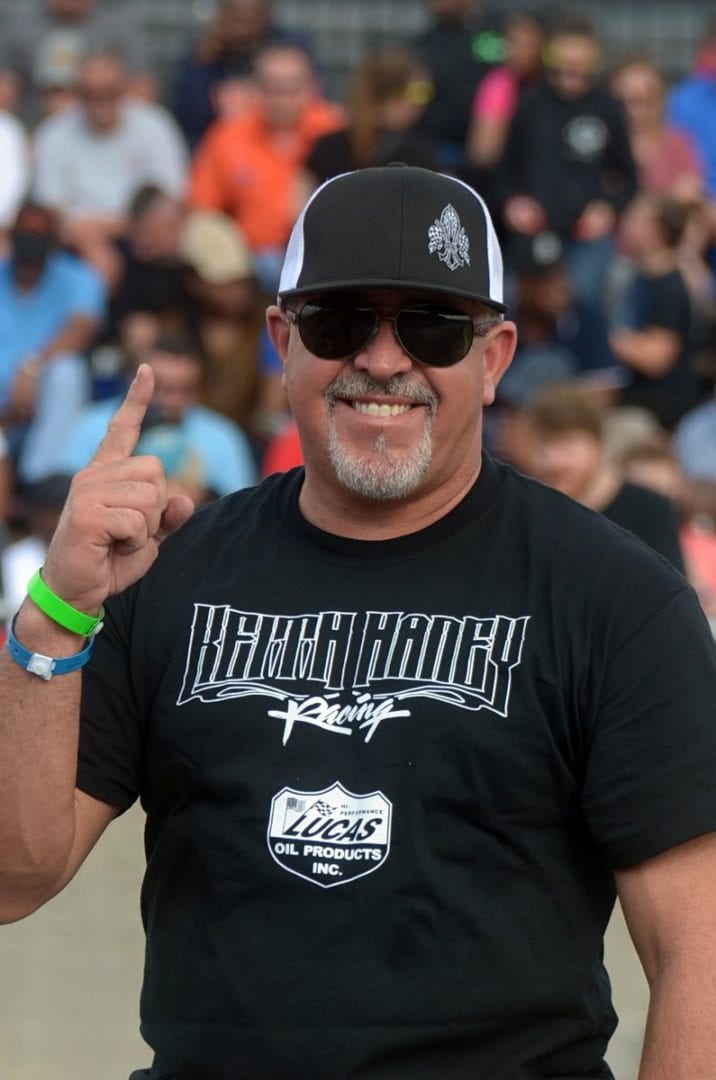 That ends this weekend, though, as Haney seeks to finish one position higher than last year's outing when he qualified eighth for the 32-car Radials vs. the World field, then beat four tough opponents before finishing just a few thousandths of a second behind "Stevie Fast" Jackson in the final round.
"It's a really great car; every race it's been to, it's been in the money," Haney stresses of his Larry Jeffers-built ride. "But you know, it's tough to keep up with all these blower and turbo guys that are going so fast right now, so we did a whole bunch of stuff to the car over the winter, just trying to help our combination out."
Nitrous guru Switzer will again be calling the tune-up trackside at SGMP, and Haney's cause is further boosted by continuing sponsor support from Summit Racing Equipment, Strange Engineering, Lucas Oil and RacingJunk.com, among several others.
Haney also heaps praise on Andrew Arnold, calling him the KHR "team captain" and driving force behind getting Enigma ready for Lights Out. "I know Andrew is excited about all the changes we made over the winter and the things that he did to the car. Really, we're all pretty excited about what he got done."
More than anything, though, Haney says he's relishing a return to the wild drag radial scene created annually at SGMP by Long, all the while looking forward to visiting with KHR fans and sharing the intense competition of drag racing the South Georgia eighth mile.
"You know, Stevie (Jackson) and I have got a great rivalry going and we've got a big grudge race locked in for Thursday night. But that rivalry goes all the way until Sunday as we bet and call each other out. And we do it not just at the beginning of the race, or not just during the race; it's all the way throughout the whole event. We make a lot of different bets and people love it," Haney says. "I mean, we had a grudge race last year and it was probably the biggest watched drag racing show that's ever been on the Internet. The starting line was plum full and the whole scene was just crazy."
Still, Haney remains firmly focused on going rounds and winning on race day.
"Bottom line, I just need to come back and take care of business and all these other guys talking smack. I've still got plenty of power and I'm just going to go out there and beat them with consistency," he says. "Our program may not be as fast as some others–yet–but we're the most consistent and I'm ready to chop down the tree. So they know there's no room for error in their lane. I can still go out there and compete. May not be able to go a .62, but I can sure give 'em hell trying."