A bold, red-white-and-blue wrap prominently displays Keith Haney's unique "You Know My Name" catch phrase on the doors of his nitrous-boosted Summit Racing Equipment Pro Mod Camaro and the Tulsa-based new car dealer recognizes his confident, outgoing personality and willingness to verbally mix it up may sometimes rub a few competitors the wrong way.
After making his debut in the NHRA E3 Spark Plugs Pro Mod Series as a teammate to three-time series champion and eventual race winner Rickie Smith this May in Topeka, Ks., Haney says he's adopting a different approach Sep. 21-23, for the AAA Insurance NHRA Midwest Nationals at Gateway Motorsports Park.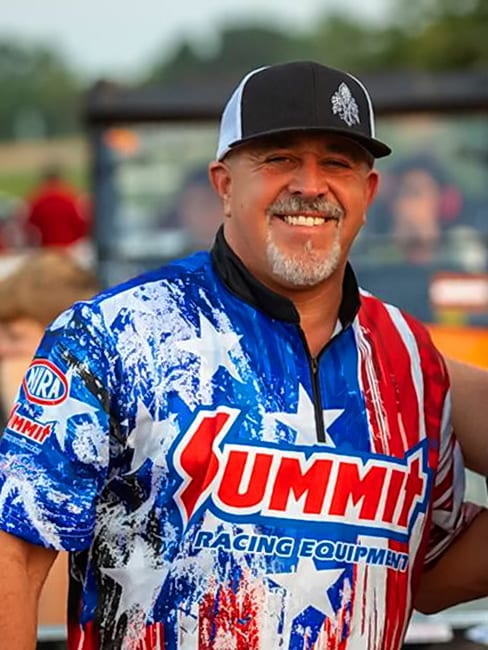 "I hope to go out and take care of business like I have in every other series I've raced in," he says. "Everywhere else I've talked smack and done okay, but in Topeka I didn't quite back it up so I've got a different outlook going into St. Louis. (Gateway general manager) Chris Blair and his staff do a great job and I love that track and usually do pretty good there, too, so that's what I'm going to focus on."
A veteran driver who also owns, promotes and competes in the all-eighth-mile Mid-West Pro Mod Series, Haney laid down a solid 5.90-seconds pass at 245.60 miles per hour over the quarter mile at Topeka, easily representing the quickest and fastest he'd ever been. Still, it wasn't quite enough to keep him in the 16-car raceday field.
"We had a decent race in Topeka. I learned a lot and actually had a faster car than Rickie to the eighth (mile), but a little driver error just slowed us down," Haney admits. "But I know what I did wrong and we're going to do a little testing the week before St. Louis. With the help of Rickie and my crew chief, Brandon Switzer, I feel very confident we'll be racing on Sunday this time around."
Unfortunately, though, Haney's busy lifestyle will force him to miss No Mercy 9, a major eighth-mile event for drag-radial cars presented by promoter Donald "Duck" Long that he'd planned to attend Sep. 27-30, at South Georgia Motorsports Park.
"We have a brand-new Honda dealership that's about to open and a new Chevy store we're building; my daughter just went off to college; I'm coaching 6th-grade football; just bought some property and about to start building a new shop and house, so I've got a whole lot going on, a lot to do," he explains.
"I'll also be racing in the NHRA Pro Mod race down at the Texas Motorplex; the Mid-West Series World Finals is coming later in October at our track in Tulsa, and then of course we have the Elite 16 $50,000-to-win race back at the Motorplex at the start of November.
"I mean, Duck does a great job and I love his races and the fans in Georgia have been just unbelievable to me, so I really hate that I'm going to miss this one, but I've just got so much going on right now that something's gotta' give."
Following the St. Louis NHRA event and with continuing support from Summit Racing, Strange Engineering, Lucas Oil and Kryptonite Kustomz, Haney will conclude his inaugural three-race NHRA campaign with Rickie Smith Racing Oct. 5-7, in the AAA Texas NHRA FallNationals at the Texas Motorplex in Ennis, Tx.