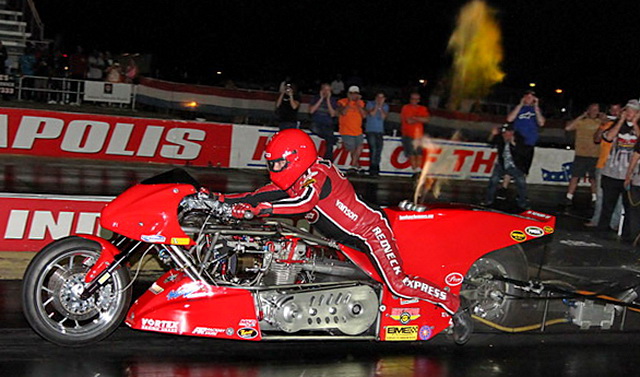 Of all the events going on during this past weekend's massive motorcycle festival in Indianapolis, nothing—not MotoGP, not AMA Flat Track, not the XDL stunt competition—attracted nearly as many competitive motorcycles as the 684 entries at the NHDRO/Manufacturers Cup Pingel Thundernationals at Lucas Oil Raceway.
This wildly popular motorcycle drag racing event saw many milestone performances on the beautifully prepped racing surface at LOR.
As the name implies, the Pingel Thundernationals featured the kings of the sport—PR Factory Store Top Fuel. A solid four bike field of 1500+ horsepower, supercharged, nitromethane burning Fuel bikes put on a fabulous show, starting with Top Fuel rookie David Vantine leading Friday's qualifying session with a 6.17. When perennial champion Larry "Spiderman" McBride ran 5.90s on Saturday, it seemed a forgone conclusion that he would be number-one qualifier.
Last out on Saturday night, though, was veteran Alabama racer Chris Hand (above) and his Redneck Express nitro burner. Hand was receiving tuning help from John Alwine, who said to anyone standing nearby after the burnout that the bike's clutch tune-up would either have it falling on it's face or, "If it hooks, it's really gonna go."
And go it did. Right at the hit of the throttle, the bike threw a wall of header flame high into the sky and kept it lit high and four cylinders wide. "I've never seen a flame that high," said McBride, watching as he pulled off helmet and gloves on the big end.
Hand clicked off at a thousand feet. "Not 999, not 1,001," said McBride crewman Roland Stuart, watching as he drove up the return road to fetch the Spiderman. "One-thousand feet exactly."
So you might think that, what with shutting off 320 feet from the finishline, that Hand's run might be slow. You might  think that, 14 years after McBride's first-ever, five-second motorcycle pass, this particular run might not be the one that would finally put Hand into the exclusive five-second club. But Hand skipped right past the 5.90s to a 5.89 at 230 mph that was good enough to beat McBride to number one qualifier in a fair fight.
Hand slowed to a 6.17 for the first round of eliminations but still powered past legendary builder/racer Sam Wills, returning to Top Fuel action after nearly two decades out of the seat. Wills and the Mike Dryden Nitro Conspiracy team did a great job getting the new bike down the track. McBride escaped an E1 upset when Vantine took the tree and stayed straight and in the throttle to a 6.20, losing to the Spiderman by only 6/hundredths in a great side-by-side race. Neither Hand nor McBride nailed the tune-up in the final, but McBride was able to stay in the throttle longer to score the win despite a loose valve cover that covered him in oil.
McIntosh Machine & Fabrication/Orient Express Pro Street saw a huge turnout miss the all-time quickest field mark by only .005 of a second. Jeremy Teasley qualified number one with a 7.000 on Ronnie Mitchell's turbocharged, pink "Rizzo" Suzuki Hayabusa.
That was before 6s came raining down on LOR in eliminations, with Frankie Stotz recording the NHDRO's first ever 6 second street legal pass on his Honda CBR1000RR. Stotz got beat by DME Racing's Joey Gladstone's 213 mph blast in the semis, and Teasley lost to the surprising supercharged 'Busa of Tony Ficher's 6.96 in the other semi. It was the first 6 for Ficher, who went 7.00s recently while testing. Ficher took the tree against Gladstone but slowed to a 7.03 while Joey—whose DME team didn't touch the tune-up at all between rounds—won with a 6.99. Louisville teenager Sean McPhee won Pro Street B.
The eighth mile Schnitz Racing/APE Pro Comp class saw a sharp twist on the ages old nitrous vs. turbo battle. Mark Paquette qualified number one, as he often does, with a 4.075 on his turbo-methanol Kawasaki Funnybike. But Paquette's bike stalled while staging for his E2 race vs. Brunson Grothus' nitrous Pro Mod. Showing there is no love lost between these two, Grothus quickly staged while Paquette waved for his starter cart to no avail. The tree came down, Grothus streaked to the win, and Paquette pushed back dejectedly from the starting line.
The Pro Comp final boiled down to ADRL Champ and Driver of the Year Eric McKinney and wily veteran Paul Gast. These may not be the chummiest competitors either, as McKinney's tuner Ashley Owens used to ride for Gast. But Paul has a healthy respect for Eric and Team McKinney, and perhaps that's what triggered his -.006 redlight. McKinney ran a 4.070—low Pro Comp ET for the event.
Pro Street number one qualifier Teasley also claimed that honor in Shinko/WPS Real Street with a 7.89 on Roger Starrette's nitrous huffing Kawasaki ZX14. This time Teasley carried his qualifying performance to the winners circle on raceday, beating rival Johnny "Turbo" Dobin and his Exoticycle 'Busa with a perfect .000 light holeshot win in the final.
"Punisher" Dale Nilles dominated Rush Racing/Hawaya Pro Dragster, qualifying number one with a 7.42 and bettering that with a 7.40 to take out Keith Kelley in the final.
Some readers may know the Eric Clapton song "It's in the way that you use it" from the "Color of Money" soundtrack. The term can be applied to Scott Parker's and his visually challenged motorcycle. The bike will never win any awards for beauty or speedy appearance, but the combination did win two classes at the Thundernationals. Parker's light forced Ryan Schnitz to break out in the Tsukigi/Tiger Racing Streetfighter final, and he left Randy Smith absolutely standing still in the MTC Super Comp final.
Hornish Brothers/Star Racing Top Gas went to veteran racer Mitch Brown, who co-developed and co-markets the MonStar billet cylinder head with Star Racing. Runner-up Jesse Moyar took the tree but couldn't command the stripe in the final against Brown.
Mike Studebaker won the Catalyst Racing Composites/Worldwide Bearings Crazy 8s final over Bryan Clapper Jr. Ben Knight beat John "Spooky" Markham in Saturday's Dennis Insurance/Muzzy Performance Street ET final, and Adam Harris beat Brad Gott on Sunday. G&G Metal Spinners/MPS Pro ET wins went to Matt "I'd be the NHRA champ if I wanted" Smith over Mike Hall in Saturday's final, and veteran racer Dan McCarten over Dalton Markham on Sunday.
(Photos by Tim Hailey/Eatmyink.com)