Maryland's own Jim Halsey collected his third Switzer Dynamics Pro Nitrous low qualifier award of the 2023 PDRA season Friday night at the Fulton Racing Engines North vs. South Shootout presented by Penske Racing Shocks at Maryland International Raceway. He recorded his weekend-best 3.652-second pass during the first qualifying session, which was completed on Thursday night to get ahead of rain forecasted for Friday.
A severe thunderstorm moved into the Maryland International Raceway area Friday evening after just a few pairs of cars went down the track in WS Construction Pro Boost presented by P2 Contracting and Ty-Drive's third session. Racing was put on hold for the evening. Pro Boost will complete its third session on Saturday. Liberty's Gears Extreme Pro Stock presented by AED Competition will also get to run a third session on Saturday.
The four pro classes without a bump spot – M&M Transmission Pro 632, Drag 965 Pro Nitrous Motorcycle, Menscer Motorsports Pro Street presented by Afco, and Afco Super Street presented by Menscer Motorsports – will go into eliminations on Saturday after two completed sessions.
Along with Halsey, the confirmed low qualifiers in the pro classes are Doug Nicholl in Pro 632, Paul Gast in Pro Nitrous Motorcycle, Bill Riddle in Pro Street, and Blake Denton in Super Street. The provisional low qualifiers are Melanie Salemi in Pro Boost and John Montecalvo in Extreme Pro Stock.
"Our move to run the first qualifying session on Thursday put us ahead of the game today when the rain finally did roll in," said Tyler Crossnoe, series director, PDRA. "We have some unfinished business in a couple pro classes, but otherwise we're ready to roll into eliminations on Saturday. We'll work on getting the track dried and rebuilt early in the morning so we can complete the North vs. South Shootout."
After three qualifying sessions in the sportsman classes, the low qualifiers are Tim Molnar in MagnaFuel Elite Top Sportsman presented by PAR Racing Engines, Charles J. Careccia in Laris Motorsports Insurance Elite Top Dragster, Vonnie Mills in MagnaFuel Top Sportsman presented by Corbin's RV, and Kent Newsome in Laris Motorsports Insurance Top Dragster.
The Jr. Dragster classes completed two qualifying sessions, with a final third session set for Saturday morning. The provisional low qualifiers are Chris Suppers in Coolshirt Systems Pro Jr. Dragster presented by PRP and Carter Jackson in Classic Graphix Top Jr. Dragster presented by PRP. Suppers was the first of two drivers to run 7.900 in Pro Jr. Dragster, then Jackson cut a .008 reaction time in Top Jr. Dragster.
PRO NITROUS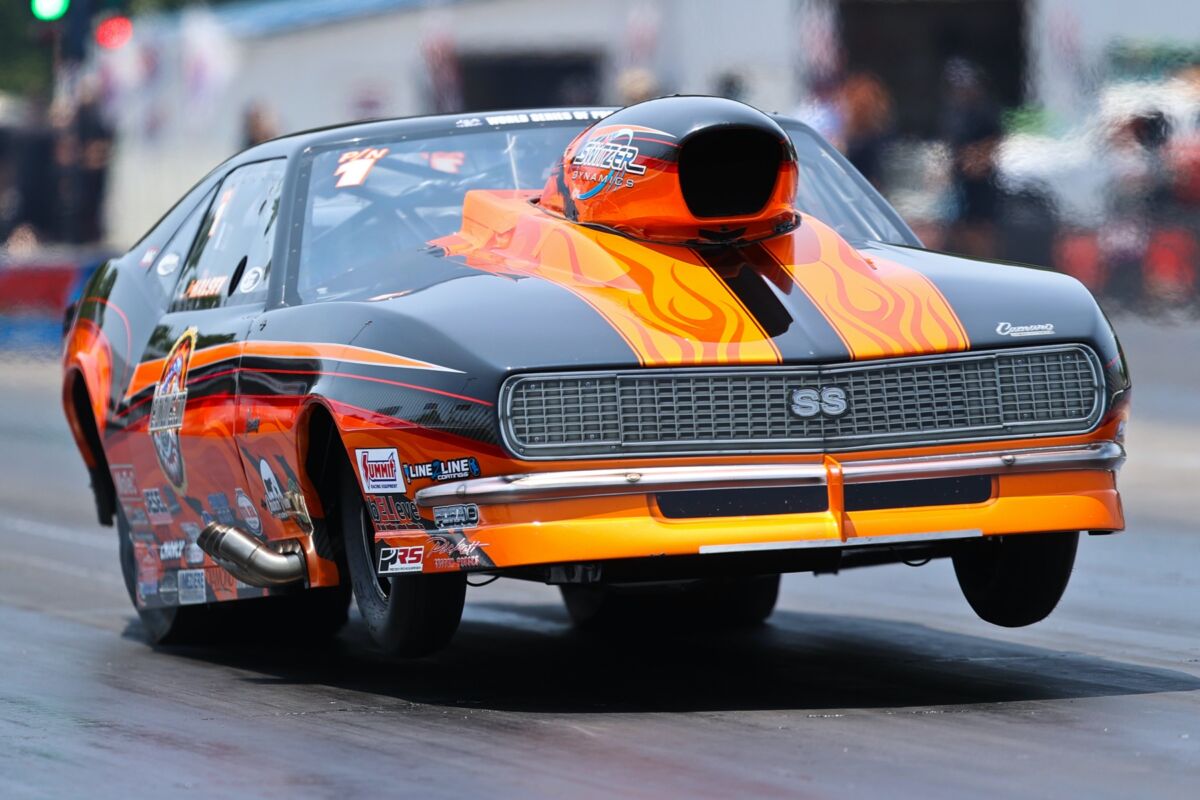 For the third time in four races, reigning Pro Nitrous world champion Jim Halsey qualified No. 1 in his Fulton-powered "Daddy Shark" '68 Camaro. He rolled out in the first session and laid down a 3.653 at 207.02 to top the qualifying order. No one came close to swiping the No. 1 spot away from Halsey in Friday's two sessions.
The final qualifying session also included the final round of the Structural Concrete Nitrous Wars engine builder challenge. Jay Cox laid down a 3.687 at 205.32 in his Musi-powered Butner Construction "Pumpkin" '69 Camaro to beat Billy Albert's 3.74 at 201.79 in his Albert-powered "El Chapo" '69 Camaro. In the process, he moved up to the No. 2 spot.
Cox's teammate, Marcus Butner, fresh off his first final-round appearance at the last race, drove his Musi-powered "Heartbreaker" '69 Camaro to a 3.692 at 204.14 to qualify third.
PRO BOOST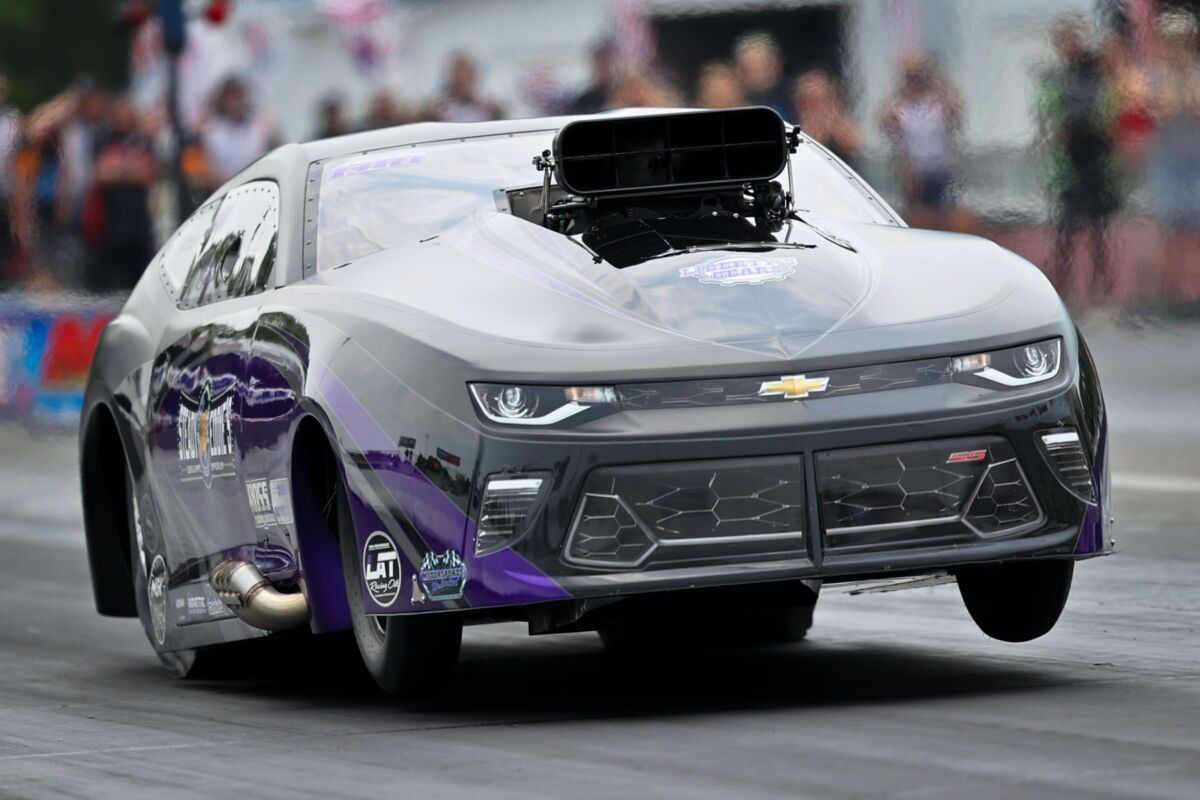 A strong field of more than 20 Pro Boost entries attempted to qualify on Thursday and Friday, with Melanie Salemi jumping to the provisional No. 1 spot in Eddie Whelan's screw-blown Steady Eddie's '19 Camaro. Her 3.639 at 207.91 was the quickest of over a dozen passes in the 3.60s on the qualifying sheet. If Salemi can hold the spot through the completion of the third session on Saturday, she'll pick up her second No. 1 qualifier award of the season.
The completion of Q3 will also include the Boost Wars engine builder challenge final round between Salemi and Jason Harris. Salemi, racing for Team MSR, defeated Kurt Steding in the first round. Harris, the points leader in his Pro Line-powered "Party Time" '69 Camaro, beat Scott Wildgust in the first round.
Steding, the defending event winner, is the provisional No. 2 qualifier in his screw-blown P2 Contracting '20 Camaro with a 3.641 at 208.42. Young gun Preston Tanner is sitting third with a 3.642 at 204.63 in his screw-blown Strange Engineering '15 Corvette.
EXTREME PRO STOCK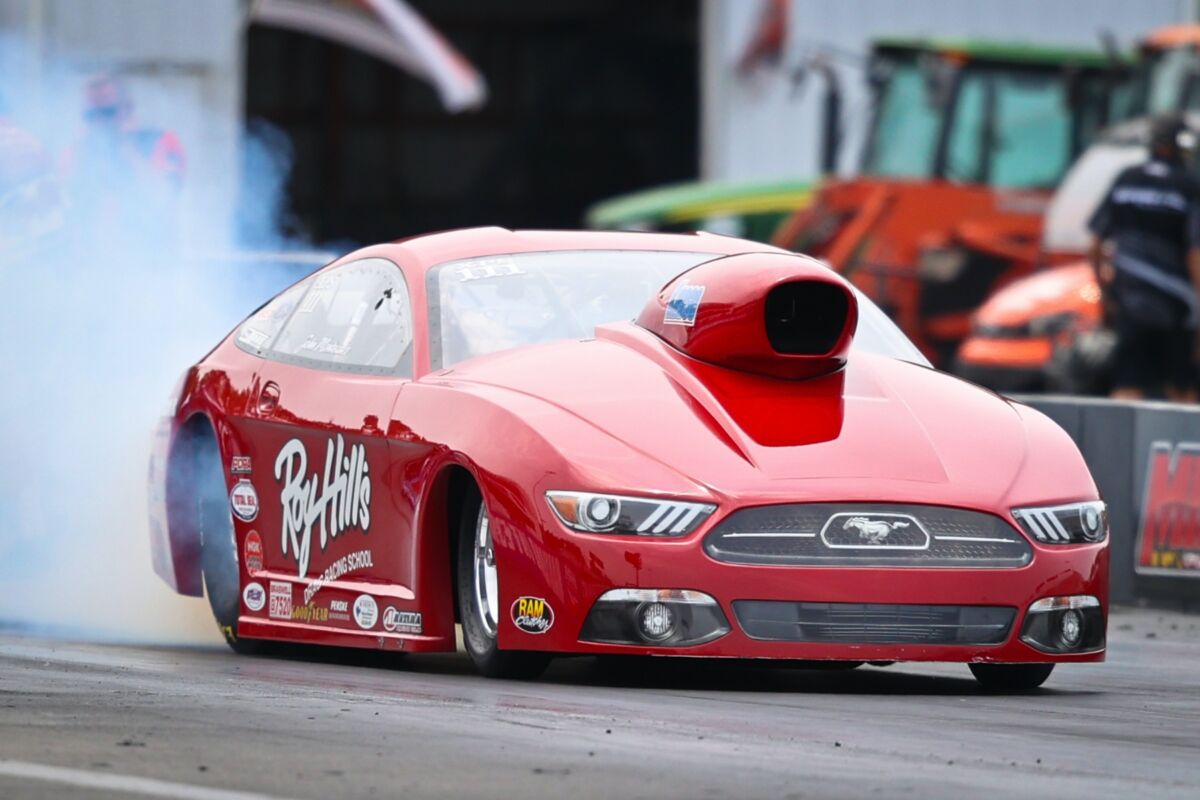 Past world champion John Montecalvo was the quickest of 18 drivers in Extreme Pro Stock after two sessions. The Long Island-based driver laid down a 4.068 at 178.19 in his Kaase-powered Roy Hill's Drag Racing School '21 Mustang to top three other drivers that ran in the 4.00-second range. Montecalvo is just one session away from claiming his 10th No. 1 qualifier award in PDRA competition.
Tony Gillig and Chris Powers are set to face off in the final round of the Horsepower Wars engine builder challenge during the third session. Gillig, representing Team Kaase, beat Dillon Voss in the first round. Powers, competing for Team Sonny's, took down Elijah Morton in the opening round.
Gillig in his Kaase-powered Dayco '10 GXP is qualified No. 2 with a 4.07 at 178.66. Rookie Alan Drinkwater, who claimed his first career win in the class at the last race, is third in his Kaase-powered IronListing.com '08 Mustang.
PRO 632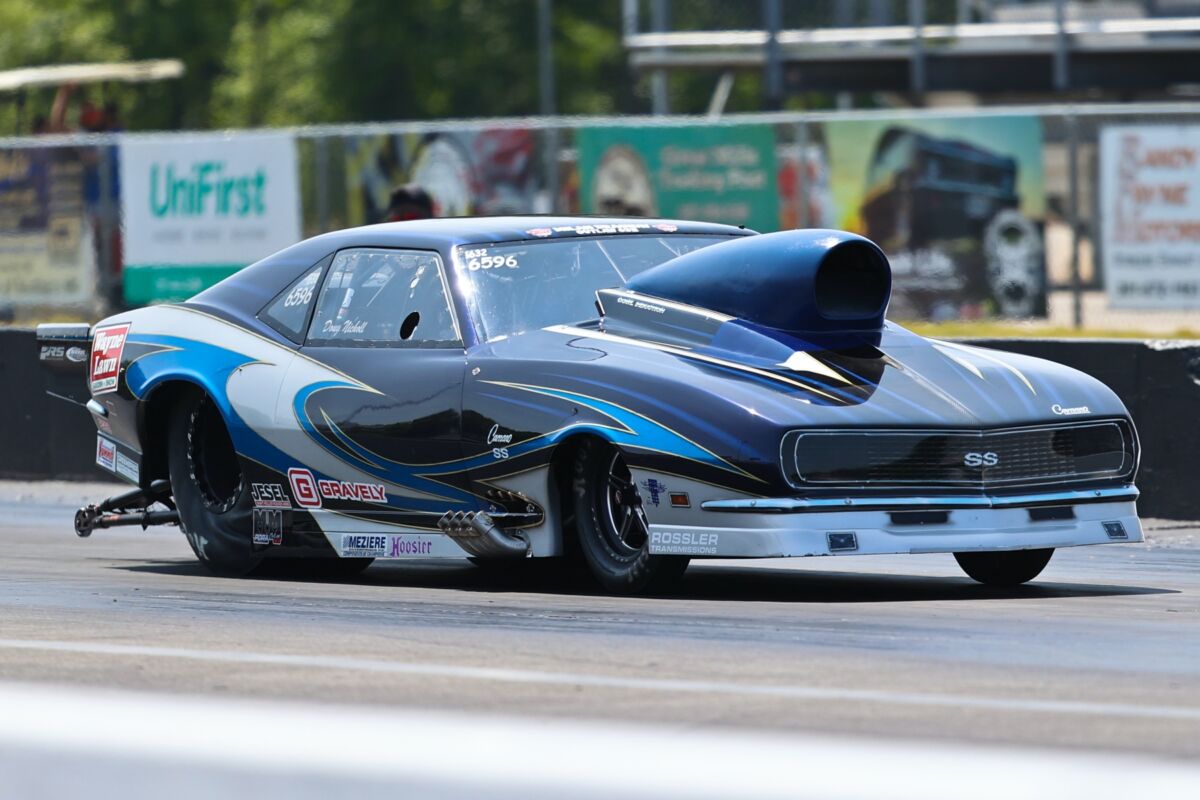 After a breakout weekend at Norwalk, where Doug Nicholl qualified No. 1 and reached the final round for the first time, the Michigan-based driver collected his second consecutive No. 1 qualifier award. On Thursday night, he recorded a 4.159 at 172.06 in his Musi-powered '68 Camaro, the same car Wes Distefano drove to two world championships in the class.
Reigning world champion Amber Franklin secured the No. 2 spot in her Musi-powered "OG Jungle Rat" '69 Camaro on the strength of a 4.181 at 170.45. Jason Ventura grabbed one of his best qualifying positions yet in his nitrous-fed Brand X '70 Camaro, taking the third spot with a 4.201 at 171.38.
PRO NITROUS MOTORCYCLE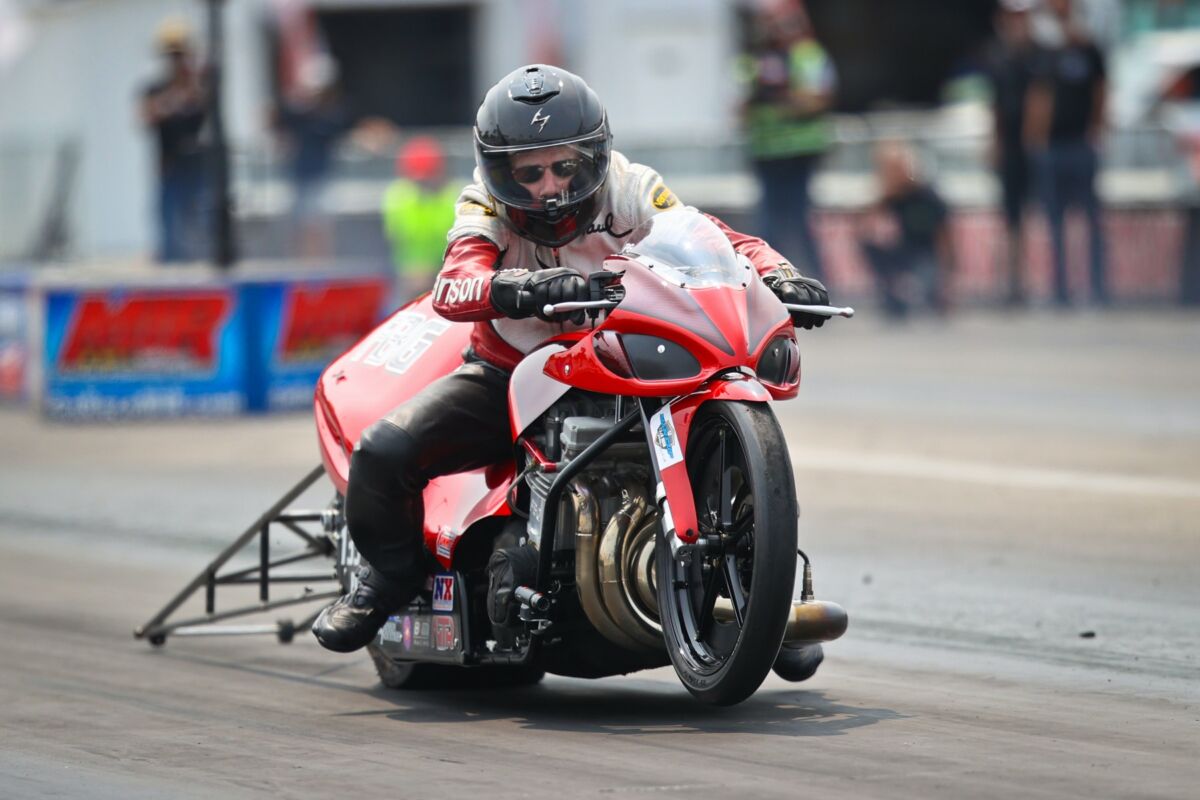 In his first Pro Nitrous Motorcycle appearance of the season, motorcycle drag racing veteran Paul Gast rocketed to the top of the qualifying order aboard his Fast By Fast Suzuki. His 4.012 at 172.72 put him on top of the largest Pro Nitrous Motorcycle field of the season.
Past world champion Chris Garner-Jones rode his TT Jones Racing Hayabusa to a 4.024 at 175.41 to qualify No. 2. Ashley Owens claimed the third spot with his 4.041 at 174.59 on his McKinney Motorsports Suzuki.
PRO STREET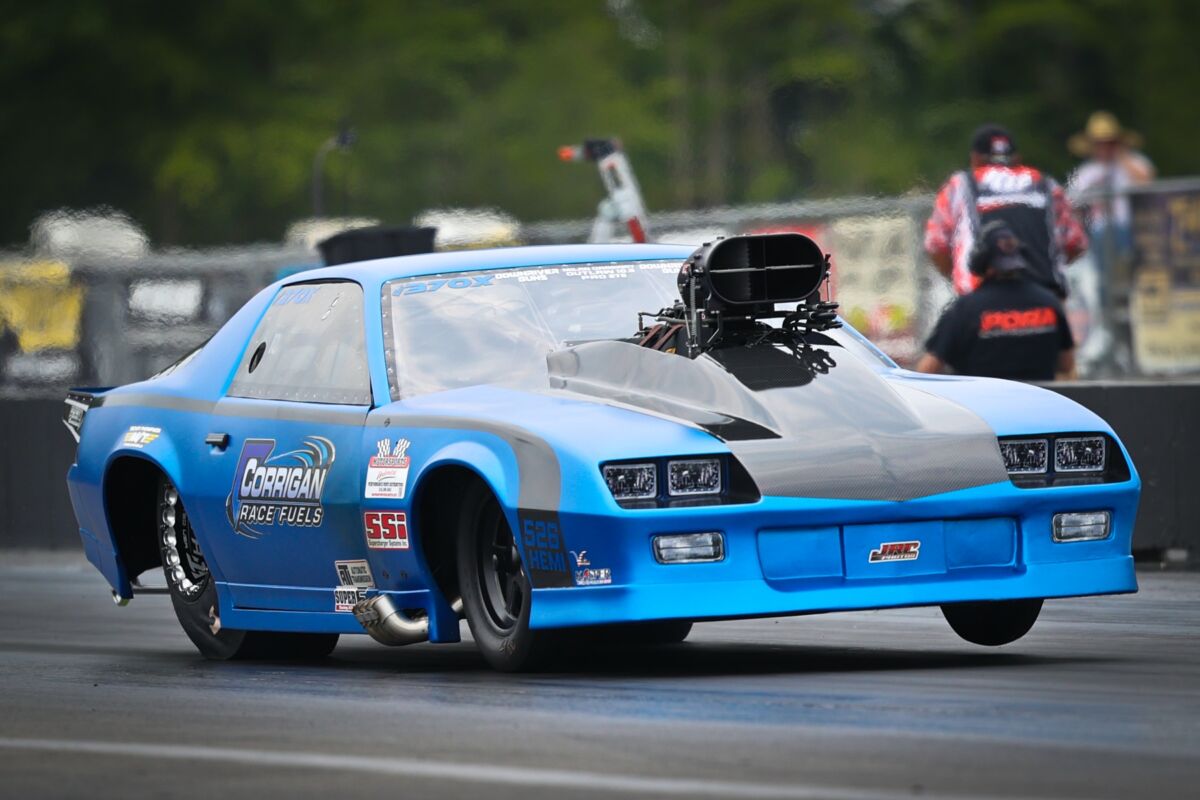 Bill Riddle has consistently had one of the quickest cars in Pro Street, and that continued at Maryland with the Michigan driver taking his third No. 1 qualifier award of the season. He fired off a 3.987 at 187.39 on Thursday, putting his roots-blown Corrigan Race Fuels '89 Camaro on top of a group that includes ProCharged cars, turbocharged cars, and other roots-blown entries.
A pair of Virginia-based drivers, Ron Green and Jesse Lambert, laid down 4.02-second passes to qualify No. 2 and 3, respectively. Green ran a 4.027 at 197.74 in his ProCharged '00 Trans Am, while Lambert posted a 4.029 at 199.49 in his twin-turbocharged '04 Mustang.
SUPER STREET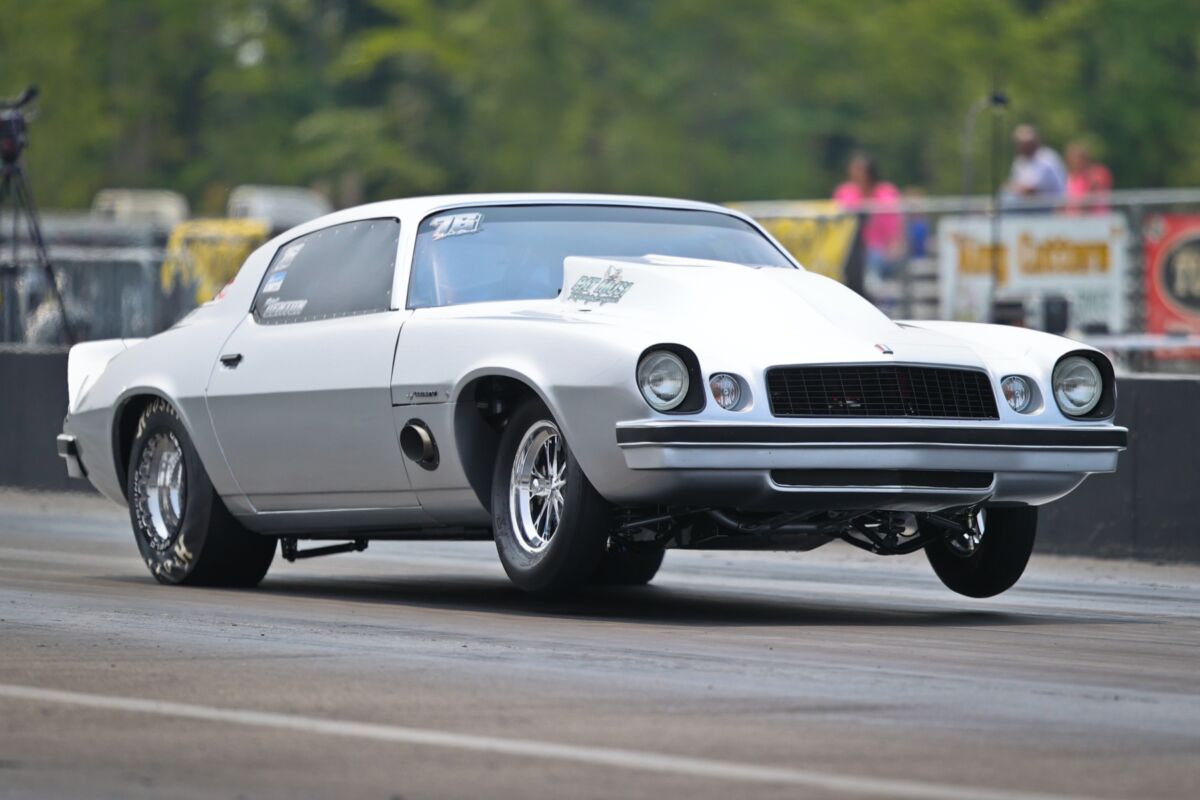 Blake Denton continued his No. 1 qualifying streak in Super Street, taking his third consecutive No. 1 qualifier award in his nitrous-fed, Musi-powered '76 Camaro. His 4.736 at 154.65 in the Thursday night session is the performance that put him in the top spot, but his 4.768 in the hot second session on Friday afternoon showed what he'll be able of on race day.
Paul Curry also dipped into the 4.70s in his purple ProCharged Nova, running a 4.775 at 155.78, to qualify No. 2. Hurlock, Maryland's Wes Ervin, who won the inaugural Super Street race at MIR last year, drove his nitrous-assisted '88 S10 to a 4.877 at 151.05 to take the third spot.
TOP SPORTSMAN
Tim Molnar's Albert-powered '68 Camaro is always quick, but his No. 1 qualifier award is his first of the season in Elite Top Sportsman. He recorded a 3.777 at 199.88 to hold off fellow past world champion Buddy Perkinson, who ended up second with his 3.778 at 198.03 in his Musi-powered LAT Racing Oils '69 Camaro. Another nitrous-fed Camaro, Glenn Butcher's '69 model, rounded out the top 3 with a 3.791 at 196.64.
Maryland's own Vonnie Mills was in the 16-car Elite field going into Q3, but she was bumped out towards the end of the session. That put her on top of the Top Sportsman 48 field in her nitrous-fed "Show-N-Tell" '15 Camaro with a 4.063 at 178.07.
TOP DRAGSTER
North Carolina's Charles J. Careccia made a strong 3.706 pass at 198.32 in his '96 Horton dragster to lock down the No. 1 qualifying spot in Elite Top Dragster. Vic Puglia in his '20 Puglia dragster used a 3.742 at 193.43 to qualify No. 2. Virginia driver Brian Anderson drove his '23 Race Tech dragster to a 3.768 at 192.44 to end up third.
It took all 3-second passes to qualify in the 16-car Elite field, and though Kent Newsome's 3.988 wasn't quick enough, it was enough to give him the No. 1 spot in Top Dragster 32.
The Fulton Racing Engines North vs. South Shootout presented by Penske Racing Shocks will continue Saturday at 9:30 a.m. beginning with Jr. Dragster final qualifying. Pro Boost and Extreme Pro Stock qualifying is scheduled to resume at 11 a.m., followed by eliminations in the sportsman and Jr. Dragster classes. Pre-race ceremonies and pro eliminations are scheduled to begin at 4:15 p.m.
Visit www.PDRA660.com or www.Facebook.com/PDRARacing for more info, including a complete schedule and detailed results.