Four-time and reigning Switzer Dynamics Pro Nitrous world champion Jim Halsey closed out Friday qualifying at the DeCerbo Construction PDRA American Doorslammer Challenge presented by Callies with a weekend-best pass to qualify No. 1 going into Saturday eliminations. Halsey's 3.639-second pass at 207.66 MPH gave the points leader his second consecutive low qualifier award at the PDRA's third race of the season.
Halsey's fellow low qualifiers in the pro classes are Jason Harris in WS Construction Pro Boost presented by P2 Contracting and Ty-Drive, Tony Gillig in Liberty's Gears Extreme Pro Stock presented by AED Competition, Doug Nicholl in M&M Transmission Pro 632, Bill Riddle in Menscer Motorsports Pro Street presented by Afco, and Blake Denton in Afco Super Street presented by Menscer Motorsports.
The sportsman classes also completed three Friday qualifying sessions, with No. 1 spots going to Buddy Perkinson in MagnaFuel Elite Top Sportsman presented by PAR Racing Engines, Craig Addis in Laris Motorsports Insurance Elite Top Dragster, Vonnie Mills in MagnaFuel Top Sportsman presented by Corbin's RV, and Steve Furr in Laris Motorsports Insurance Top Dragster.
In the Jr. Dragster classes, which will race using a 32-car field for the first time, Chase Gilbert and Victoria Beaner are the provisional low qualifiers after two of three qualifying sessions. Gilbert used a 7.901 in his Warrenton, Virginia-based '15 Halfscale dragster to lead 43 cars in Coolshirt Systems Pro Jr. Dragster presented by PRP. Beaner cut a .001 reaction time to take the provisional No. 1 spot in her Florida-based '20 Mike Bos dragster in Classic Graphix Top Jr. Dragster presented by PRP.
PRO NITROUS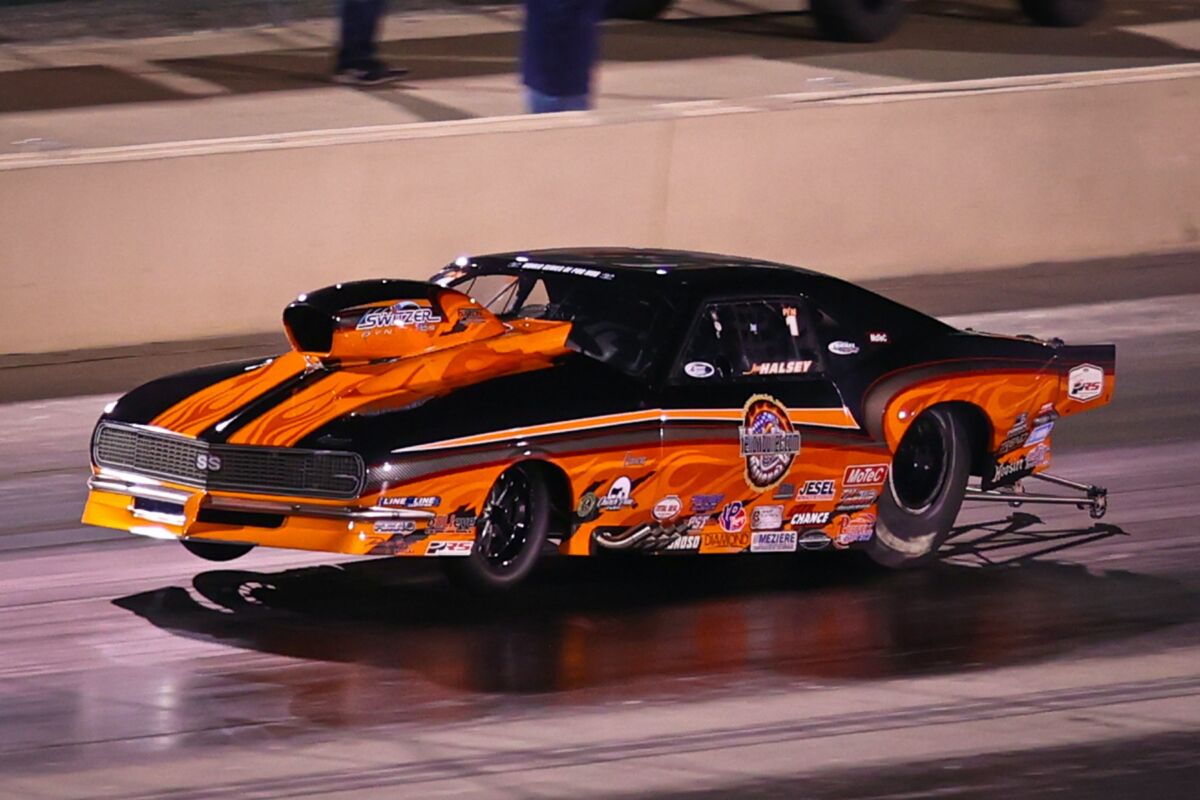 Points leader Jim Halsey went into the final Pro Nitrous qualifying session qualified third in his Brandon Switzer-tuned "Daddy Shark" '68 Camaro. But with a first-round bye run up for grabs for the No. 1 qualifier, Halsey and team went for it. The result was a 3.639 at 207.66, the quickest of eight 3.60-second passes on the final qualifying order.
"With struggling on the first run and not running what we thought we should run on the second run, it's pretty rewarding," Halsey said, thanking his tight-knit crew. "The track here is different from day to night. It's a big swing and you've got to be careful, and that's what bit us this morning. It was pretty hot – 120 degrees I think it was. We just missed it a little bit."
The final qualifying session also counted as the final round of the Structural Concrete Nitrous Wars race-within-a-race, which saw Halsey defeat engine builder Billy "The Kid" Albert and his 3.694. It was Halsey's third consecutive Nitrous Wars win for engine builder Gene Fulton and Fulton Competition Engines.
Halsey will have a bye run to start Saturday eliminations.
"That's a big plus for us," Halsey said. "That's one reason why we wanted to do what we did tonight. And then after that, I think it will be OK because the sun will be off the racetrack some and we'll be fine."
Jay Cox fired off a 3.663 at 206.92 in his Musi-powered Butner Construction '69 Camaro known as "The Pumpkin" to qualify second. Just a few thousandths of a second behind Cox, fellow North Carolina resident Chris Rini ran a 3.668 at 204.35 in his Buck-powered ATI Performance '69 Camaro to claim the third spot.
PRO BOOST
While the final session of Pro Boost qualifying produced a litany of 3.60-second passes, none of them were quicker than Jason Harris' 3.594 at 207.82 set in the second session in his ProCharged "Party Time" '69 Camaro. It was an improvement on his 3.652 from the first session, then he backed it up with a strong 3.61 at 208.52 in the final session, which ended with a 3.679-second bump spot.
"I kinda knew the best session was gonna be Q2," said Harris, who thanked Hoosier Racing Tires, Pro Line Racing, and the Party Time crew. "I really felt like when the sun went down, the air was gonna get really good and we were gonna have better air than we had racetrack, unfortunately. Even though the racetrack is good, the air is negative 400 foot. You just can't get these cars to do that. So we talked about it, me and Brandon [Stroud], and we said, 'Look, let's just try to go after it here.' We were shooting for a .60-.61 so when the .59 popped up, I was really surprised. We've been running good all weekend and hopefully we can keep it up."
Pittsburgh-area contractor Kurt Steding in his screw-blown P2 Contracting '20 Camaro recorded a 3.613 at 209.85 in the final session to qualify second. Steding also defeated Melanie Salemi's 3.673 in the Boost Wars final round, earning four points for Team Wyo Motorsports. Dustin Nesloney took the No. 3 spot with his 3.616 at 209.26 in the ProCharged GALOT Motorsports '22 Camaro.
EXTREME PRO STOCK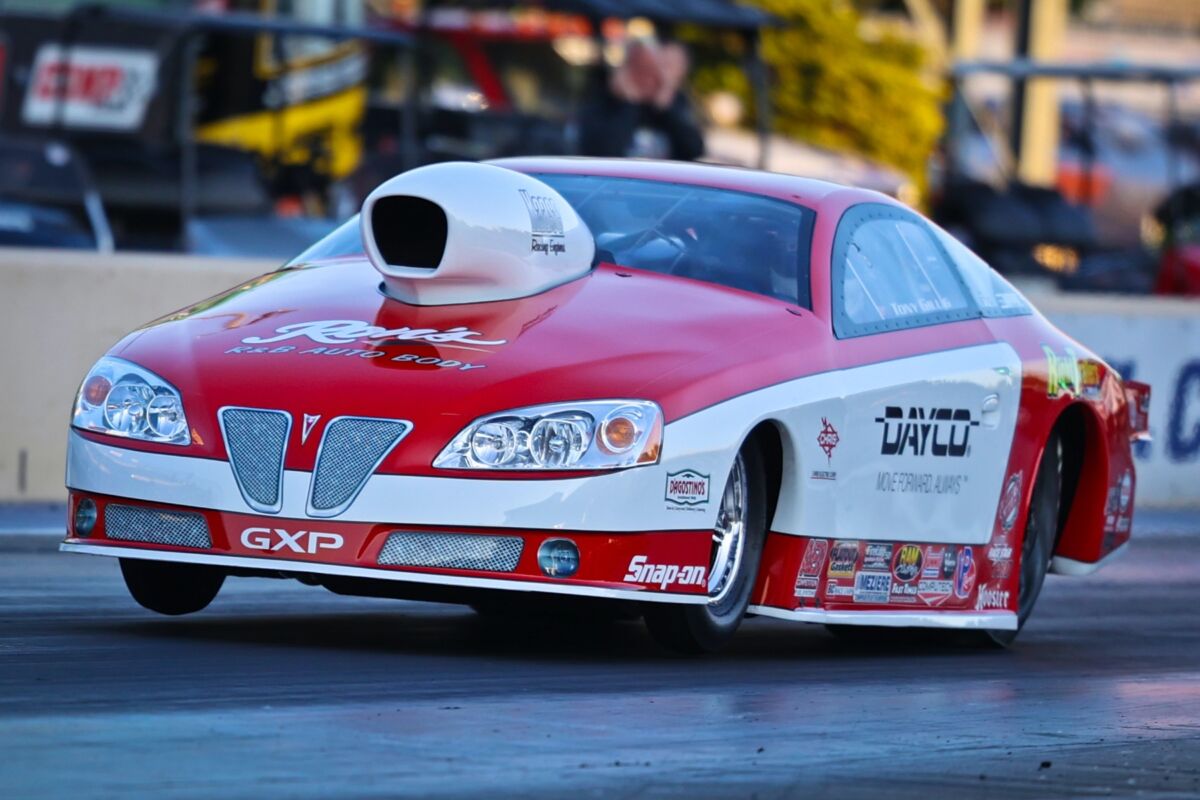 At last year's American Doorslammer Challenge, Tony Gillig was the provisional Friday No. 1 qualifier in Extreme Pro Stock before his top spot was taken away on Saturday. This time around, he recorded a career-best 4.027 at 179.90 in his Kaase-powered Dayco '10 GXP to lock in his first PDRA low qualifier award and first overall No. 1 qualifier spot in 26 years.
"We came off the trailer and just shook the back window out of the car," Gillig said. "You get behind the eight ball. What are you going to do now? So we made some changes and went up there in Q2 and made a pretty good run. I was pretty shocked to see how fast it went. That [180.12] was a career best for us, then I went that [4.049] and then just now going .02 is huge. I was shocked, honestly. You know you have the power and the car to do it, but it's always making the right call at the right time. Sometimes you don't, sometimes you do. We were lucky enough today to make the right calls and go out there and lay one down."
Ten of the 16 Extreme Pro Stock drivers recorded passes in the 4.00-second range, with numerous drivers also making their career-best passes. That means Gillig will face a competitive field on race day, but he has a quick car – and history – on his side.
"My only low qualifier was Bristol '97 in IHRA Pro Stock, and I won that race from the pole," said Gillig, who thanked partners like Dayco, Right Trailers, Ron's R&B Auto Body, Jon Kaase Racing Engines, Jerry Haas Race Cars, Ram Clutches, Hoosier Tires, and Race Star Wheels. "It was my first national event and that was 26 years ago. So it's been a little bit of a drought for a No. 1 qualifier, but that was never our strong suit, really. We always did better on race day. Hopefully [Saturday] that's the case. We're pretty excited."
In the final round of the Horsepower Wars engine builders challenge, Johnny Pluchino picked up four points for Team Kaase when he won with a 4.077 at 179.16 in his $hameless Racing '13 Mustang. Opponent Elijah Morton, representing Team Allen, got timed out on the starting line.
Two Florida-based Extreme Pro Stock rookies, Alan Drinkwater and Daryl Stewart, filled out the other top three qualifying spots behind Gillig. Drinkwater posted a 4.045 at 178.17 in his Kaase-powered Mustang to qualify second, with Stewart's 4.048 at 178.05 in his Sonny's-powered Chassis Engineering '18 Camaro giving him the No. 3 spot.
PRO 632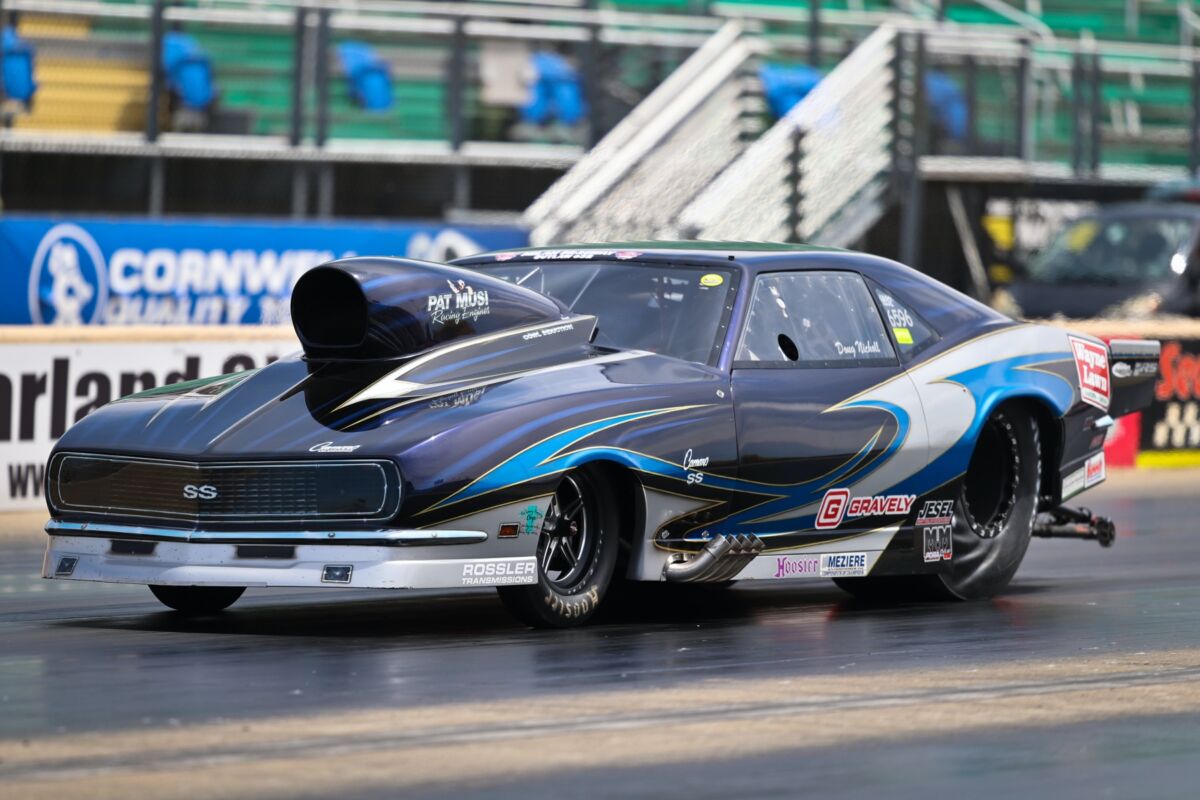 Michigan's Doug Nicholl added another milestone to his career-best season in Pro 632 when he laid down a 4.126 at 172.36 to earn his first No. 1 qualifier award in the series. Driving the same Musi-powered '68 Camaro that Wes Distefano drove to two world championships, Nicholl recorded the career-best pass in Friday's second session. He also made the second-quickest run of the final session.
"I've been chipping away at this for years with that Mustang, then buying this car, it's amazing," Nicholl said. "I can't believe I made it here. The last race we went to at Milan [Dragway], we took the win, and then to come here and go No. 1, it's an amazing feeling. Troy [Russell] is doing a great job tuning. This thing is killing it. Pat Musi Racing Engines has helped us out a ton. I think this is the best engine in 632 or nitrous out there. Thanks for everybody's help. We're doing a great job, and hopefully we'll be in the winner's circle [Saturday]."
Jeff Melnick and Amber Franklin, who've battled back and forth in the first two Pro 632 final rounds of the season, qualified No. 2 and 3, respectively. Melnick, an Ohio-based fabricator, put Alan O'Brien's AMC-powered Greenbrier Excavating & Paving '20 Camaro in the No. 2 spot with his 4.141 at 163.26 in the final session. Franklin, the defending world champion in her Musi-powered "OG Jungle Rat" '69 Camaro, ran a 4.175 at 170.99 to round out the top three.
PRO STREET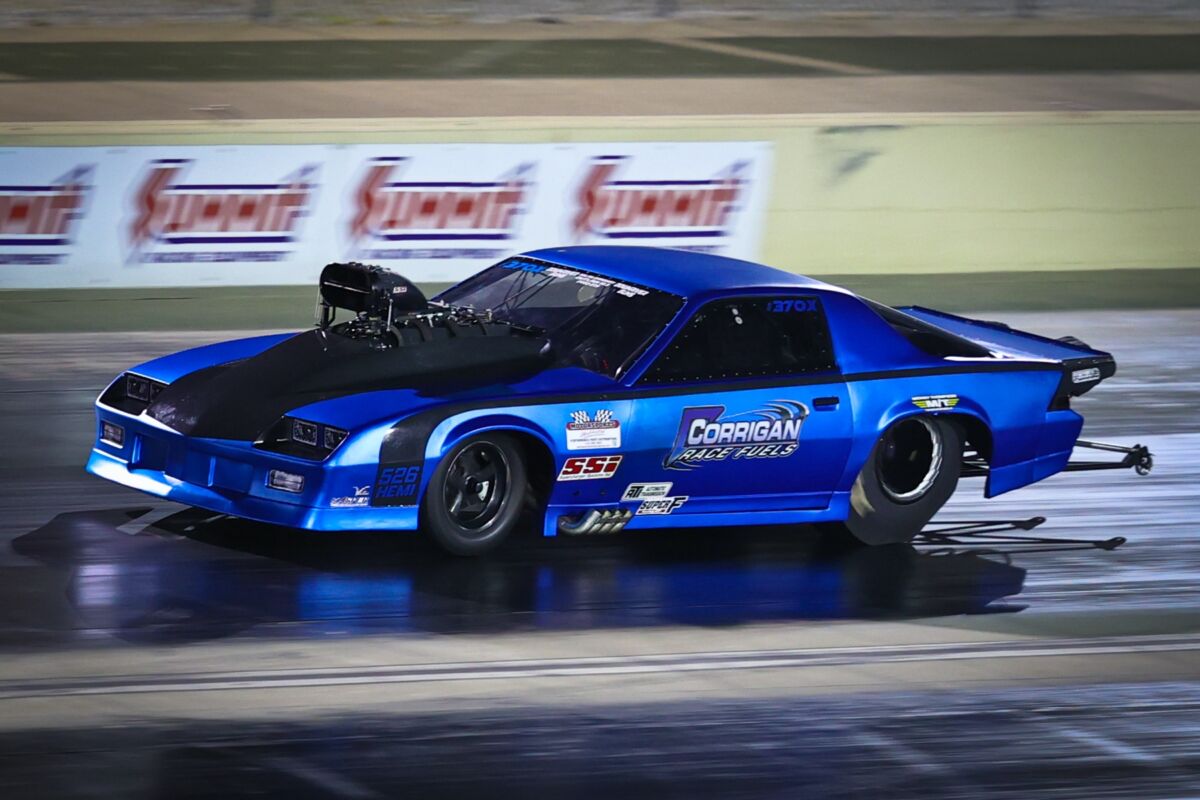 For the second time in three races, points leader Bill Riddle took his roots-blown Corrigan Race Fuels '89 Camaro to the No. 1 spot in Pro Street. The Howell, Michigan-based driver was the quickest of three drivers to dip into the 3-second zone with his 3.932 at 190.08 in the final qualifying session. He was also the quickest driver in the two prior sessions with bests of 4.021 and 3.935.
"It was a tricky racetrack earlier today and we put a tune-up in it just to see if the car would [go down the track] on a hot day and it did," said Riddle, who thanked crew member and friend Chris Yates, his wife and family, and sponsors like Corrigan Race Fuels, SSI Superchargers, Motorsports Unlimited, and Mickey Thompson Tires. "For the most part, it went down on the first run. After that, we really just left it alone and let the weather come to it. The car will go down a dirt road, I guess."
Canadian Nick Agostino in his small-block, turbocharged "Cannoli Express" '69 Camaro settled into a season-best No. 2 spot on the strength of a 3.949 at 197.68. Two-time and reigning world champion Tim Essick drove his ProCharged "Brown Sugar" '18 Mustang to a 3.997 at 190.30 to qualify third.
SUPER STREET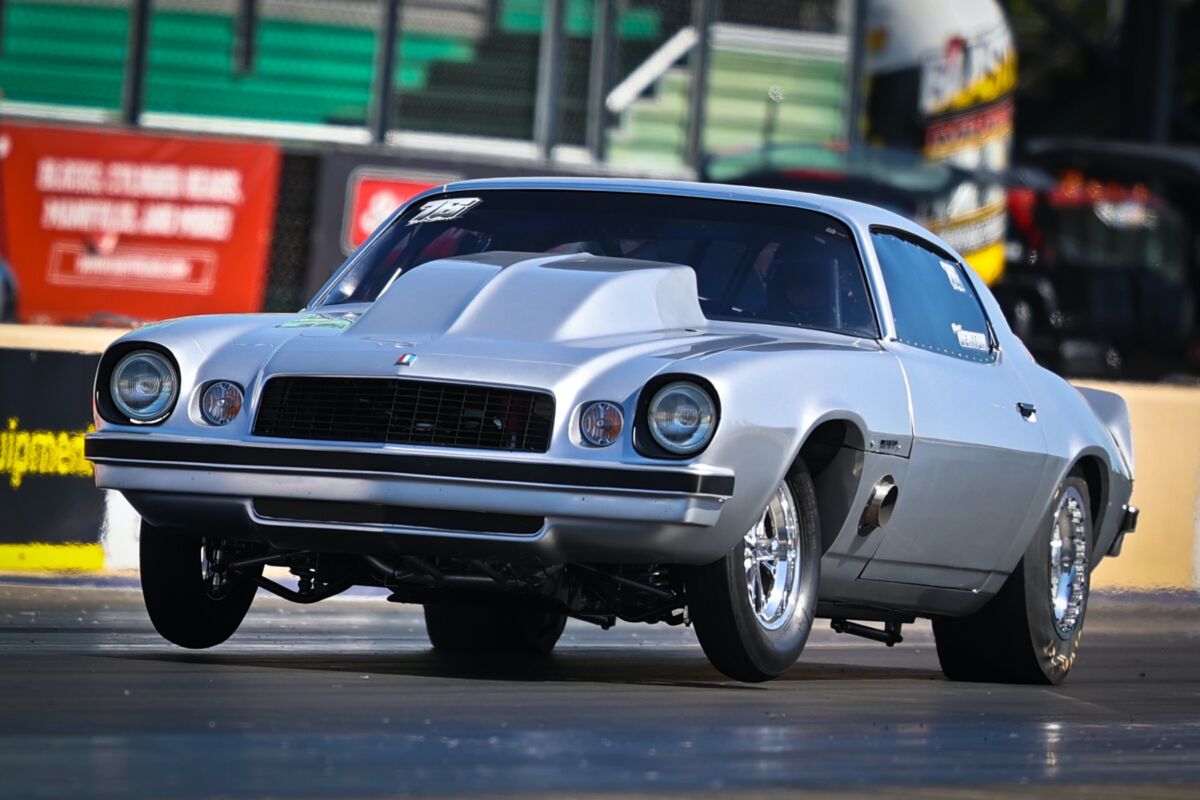 Super Street young gun Blake Denton's hot streak in the class continued Friday with his second consecutive No. 1 qualifier award. Driving his Musi-powered '76 Camaro, Denton stepped up to a 4.729 at 156.68 in the final session to hold off three other drivers in the 4.70s. Earlier this month, Denton also qualified No. 1 and won in Super Street at the Shakedown Nationals at Virginia Motorsports Park, though it wasn't in PDRA competition.
"We had a little hiccup in testing, then we kind of got the car straight and came out here and had to pedal it in Q2," said Denton, who thanked Mark Micke's M&M Transmission, Pat Musi Racing Engines, Hoosier Tires, and Tommy and Judy Franklin. "In Q3, we kind of swung for it and it took it. So I couldn't be happier with the car. It's working great and the motor is running good. Everything's going good."
Dan Whetstine was Denton's closest challenger with a 4.762 at 155.87 in his ProCharged '91 Mustang in second. Brad Cox posted a 4.767 at 153.65 in his '90 Mustang to qualify third.
TOP SPORTSMAN
In a special fourth qualifying for the 16 quickest cars to battle it out for the top spot in Elite Top Sportsman, past world champion Buddy Perkinson fired off a 3.715 at 202.15 in his Musi-powered LAT Racing Oils '69 Camaro to take the No. 1 spot away from Donny "Hollywood" Urban. Urban was on top of the field going into the session with his 3.767 at 198.20. Ohio native Tim Molnar ended up third in his '68 Camaro with a 3.776 at 201.43.
Maryland's Vonnie Mills secured the No. 1 spot in Top Sportsman, posting a 4.03 at 180.79 in her nitrous-fed "Show-N-Tell" '15 Camaro. Seventy-three drivers attempted to qualify in Top Sportsman, with the quickest 16 going into the Elite field and the next 48 drivers running in Top Sportsman.
TOP DRAGSTER
Ohio's own Craig Addis threw down a 3.654 at 198.47 in his ProCharged '21 Spitzer dragster to qualify on top of a record-setting Elite Top Dragster field. He took the top spot from KC Ingram, who slipped to the No. 2 spot in his supercharged '22 Miller dragster with a 3.717 at 201.40. Another Ohio-based hitter, Bryan Keller, posted a 3.751 at 166.19 in his KB Trailer Sales '12 Spitzer dragster to sit third.
Past Elite Top Dragster world champion Steve Furr's ProCharged Right Trailers dragster is usually quick enough to qualify in the Elite field, but his best of 3.827 at 189.12 instead put him in the No. 1 spot of the regular Top Dragster field.
The DeCerbo Construction American Doorslammer Challenge presented by Callies will continue Saturday at 9:30 a.m. starting with Jr. Dragster final qualifying and Edelbrock Bracket Bash presented by COMP Cams time trials, with sportsman eliminations to follow. Pre-race ceremonies and pro eliminations will begin at 3 p.m.