The 2014 NHRA Mello Yello Drag Racing Series finale couldn't have been any sweeter for Matt Hagan and the Mopar Express Lane/Rocky Boots Funny Car team. Hagan earned the 2014 NHRA Funny Car world championship in the semifinals by defeating Don Schumacher Racing (DSR) teammate Tommy Johnson Jr. and then his Dodge Charger R/T beat John Force's Mustang Funny Car in the final round of the NHRA Auto Club Finals for the event title.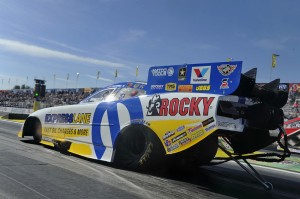 "The championship was really what we were after," Hagan said. "The race win was the icing on the cake. But it solidified that we had a great race car.
"To be the best you have to beat the best and everyone says (Force) is the best and we beat him. It was nice to finish it out strong. We beat him here this time last year and we did it again so hats off to him they had a great car but we had the better one today."
Crew chief Dickie Venables joined an elite list of Funny Car crew chiefs who have won championship titles with two different drivers. The list consists of DSR's Venables and Jimmy Prock, along with Austin Coil and Mike Neff of John Force Racing.
"Don gave me a call at the first of last year, I jumped at the opportunity," Venables said. "I feel very fortunate to have that opportunity to get my foot in the door. I've always believed in myself, that I had the ability to get things done. Don gave me that chance and I'm very grateful for that.
"I think that this sport is a passion; it's not just a job. It's something that you put your whole life into and I think it takes that in order to be successful," Venables continued. "This is something I love to do. I want to win. And when I don't I'm not happy. It just drives you to do well.
"When you have all the tools and equipment at your fingertips, there are no excuses. When you have a driver like Matt and have the team that Don Schumacher puts together, it just means a lot to be able to have that. To be able to do what we've done in the short amount of time, I feel blessed."
Hagan, now a two-time NHRA Funny Car champion, was intent on making it a point that their championship was not won in a single day, but made up of little victories over the year that included four event titles and two runner-up finishes.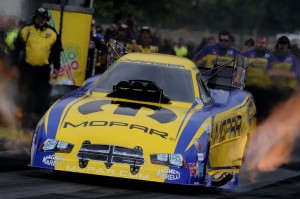 "It may have come down to just one day but really it's the last six races that led us to this point. Making the right decisions, digging deep and doing a gut-check out there," he said.
"At the end of the day it comes down to my crew chief and my crew guys have busted their butts day-in and day-out to make it happen and I can't be prouder of them. It was one common goal and 10 guys working together and at the end of the day we got to hold both trophies up.
"I told myself this morning that this is what we worked hard for all year long. I don't need to sweat it. I don't need to be nervous. Just trust in your stuff and race your race car and enjoy the moment."
Don Schumacher Racing now owns 240 event titles and 13 world championships.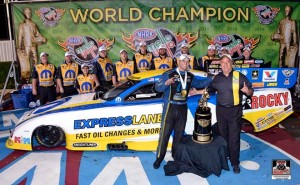 "It's just a great, great feeling to go out and succeed at what you put your heart and your efforts into," team owner Schumacher said. "I go 'wow' all the time with what these guys do out here. They amaze me with the hard work and the effort that they put in. I have to say, I try to put everything into that I can. Everybody on my team expects to go out here and win.
"Matt is driven, he works at being the best that you can be out there. His team and he himself has driven him to what he is today. You all see the physical side of it but I see the mental side of it. He is one of the best out here to say the least. Not one of us can do this by ourselves. It takes a team. Dickie Venables, all of the guys over there, they just did a great job."
(Photos courtesy NHRA/National Dragster; DSR/Facebook/AutoImagery)