Funny Car points leader Matt Hagan made a pair of strong qualifying runs to open the final race weekend of the 2023 NHRA season, powering to the provisional No. 1 position for Tony Stewart Racing on Friday at the 58th annual In-N-Out Burger NHRA Finals at In-N-Out Pomona Dragstrip.
Steve Torrence (Top Fuel), Greg Anderson (Pro Stock) and Gaige Herrera (Pro Stock Motorcycle) are also the provisional No. 1 qualifiers at the 21st race of the 2023 NHRA Camping World Drag Racing Series season, and the sixth of six races in the Countdown to the Championship playoffs.
Hagan put together a run of 3.869-seconds at 328.46 mph in his 11,000-horsepower Dodge Direct Connection Charger SRT Hellcat, moving into the No. 1 spot and putting him in line for his second top qualifier of the season and 51st in his career. Hagan, Bob Tasca III and Robert Hight entered the weekend separated by just 17 points as Hagan seeks his fourth career world title and the first for Tony Stewart Racing.
"This is what I worked for all year long – to be able to do this, go down that racetrack, and have a fast racecar underneath me," Hagan said. "That's what excites me and keeps me coming back every year. I keep crawling back in this racecar because I get to create these moments. I truly wake up every morning going damn this is my job and I get to do this, and I'm right here in this fight.
"I truly love pulling the helmet on and having an opponent that makes me rise to the occasion. I don't care if it's on me. For me, it's turning it into something that's exciting energy instead of nervous energy. It's taken me a long time to learn how to do that as a competitor."
Paul Lee took the second spot with a run of 3.875 at 322.58 and Tasca is currently third thanks to his run of 3.880 at 336.99. Hight is fourth with a 3.898.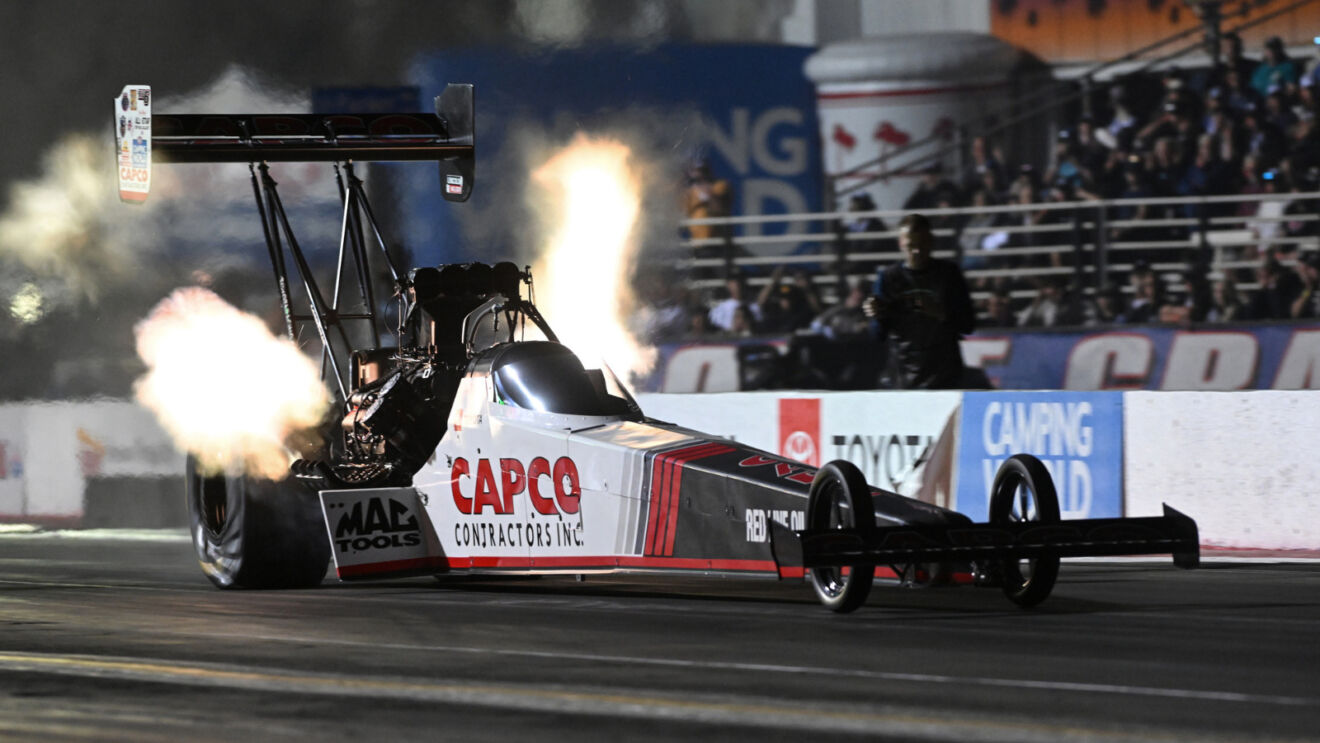 In Top Fuel, Steve Torrence opened up what he hopes is a championship-winning weekend with a spectacular start, going 3.641 at 335.65 in his 11,000-horsepower Capco Contractors/Toyota dragster. Should that hold, the four-time world champion would earn his fourth No. 1 qualifier of the season and the 38th in his career. More importantly, it's a great way to kick off the weekend in what could be an incredible finish in the category. Torrence, Doug Kalitta and Leah Pruett are all within striking distance of each other heading into the weekend and each delivered standout runs during the second qualifying session under the lights. But it was Torrence who delivered the biggest, something he hopes is the sign for the rest of the weekend.
"That's a huge boost for us," Torrence said. "The last four, five, six races, the car has been really good and getting better. We took a year and developed what we're doing, maybe a year and a half. We were always the car that ran well in mediocre, hot conditions and tricky racetracks but not powerful or strong enough to go .64, .65, .63. It took a lot of time and effort to get there and I feel very confident that when conditions are like they are now, we've got one of the strongest cars if not the strongest.
"That's big for me. Not that it boosts your head up, but it definitely gives you a mental confidence and somewhat of an advantage going into a round where, hey we've got to throw down and we can throw down more than they can. I would dare to say that I have the best racecar I've had in a long time, probably the quickest and fastest I've ever had. If not the best at the racetrack, one of the best."
Kalitta is currently in second with a 3.671 at 336.99 and Pruett's 3.676 at 332.84 puts her third.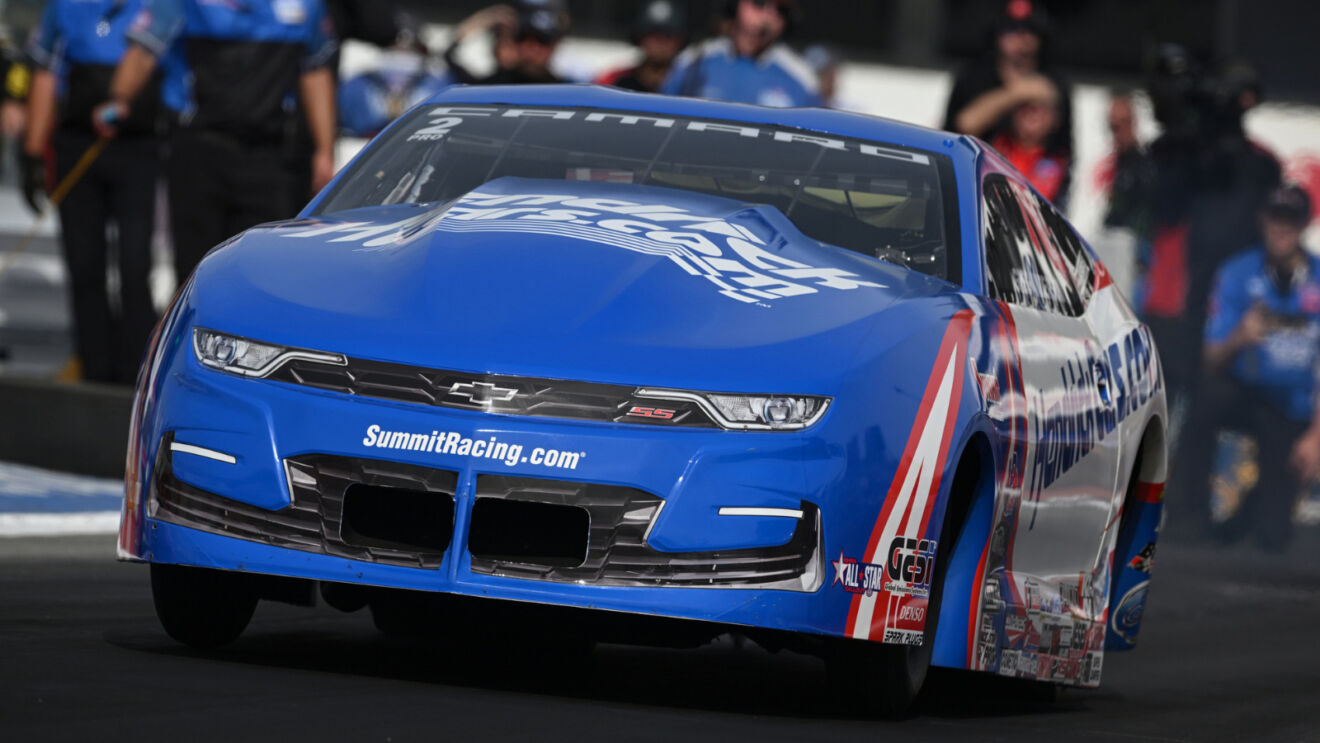 Looking to stay alive in the championship hunt, Pro Stock's Greg Anderson made a stellar run to close out Friday, going 6.495 at 211.69 in his HendrickCars.com Chevrolet Camaro. He entered the weekend trailing Erica Enders by 114 points, but closed the gap a little with two strong runs to open qualifying. Enders can still clinch the title on Saturday if she gains seven or more qualifying points than Anderson. If not, the championship would be decided the next day and Anderson hopes he can stay in the mix for at least a couple more days as both standouts race for their sixth world championship.
"The points deal is not exactly playing in my favor right now, but it's like the old line from 'Dumb and Dumber, 'So you're saying there's a chance,'" Anderson said. "Until they tell me there's not a chance, I'm not leaving. I'm going to give it everything I've got. I need to find a way to have a great run in qualifying and score bonus points and not lose bonus points to Erica. That would put her another round ahead and make it to where it's locked up.
"That's No. 1 goal, qualify ahead of her and not lose bonus points. Day one in the books, mission accomplished. We did great today, we did all we could do today. I've got all the confidence in the world that this team will do all we can possibly do. You just never know what's going to happen. It's not over until it's over. We're going to keep swinging until they tell us it's over."
Troy Coughlin's 6.500 at 210.01 puts him in the second spot, while Enders moved to third in the final session after going 6.500 at 210.31.
Gaige Herrera will clinch his first Pro Stock Motorcycle world championship on Saturday and enjoyed a strong Friday as well in Pomona, going to the provisional No. 1 spot on his Mission Foods/Vance & Hines Suzuki with a run of 6.721 at 200.59. Should that hold, Herrera would extend his PSM single-season record with his 14th top spot in 15 races, one of the many examples of his dominance in 2023. Herrera will wrap up his world title at the conclusion of qualifying on Saturday on the strength of 10 wins during his record-setting season.
"It's really starting to set in, what all has been accomplished," Herrera said. "We're basically wrapping up the championship tomorrow, and it's a lot to take in. I was talking to a good friend of mine and he was like a year ago at this time, did you think you'd be in the position you're in? That's a definite no. Even though I joined one of the best teams out here, you can't expect to have a season like this. It's just, it's remarkable. It's incredible. I'm literally living the dream I had as a little kid and I'm just having fun with it. I don't think it can get any better than this.
"I'm definitely thinking about the championship, but I'm not even nervous about this, I'm more worried about the banquet on Monday."
Hector Arana Jr. is currently in the second spot after going 6.729 at 201.28 and Eddie Krawiec, who is seeking his 50th career win, is third thanks to a 6.742 at 201.52.
Qualifying continues at 12:00 p.m. PT on Saturday at the In-N-Out Burger NHRA Finals at In-N-Out Burger Pomona Dragstrip.