Matt Hagan continued his quest for a third Funny Car world championship as he powered to the No. 1 qualifying position with a track-record performance Saturday during the AAA Insurance NHRA Midwest Nationals at Gateway Motorsports Park near St. Louis.
Steve Torrence (Top Fuel), Greg Anderson (Pro Stock), and Jerry Savoie (Pro Stock Motorcycle) also will lead their categories into Sunday's 11 a.m. eliminations as No. 1 qualifiers at the second of six playoff races in the NHRA Mello Yello Countdown to the Championship.
Hagan earned his fourth No. 1 qualifying position of the season with a performance of 3.883 seconds at 330.47 mph in his Mopar Express Lane / Rocky Boots Dodge Charger R/T. His E.T. is the second quickest in the history of Funny Car and his speed is the fastest run in category history.
"It took a lot of courage for Dickie [Venables-crew chief] to make big, drastic changes to this car since the Western Swing," said Hagan. "It's cool to see the changes that he made work and give everybody confidence. It's one of those things you can be sitting in a rocking chair thinking back about one day and say, 'That was badass.'
"Now that we have the data for a couple of 3.80 runs, maybe we can run low-3.90s on a consistent basis. Points matter now for everything, so it's a bummer we didn't get the record. For the morale, it's a good run to have."
Hagan entered the event fourth in Funny Car standings after his second round loss at the opening race in the playoffs at Charlotte. Hagan will face Brian Stewart in the first round of eliminations.
Points leader Del Worsham is in a position to pick up 20 valuable bonus points as his E.T. of 3.899 posted in the fourth round of qualifying is a national record. Worsham will have to retain the record at the conclusion of the event to earn the points. He qualified second in his DHL Toyota Camry and will face Tony Pedregon on Sunday.
Jack Beckman qualified third in his Infinite Hero Dodge Charger R/T and will face John Bojec and Ron Capps, who qualified fourth, will race John Hale.
Torrence sped to his first No. 1 qualifying position of the season with his track record time of 3.718 at 328.22 in his Capco Contractors dragster. This marks the first race veteran tuner Alan Johnson has been with the team as a consultant.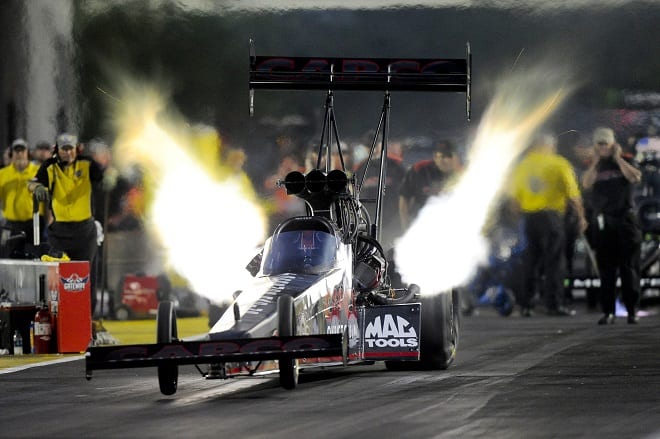 "It was unbelievable," said Torrence. "The car has run really well all weekend. [Crew chief] Richard [Hogan] and Alan have brought a new dynamic to the table. It gives me a lot of confidence as a driver. I'd rather race with [Johnson] than against him.
"Alan doesn't have a magic wand that he's going to wave over a dragster and set records. He brings a good set of eyes and finds little things to improve on the car. The team has been doing a great job all year. We've qualified well the last six or seven races."
Torrence will face Kyle Wurtzel in the first round of eliminations.
Top Fuel Countdown to the Championship points leader Antron Brown qualified second with a run of 3.736 at 322.96 in his Matco Tools dragster and will face Terry McMillen. U.S. Army dragster pilot, Tony Schumacher, who is second in Top Fuel points will start the day in the bottom half of the field in 11th and will face sixth place qualifier Clay Millican in his Great Clips dragster in the opening round.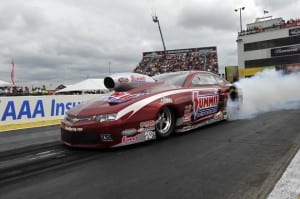 In Pro Stock, Anderson, claimed his 79th No. 1 qualifying position in his career with his run of 6.492 at 213.27 in his Summit Racing Equipment Chevy Camaro. This is his third consecutive No. 1 qualifying position and the fourth of the season. Anderson entered the event second in Pro Stock points will face Mark Hogan in the opener
"Things are going well; my car is great blast to drive," Anderson said. "It is fast and consistent and smooth. I told my guys thank you so much. Now just keep doing what you're doing. Any time you can get all the bonus points that are available that's a great weekend so far. Now, I just have to do my job on Sunday."
Anderson entered the event trailing points leader Erica Enders by 83 markers. Anderson led all four qualifying sessions and picked up 12 valuable points.
"To be honest there are probably 10 or 12 cars that absolutely could win this race tomorrow and no one would be shocked," he continued. "We just have to learn to be aggressive. We had cloud cover today and when that happens all the cars get happy; not just mine. You can't be shy in the playoffs so we'll up the ante a little bit tomorrow. I know the track will take it. I've got the horse underneath me I just need to ride it like it should be ridden."
Bo Butner in his 12th race of the season qualified a career best of second in his Jim Butner Auto Sales Camaro with his run of 6.502 at 212.83 and will face Aarong Strong. Points leader Erica Enders qualified third and will run Alex Laughlin on Sunday.
Defending Pro Stock Motorcycle event winner Savoie raced to his first No. 1 qualifying position of the season and second of his career with his Friday run of 6.832 at 196.50 on his Savoie Alligator Farms Suzuki. He will face Scotty Pollacheck in the first round of eliminations.
"This is good; I've been bumped off the pole three or four times this year by Chip [Ellis] and Eddie [Krawiec],"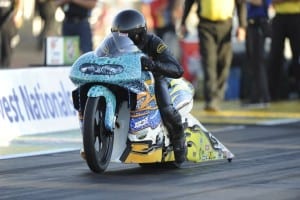 said Savoie. "I don't like getting squeezed out. I want to be the guy who dominates, but we got this one by the skin of our teeth. Andrew [Hines] almost got us at the end, but we held on. Now we can go for the gusto tomorrow."
Andrew Hines, who lead the Pro Stock Motorcycle points qualified second on his Screamin' Eagle Vance and Hines Harley-Davidson and will face Brain Pretzel. Steve Johnson qualified third, his best starting position of the season, and will face two-time world champion Matt Smith in the first round of eliminations.