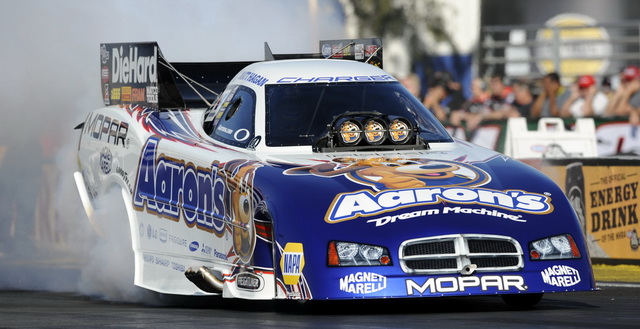 "Close" is not a word Matt Hagan wants to hear anymore, especially if it's about how close he's come to winning his first NHRA Full Throttle Drag Racing Series event title this season.
On Sunday (Sep. 23) near Dallas, Hagan and the Aaron's Dream Machine Funny Car advanced to the championship round for the third time in the past six events. The other three races within that run he advanced to the semifinals. Because he and crew chief Tommy DeLago did not qualify for the Countdown to the Championship playoff this year after winning the prestigious title a year ago, the team is running to win trophies.
"We know what we are capable of doing and we've shown that the last six races, but I just want to win a trophy – for me, the team, our sponsors," Hagan said. "I know we will before the season is over, but I'm really getting frustrated."
Hagan regrets that his frustration boiled over after he lost in the final round Sunday to Bob Tasca III after both cars lost traction briefly and smoked their tires. Hagan, however, was able to react quickly enough to take the lead until the blower belt came off and allowed Tasca to cruise by.
When Hagan got out of his Dodge Charger R/T, he tossed his helmet.
"Man, I really wish I hadn't done that," he said. "That did not no good at all for anybody, and it made me look like a fool and a poor sport. But it's so frustrating, and we're tired of losing. I just want to apologize to our fans for doing that."
He might get charged-up in a better way this weekend when his Dodge is adorned with DieHard Advanced Gold battery brand colors, just as it was when the team won the NHRA title a year ago.
"When we were really struggling to get past the first round earlier this year and we'd get to the second round I kept saying we were ready to turn the corner. At St. Louis, the only corner I want to turn is the one that sends us to the winner's circle."