Funny Car driver Matt Hagan secured the No. 1 qualifier award Sunday at the 62nd annual Chevrolet Performance U.S. Nationals at Lucas Oil Raceway at Indianapolis. Clay Millican (Top Fuel), Bo Butner (Pro Stock) and Angelle Sampey (Pro Stock Motorcycle) also were No. 1 qualifiers in their respective categories at the 18th event of 24 on the 2016 NHRA Mello Yello Drag Racing Series schedule. The Chevrolet Performance U.S. Nationals is the final race of the regular season.
Hagan's Friday night performance of 3.858 at 330.80 in his Mopar / Rocky Boots Dodge Charger R/T propelled him to the No. 1 spot in Funny Car qualifying for the Chevrolet Performance U.S. Nationals. His time was a Lucas Oil Raceway track record. Hagan earned the 25th No. 1 qualifier of his career and fourth of the season with the effort. He will meet John Bojec in the opening round of eliminations.
"I didn't think it was going to stick, but I'm glad it did," said Hagan, who is chasing his first win at the Big Go. "I was surprised to see that .85-second pass was still it. That's racing. Everybody is swinging for the fence and digging deep and sometimes you miss it. We'll get focused for tomorrow. Woke up this morning with a sore throat and running a fever but whether you got a cold or not, you got to get in the racecar focused."
Infinite Hero Foundation Dodge Charger R/T pilot Jack Beckman is third with a 3.859 at a track record speed of 333.08. The 2012 Funny Car world champion will race Dave Richards in the opening round. Points leader Capps is third with a 3.861 at 325.30 in his Napa Auto Parts Dodge Charger R/T and is matched with Bob Bode. In fourth is Courtney Force, who will go heads up with Jim Campbell in the first round.
In Top Fuel, Millican was able to stay in the No. 1 spot through Sunday with his Saturday night performance of 3.692 at 316.82 in his Parts Plus / Great Clips dragster. His time is a track record. This is Millican's fourth career No. 1 qualifier and first of the season. He is pursuing his first career victory. Millican will race Terry McMillen Monday morning.
"This is an incredible group that we have together that makes this thing go," said Millican. "I'm the one everyone talks to but the truth is it is all those young men that work on the car. It is really a proud moment for this small team to be able to go out here and be the No. 1 qualifier at the U.S. Nationals. This is my fourth No. 1 qualifier with the NHRA but this is certainly the biggest one, no doubt about it."
Steve Torrence is second in his Capco Contractors dragster with a 3.702 at 328.06.The two-time 2016 event winner will battle Indianapolis local Bruce Litton in the first round. Brittany Force is third in her Monster Energy dragster and will meet Pat Dakin Monday morning. Schumacher and reigning world champ Antron Brown are fourth and fifth, respectively.
McMillen and 10th place qualifier Leah Pritchett, driver of the Papa John's dragster, are in a heated points battle for the 10th and final place in the NHRA Mello Yello Countdown to the Championship. Pritchett enters Monday's eliminations with a one-point lead over McMillen, who drives the Amalie Motor Oil dragster.
Bo Butner pushed his Jim Butner Auto Chevy Camaro to the top spot in Pro Stock with a 6.571 at 210.24, claiming the third No. 1 of his career. He has notched four runner-up finishes this year, the most recent coming in Sonoma, Calif. Butner will race Curt Steinbach in the first round of eliminations.
"Hopefully we will get some of this hometown love," said Butner, who is from Floyds Knob, Ind. "We have a very fast car and we've had a very fast car all year long. This is the toughest class ever and it's hard to win. You have to have a little luck and some breaks but I feel good about this weekend so I think we'll maybe finish it up like we need to and win."
Greg Anderson qualified second in his Summit Racing Equipment Chevy Camaro with a 6.576 at 209.92. Anderson, a six-time Indianapolis winner, has seven wins in eleven final round appearances this season and currently sits second in points. He will go head-to-head with five-time world champ Jeg Coughlin to open eliminations.
Shane Gray, the Chicago No. 1 qualifier, is third and is matched with two-time and reigning world champion Erica Enders. Enders is the defending event winner.
Vincent Nobile, a two-time 2016 runner-up, is fourth and will race Deric Kramer, while seven-time 2016 winner Jason Line is fifth and paired with Seattle winner Aaron Strong.
In Pro Stock Motorcycle, Sampey rode her Star Racing / Precision Service Equipment Buell to the 48th No. 1 qualifier of her career with a 6.812 at 196.62. She set the elapsed time track record with the pass. This is her third No. 1 qualifier of 2016 and fifth ever at Lucas Oil Raceway. Sampey won this race back-to-back in 2001 and 2002. She will go up against 2009 event winner Hector Arana in the first round.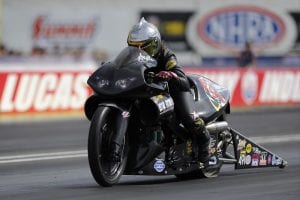 "When they told me I ran an .81 I lost it down there like I had won the race," said Sampey, who won earlier this year in Englishtown, N.J., to claim her first victory since 2007. "I was hootin' and hollerin' because I didn't expect it. I was very proud of my team and very proud of myself because I did a very good job of driving it that run, which usually doesn't happen every single run."
Alligator farmer Jerry Savoie qualified second with a 6.841 at 195.19 on his White Alligator Racing Suzuki. The defending Chevrolet Performance U.S. Nationals champion is paired with Scott Pollacheck in the opening round.
Eddie Krawiec is third on his Screamin' Eagle Vance & Hines Harley-Davidson and will race Karen Stoffer Monday morning. Chip Ellis is fourth and matched with Jim Underdahl while Hector Arana Jr. is fifth and will battle Michael Ray.
Eliminations for the Chevrolet Performance U.S. Nationals will begin Monday at 11 a.m. at Lucas Oil Raceway.