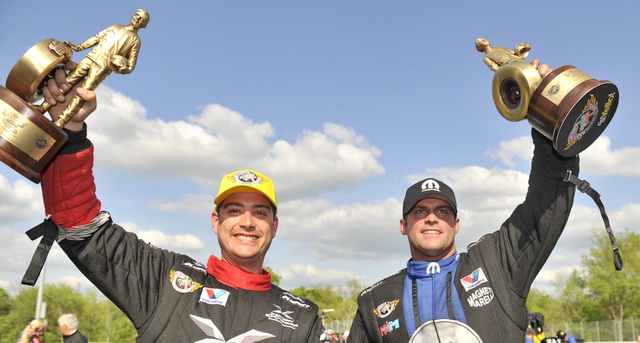 Matt Hagan (above right) ended a 17-month winless drought by racing to the Funny Car victory Sunday at the Dollar General NHRA Four-Wide Nationals fueled by Full Throttle at zMAX Dragway.
Spencer Massey (Top Fuel, above left), Mike Edwards (Pro Stock) and Hector Arana Jr. (Pro Stock Motorcycle) also were winners of the only NHRA Mello Yello Series Drag Racing event that features competition in four lanes simultaneously.
Hagan powered his Magneti Marelli/Rocky Boots Dodge Charger to the final round win over fellow Virginian Blake Alexander, veteran driver Tim Wilkerson, and rookie Chad Head to take his sixth career victory.
The southwest Virginia cattle rancher covered the distance in 4.071 seconds at 315.34 mph and finished in front of Alexander's Auto Service Plus Charger, which ran 4.156 at 294.56 in his first ever runner-up finish. Wilkerson and event top qualifier Head both lost traction in their machines early in the four-wide final.
"This was a big win for us," Hagan said. "It's been a year since we won, or longer; I don't know. It's been too long, and that feeling is just great to have back."
Hagan moved through eliminations as the quickest in each of his first two rounds and it was a great turnaround at this track for the 2011 world champ who has endured several spectacular explosions here in the past.
"We finally put some gremlins to rest here at the racetrack at zMAX," Hagan continued. "I love this track. It's home for me, three hours away from home. It's one of those deals where it's a great track. Bruton Smith does a great job with it, and it's a fast facility.
"Our car just ran phenomenal in lane 2 all day long, and that says a lot for [crew chief] Dickie Venables. He's kind of been passed over and looked over the past couple of years as a crew chief. It's one of those deals where he's got two rings on his fingers, and he just hadn't found a home yet. Don Schumacher gave him an opportunity to go out here and do his own thing. The guy came in and is doing his own thing, and he's taking notes home and doing what he's supposed to be doing, and that drives me to do what I'm supposed to do and step up to the plate."
With the victory, Hagan moved into the series lead, 50 ahead of second place Cruz Pedregon.  It is the first time Hagan has led the points since winning the 2011 world championship title.
"We took over the points lead, but it's too early to start counting that stuff," Hagan said. "But anybody who tells you they don't count it is foolish; everybody's counting points."
In Top Fuel, Massey earned his first victory in nearly a year and won his second consecutive title at this event by holding off Tony Schumacher at the finish line. Top qualifier Shawn Langdon and Brandon Bernstein finished third and fourth. Massey's Schumacher Electric dragster led all the way with a 3.771 at 325.45, while Schumacher was just behind in his U.S. Army dragster, finishing in 3.778 at 320.81.
"The last two years we've taken home the Wally, but if you think about it, [crew chiefs] Todd [Okuhara] and Phil [Shuler] have had an awesome car and an awesome team for a number of years," said Massey, also the winner of his first two rounds. "Back when Cory McClenathan drove that FRAM car, Cory owned this racetrack. The first four wide was won by my crew, so it bleeds over from the old team, which is my team now.
"Whenever there's a racetrack that you do well at, you just seem to do well at it. It doesn't seem to make sense, but you just seem to do well. When you have confidence, it really seems to help, and when I roll up here, I know that we can win. We've won here before, so we just get out there and do what we know how to do and have fun."
With his 11th career victory, Massey moves up to third in the points standings, trailing leader Schumacher and second place Antron Brown.
Pro Stock top qualifier Edwards led wire-to-wire to also put an end to a mini-slump, powering his I Am Second Chevy Camaro to a 6.495 at 213.67. Erica Enders-Stevens finished second in her GK Motorsports Camaro with a 6.521 at 211.76, while Greg Anderson and Shane Gray were third and fourth in their respective Camaros.
It is the 35th career victory for Edwards, who opened up an 84-point lead on defending world champ Allen Johnson in the series standings. The Oklahoma native picked up an additional 20 points during the weekend for setting the national elapsed time record at 6.471 seconds during qualifying.
"It does feel satisfying to close the deal," said Edwards, who finished first in each of the first two rounds of eliminations. "We've had numerous opportunities, and any time you can run really good and win, it's a phenomenal day.
"We ran good but we were really conservative. I've been shooting myself in the foot, but today, I thought if we get beat it's not going to be because we squared the tires up and not because of the lame-brained driver we have. I'm off to a better start than my championship season. Our team is coming together, and it's a long season, but another [title] would be great."
In Pro Stock Motorcycle, Arana Jr. claimed his second straight victory of the season and fifth of his career with a final round performance of 6.896 at 190.73 to defeat defending world champ Eddie Krawiec, who rode his Harley-Davidson to a 6.924 at 190.65. The semifinalists in the four-wide final were Scotty Pollacheck and Jim Underdahl.
"This feels excellent," said Arana Jr., who finished second in the opening round and was first in the second round. "This just goes to show that we really wanted to get wins, and after last year, we're making up for lost time. To win the four wide my first time, I love this race.
"My bike was fast. Since last year it has been super-fast and very consistent. We do our routine maintenance, and we stay on top of our parts a little better this year."
Arana Jr. increased his series lead to 93 over second place Scotty Pollacheck in points standings.
The Mello Yello Drag Racing Series continues with the O'Reilly Auto Parts NHRA SpringNationals presented by Super Start Batteries, April 26-28 at Royal Purple Raceway near Houston.
(Photos courtesy NHRA/National Dragster; Click to enlarge)
CONCORD, N.C. — Final round-by-round results from the 4th annual Dollar General NHRA Four-Wide Nationals fueled by Full Throttle at zMax Dragway, the fifth of 24 events in the NHRA Mello Yello Drag Racing Series:
TOP FUEL
ROUND ONE — Morgan Lucas, 3.799, 323.27 and Larry Dixon, 3.794, 323.74 def. David Grubnic, 3.843, 300.33 and Steve Torrence, 3.981, 273.27; Doug Kalitta, 3.788, 325.69 and Bob Vandergriff, 3.828, 321.58 def. Khalid alBalooshi, 3.802, 323.27 and Leah Pruett, 3.820, 318.92; Spencer Massey, 3.778, 323.27 and Brandon Bernstein, 3.835, 324.12 def. Antron Brown, 3.871, 313.22 and T.J. Zizzo, 3.870, 317.79; Shawn Langdon, 3.757, 326.16 and Tony Schumacher, 3.795, 324.75 def. Brittany Force, 3.836, 323.04 and Sidnei Frigo, broke; SEMIFINALS — Massey, 3.803, 318.62 and Bernstein, 3.818, 323.81 def. Lucas, 3.795, 325.77 and Dixon, 3.889, 315.12; Langdon, 3.778, 326.79 and Schumacher, 3.800, 323.74 def. Vandergriff, 3.864, 316.97 and Kalitta, 3.851, 311.05; FINAL — Massey, 3.771, 325.45 def. Schumacher, 3.778, 320.81, Langdon, 3.975, 275.28 and Bernstein, 4.740, 153.47.
FUNNY CAR
ROUND ONE — Robert Hight, Ford Mustang, 4.113, 313.80 and Chad Head, Toyota Camry, 4.076, 312.71 def. Jeff Arend, Dodge Charger, 4.216, 300.13 and Alexis DeJoria, Camry, 9.701, 40.14; Matt Hagan, Charger, 4.057, 314.09 and Jack Beckman, Charger, 4.186, 285.95 def. Ron Capps, Charger, 4.262, 262.49 and Dale Creasy Jr., Chevy Monte Carlo, broke; Bob Tasca III, Mustang, 4.152, 307.44 and Blake Alexander, Charger, 4.193, 300.86 def. Tony Pedregon, Camry, 4.868, 174.28 and John Force, Mustang, 7.331, 92.86; Cruz Pedregon, Camry, 4.341, 265.69 and Tim Wilkerson, Mustang, 4.373, 232.71 def. Del Worsham, Camry, 4.602, 232.19 and Courtney Force, Mustang, 4.638, 180.52; SEMIFINALS — Wilkerson, 4.095, 307.09 and Head, 4.921, 158.87 def. C. Pedregon, 4.971, 247.29 and Hight, 9.744, 79.12; Hagan, 4.075, 313.29 and Alexander, 4.149, 303.16 def. Beckman, 4.521, 289.94 and Tasca III, 6.399, 110.94; FINAL — Hagan, 4.071, 315.34 def. Alexander, 4.156, 294.56, Wilkerson, 5.141, 153.39 and Head, 10.525, 67.05.
PRO STOCK
ROUND ONE — Greg Anderson, Chevy Camaro, 6.514, 212.53 and Allen Johnson, Dodge Avenger, 6.531, 212.33 def. Kurt Johnson, Pontiac GXP, 7.377, 141.55 and Larry Morgan, Ford Mustang, 12.568, 68.95; Shane Gray, Camaro, 6.497, 213.33 and Erica Enders-Stevens, Camaro, 6.535, 211.53 def. Greg Stanfield, Camaro, 6.752, 174.87 and Warren Johnson, GXP, 10.506, 93.27; Jason Line, Camaro, 6.499, 213.50 and Rodger Brogdon, Camaro, 6.612, 196.82 def. Lewis Worden, Mustang, 6.587, 209.01 and Jeg Coughlin, Avenger, 6.722, 211.66; Mike Edwards, Camaro, 6.493, 213.64 and V. Gaines, Avenger, 6.516, 211.96 def. Vincent Nobile, Avenger, 6.534, 211.69 and Frank Gugliotta, Mustang, 6.595, 210.01; SEMIFINALS — Enders-Stevens, 6.505, 212.16 and Gray, 6.518, 213.16 def. Line, 7.411, 166.91 and Brogdon, 17.686, 46.73; Edwards, 6.482, 213.91 and Anderson, 19.067, 30.38 def. Gaines, 6.523, 212.09 and A. Johnson, 6.525, 212.03; FINAL — Edwards, 6.495, 213.67 def. Enders-Stevens, 6.521, 211.76, Anderson, 11.354, 78.84 and Gray, 13.465, 63.67.
PRO STOCK MOTORCYCLE
ROUND ONE — Katie Sullivan, Suzuki GSXR, 6.870, 193.79 and John Hall, Buell XB12R, 6.904, 190.78 def. Hector Arana, Buell XB9R, 6.948, 190.11 and Steve Johnson, Suzuki TL1000, 6.964, 191.19; Matt Smith, XB9R, 6.856, 193.88 and Shawn Gann, XB9R, 6.876, 194.10 def. Michael Ray, XB9R, 6.888, 193.24 and Angie Smith, XB9R, 7.031, 190.35; Scotty Pollacheck, XB12R, 6.818, 194.24 and Jim Underdahl, Suzuki TL1000R, 6.847, 195.25 def. LE Tonglet, GSXR, 6.901, 192.69 and Mike Berry, XB9R, 6.949, 191.87; Eddie Krawiec, Harley V-Rod, 6.879, 191.89 and Hector Arana Jr., XB9R, 6.861, 192.38 def. Andrew Hines, V-Rod, 6.921, 190.22 and Adam Arana, XB9R, 6.881, 193.88; SEMIFINALS — Arana Jr., 6.855, 194.16 and Krawiec, 6.946, 188.49 def. Hall, 6.885, 190.62 and Sullivan, 6.899, 192.44; Underdahl, 6.936, 192.74 and Pollacheck, 6.935, 187.05 def. M. Smith, 14.875, 48.06 and Gann, 6.925, 192.28; FINAL — Arana Jr., 6.896, 190.73 def. Krawiec, 6.924, 190.65, Pollacheck, 6.948, 187.96 and Underdahl, 6.942, 192.82.
CONCORD, N.C. — Sunday's final sportsman results from the 4th annual Dollar General NHRA Four-Wide Nationals fueled by Full Throttle at zMax Dragway. The race is the fifth of 24 in the NHRA Mello Yello Drag Racing Series:
Top Alcohol Dragster — Bill Reichert, 5.301, 262.90  def. Rishi Kanick, broke.
Top Alcohol Funny Car — Dan Pomponio, Chevy Monte Carlo, 5.563, 260.36  def. Dale Brand, Monte Carlo, 5.816, 259.96.
Super Stock — Chuck Gallagher, Pontiac Sunbird, 8.128, 166.11  def. Peter Biondo, Pontiac Firebird, 9.626, 138.88.
Stock Eliminator — Brian Rowe, Chevy Camaro, 11.401, 115.06  def. Mike Kubiak, Ford Mustang, 9.023, 147.04.
Super Comp — Alan Kenny, Dragster, 8.864, 186.72  def. Jason Lynch, Dragster, foul.
Super Gas — Mike Sawyer, Chevy Cavalier, 9.897, 160.69  def. Greg Slack, Ford Maverick, 9.897, 144.24.
Top Dragster — Kenneth Moses, Dragster, 6.845, 188.49  def. Tom Joseph, Dragster, 6.891, 180.81.