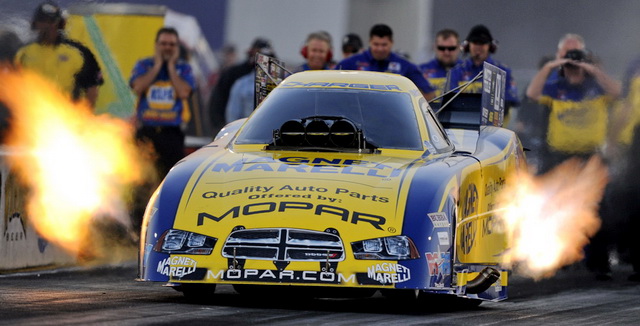 Funny Car driver Matt Hagan (above) has returned to championship form in 2013 and on Saturday he raced to his third No. 1 qualifying position of the season at the NHRA Sonoma Nationals.
David Grubnic (Top Fuel), Mike Edwards (Pro Stock) and Matt Smith (Pro Stock Motorcycle) also will lead their categories into Sunday's 11 a.m. eliminations as the No. 1 qualifiers at the NHRA Mello Yello Drag Racing Series event.
No one bettered Hagan's track record performance of 3.986 seconds at 320.51 mph in his Magneti Marelli/Rocky Boots Dodge Charger from Friday and the Virginia driver earned his 13th No. 1 of his career. He will face Alexis DeJoria in the first round of eliminations as the 2011 world champ tries for his fourth win of the season and first ever at Sonoma Raceway.
"We were pressing pretty hard in the first session today, and it felt good to lay down a 4.07 for the second-quickest run of the last session," Hagan said. "Those bonus points all add up, so we'll take every one of them that we can get. It's great to be up here in Sonoma and get a No. 1 qualifier under our belt.
"Dickie [Venables, crew chief] and the Magneti Marelli/Rocky Boots guys put a great horse underneath me that I had the opportunity to ride without messing it up. This team has a lot of confidence after starting the year being thrown together at the last-minute. I knew Dickie was good, but I had no idea that he was this good."
Cruz Pedregon, second in points and most recent Funny Car winner, qualified 10th and will face seventh place qualifier Courtney Force.
In Top Fuel, Grubnic in his Optima Batteries dragster, raced to his first No. 1 qualifying position of the season with his pass of 3.765 at 324.28. This is his first top qualifying position of the season and the 10th of his career. It is his first No. 1 qualifying position at Sonoma Raceway where he has two runner-up finishes. He will face Terry McMillen in the first round of eliminations.
"Being the No. 1 qualifier here is great," Grubnic said. "This sport has its ups and downs, and you have to take the good with the bad. So far, we've been very fortunate to have one of our better weekends. We felt pretty good about making the best run on a 120-degree track in the first session today. Hopefully, we can carry that momentum tomorrow."
Steve Torrence will start from the second qualifying position with his run of 3.766 at 323.27 and will face Tommy Johnson Jr. Top Fuel points leader Shawn Langdon in his Al-Anabi Racing dragster will race Bob Vandergriff in the first round of eliminations.
Spencer Massey added his name to the Countdown to the Championship roster in Top Fuel by qualifying for the event.
In Pro Stock, Edwards earned his 11th No. 1 qualifying position of the season and the 52nd in his career in his K&N Filters/I Am Second Chevy Camaro. This is his second No. 1 qualifying position at Sonoma Raceway, a track where he has yet to win. Edwards has three wins this season after qualifying No. 1.
"It's about time to do something; I've been a bridesmaid here a couple of times," Edwards said. "Tomorrow is another day but the K&N Camaro ran very well today.
"It was close this weekend so you have to make the right decisions and the driver will be the most important thing. My biggest concern is Mike Edwards. If I can pull up there and do my job, I'll have a chance to win the race. Hopefully we'll have a good long day tomorrow."
Edwards' nearest competitor in Pro Stock points, 2012 world champion Allen Johnson, qualified third and will race Chris McGaha. Shane Gray qualified second and will look for his first win of the season when he lines up against Deric Kramer.
In Pro Stock Motorcycle, Smith powered his Viper Motorcycle Company Buell to the No. 1 qualifying position with his performance of 6.838 at 195.73. This is his third No. 1 qualifying position of the season and 21st of his career. The 2007 Pro Stock Motorcycle world champion will face Denver winner Shawn Gann in the opening round.
"Our Viper Motorsports team has really jelled together," Smith said. "The last four races we have had three final rounds, two wins, couple of No. 1 qualifiers and we are running good.
"That was some new pieces on the bike and I didn't want to throw it on but I did because we had a headwind when we had Q 3 and sitting number two. That is what our new stuff is going to look like for the Countdown [to the Championship], and I have to get a few laps on it and get it all tuned up but we should be really fast come countdown time."
Points leader Hector Arana Jr. qualified second and will face Scott Pollacheck in the first round of eliminations.
(Photos courtesy NHRA/National Dragster)
SONOMA, Calif. — Sunday's first-round pairings for eliminations for the 26th annual NHRA Sonoma Nationals at Sonoma Raceway, the 15th of 24 events in the NHRA Mello Yello Drag Racing Series.  Pairings based on results in qualifying, which ended Saturday. DNQs listed below pairings.
Top Fuel
1. David Grubnic, 3.765 seconds, 324.28 mph  vs. 16. Terry McMillen, 3.903, 317.79; 2. Steve Torrence, 3.766, 323.27  vs. 15. Tommy Johnson Jr., 3.875, 303.71; 3. Doug Kalitta, 3.780, 324.83  vs. 14. Brittany Force, 3.863, 316.67; 4. Khalid alBalooshi, 3.789, 322.96  vs. 13. Brandon Bernstein, 3.841, 319.14; 5. Spencer Massey, 3.793, 321.35  vs. 12. Tony Schumacher, 3.838, 323.89; 6. Shawn Langdon, 3.797, 321.96  vs. 11. Bob Vandergriff, 3.836, 319.14; 7. Antron Brown, 3.803, 320.66  vs. 10. Clay Millican, 3.830, 318.84; 8. Morgan Lucas, 3.811, 323.66  vs. 9. T.J. Zizzo, 3.821, 319.37.
Did Not Qualify: 17. Troy Buff, 3.906, 303.91; 18. Steven Chrisman, 4.242, 264.18.
Funny Car
1. Matt Hagan, Dodge Charger, 3.986, 320.51  vs. 16. Alexis DeJoria, Toyota Camry, 4.188, 303.71; 2. Jack Beckman, Charger, 3.994, 319.67  vs. 15. Todd Lesenko, Charger, 4.165, 304.87; 3. Ron Capps, Charger, 4.012, 312.50  vs. 14. Del Worsham, Camry, 4.157, 306.26; 4. John Force, Ford Mustang, 4.025, 316.60  vs. 13. Tony Pedregon, Camry, 4.145, 298.27; 5. Tim Wilkerson, Mustang, 4.026, 314.09  vs. 12. Johnny Gray, Charger, 4.112, 306.46; 6. Gary Densham, Charger, 4.055, 304.32  vs. 11. Jeff Arend, Charger, 4.107, 307.23; 7. Courtney Force, Mustang, 4.057, 314.46  vs. 10. Cruz Pedregon, Camry, 4.102, 302.89; 8. Robert Hight, Mustang, 4.058, 311.41  vs. 9. Bob Tasca III, Mustang, 4.078, 309.13.
Did Not Qualify: 17. Jon Capps, 4.251, 283.49; 18. Jeff Diehl, 4.448, 274.61; 19. Josh Crawford, 4.457, 264.55.
Pro Stock
1. Mike Edwards, Chevy Camaro, 6.526, 212.56  vs. Bye; 2. Shane Gray, Camaro, 6.532, 211.93  vs. 15. Deric Kramer, Dodge Avenger, 6.648, 208.17; 3. Allen Johnson, Avenger, 6.536, 211.66  vs. 14. Chris McGaha, Avenger, 6.604, 209.62; 4. Greg Anderson, Camaro, 6.545, 210.57  vs. 13. JR Carr, Ford Mustang, 6.596, 209.49; 5. V. Gaines, Avenger, 6.551, 211.69  vs. 12. Steve Kent, Camaro, 6.592, 209.88; 6. Rickie Jones, Camaro, 6.554, 211.63  vs. 11. Larry Morgan, Mustang, 6.583, 209.95; 7. Jeg Coughlin, Avenger, 6.557, 211.30  vs. 10. Rodger Brogdon, Camaro, 6.568, 211.06; 8. Vincent Nobile, Avenger, 6.558, 211.03  vs. 9. Jason Line, Camaro, 6.568, 211.30.
Pro Stock Motorcycle
1. Matt Smith, Buell, 6.838, 195.73  vs. 16. Shawn Gann, Buell, 6.952, 193.43; 2. Hector Arana Jr, Buell, 6.840, 195.73  vs. 15. Scotty Pollacheck, Buell, 6.942, 190.65; 3. Michael Ray, Buell, 6.841, 195.34  vs. 14. Katie Sullivan, Suzuki, 6.942, 191.21; 4. Hector Arana, Buell, 6.865, 195.87  vs. 13. John Hall, Buell, 6.925, 191.87; 5. LE Tonglet, Suzuki, 6.879, 194.10  vs. 12. Karen Stoffer, Suzuki, 6.916, 193.32; 6. Angie Smith, Buell, 6.893, 192.17  vs. 11. Steve Johnson, Suzuki, 6.908, 192.93; 7. Jerry Savoie, Suzuki, 6.898, 194.13  vs. 10. Adam Arana, Buell, 6.902, 194.63; 8. Eddie Krawiec, Harley-Davidson, 6.898, 192.47  vs. 9. Andrew Hines, Harley-Davidson, 6.899, 193.99.
Did Not Qualify: 17. Jim Underdahl, 6.975, 193.18; 18. Freddie Camarena, 7.067, 189.07; 19. James Surber, 7.102, 187.96; 20. Daryl Meadows, 7.184, 182.65.