When Don Schumacher Racing's U.S. Army team won the NHRA Top Fuel championship in 2009 it was Mike Green's first year as crew chief for driver Tony Schumacher. The title was the last of six straight world championships for the team and the first with Green as the team leader.
Too many fans of the NHRA Mello Yello Drag Racing Series assumed Green just picked up where former crew chief Alan Johnson left off before he departed DSR to start his own team. Not enough fans know that Johnson took every crewmember, except Tom Turkal, who remains with Green, to form Al-Anabi Racing following the 2008 season leaving Green to from a new team.
No one will be able to give credit to any crew chief other than Green and assistant Neal Strausbaugh for the U.S. Army team clinching the 2014 Top Fuel world championship on Saturday during qualifying for the AAA Auto Club Finals at Pomona, Calif.
And no one is prouder than Schumacher.
"What a gift to be part of the U.S. Army team and to have this opportunity," Tony said. "To pull it off just goes to show you what a great group of nine guys I have and the guys back at the shop. What a blessing.
"Early on in the Countdown, winning the first two races, having so much success, that kind of broke everyone's back.
"We did what Mike Green and Neal (Strausbaugh) said had to be done to go out and win a championship, and for future years to get out ahead of everybody else who ultimately switches to the six-disc clutch, we'll be ahead of them."
Green was ecstatic about his team's success.
"Every championship is awesome," Green said. "During the first one we had to beat Alan Johnson and that was probably the best for me. But this is great for Tony and we have a lot of new crew guys on the team this year. Getting my second championship with Neal is pretty special too."
Three of the Army's five titles this year came in the first four events of the six-race Countdown to the Championship playoff.
It also made NHRA history as the first enclosed canopy dragster to win the world championship, and Green was the cornerstone of helping DSR take safety into the 21st century with owner Don Schumacher and Strausbaugh.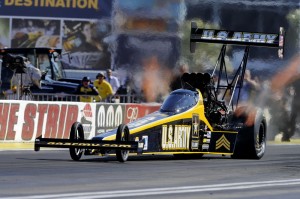 "That's a pretty awesome thing," Green said. "We believe we build the safest car out here and Don always said he wants to build the safest car but it has to perform. This proves we can build the safest car and still win the championship."
It is the 12th NHRA world title for DSR, and the winningest organization in NHRA is now focused on adding the Funny Car championship with driver Matt Hagan. It would be the third time in 10 years DSR clinched both nitro championships; in 2012, Antron Brown (Top Fuel) and Jack Beckman (Funny Car) won world titles to match the accomplishments in 2005 by Schumacher (TF) and Gary Scelzi (FC).
(Photos courtesy NHRA/National Dragster)