For 60-year-old Funny Car driver Johnny Gray and his Pitch Energy team, the 49th annual Auto Club NHRA Finals will be the end. Of course, it is an ending of sorts for every competitor on the 2013 NHRA Mello Yello Drag Racing Series tour as the event at Auto Club Raceway at Pomona marks the final race of 24 in a very long season that spans 10 months and pins flags on states all across our great nation.
But for Gray and his team, a group that together has accumulated seven hard-earned Funny Car victories over three years, it will be the last time that they will race in their current form.
Gray is hanging up his driving gloves after the final run down the historic racetrack in Pomona and has pledged to himself, the community, and most importantly to his wife Terry, that he will no longer chase NHRA championships. His life will no longer be dictated by the exhausting schedule of a full-time professional drag racer.
"This year has just been a blast, and it has been an honor to drive the Pitch Energy Dodge as a tribute to my dad, John R. Gray," said the Artesia, N.M.-based competitor. "My sister, Terry Chandler, and I came together to do this deal this year, and we were able to keep the team together and have an outstanding regular season that included four wins. I sure wish we could have done better in the Countdown, but we had a real big time, and I won't ever forget it."
Gray held the points lead after winning in Topeka and was a shoe-in as a top runner for the championship with a perfect four wins in four final rounds, but his fickle Funny Car had other plans. He entered the Countdown to the Championship and his final shot at a world title sitting exceptionally well positioned; he was third in the points, but a first-round loss in the first of six Countdown races meant a drastic drop in the standings.
Disappointingly, Gray immediately fell to seventh, then eighth, and now is No. 9 entering the Pomona event. The team took the hits to heart but never gave up, and now, the ten sets of eyes belonging to the close-knit Pitch Energy crew are fixated on a proper send-off.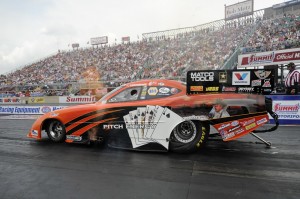 They want that Pomona trophy.
"You just cannot underestimate this team, especially when we put our heads together with the other DSR crew chiefs. You can't ever count us out," said Gray.
"Yes, we've struggled. But we had a real good test session there in Vegas after the race, and this Funny Car went right down the track making 4.0 runs like there was nothing to it. It appears that we have a race car that will go A to B again, and if that turns out to be true, well, we will go some rounds and maybe even win the race. That would be a great way to end this, but hey, it's all good.
"I'm going to tell you, driving a Funny Car out here these past few years has been a tremendous amount of fun. I've been very blessed to be able to do this. But now, I'm looking forward to putting it behind me and starting the next chapter. I'm ready."
(Photos courtesy NHRA/National Dragster; Click to enlarge)