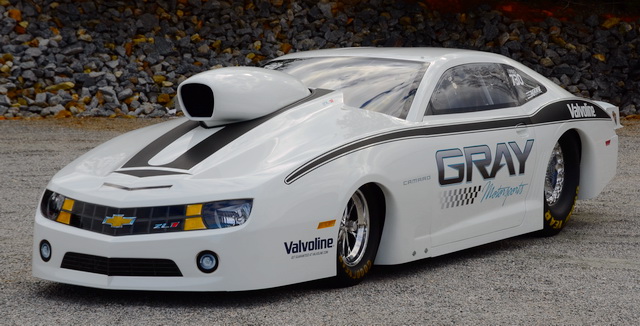 NHRA Pro Stock driver Shane Gray and his Gray Motorsports have formed a partnership with Richard Freeman's Elite Performance and Nick Ferri for the 2013 season of NHRA Mello Yello Drag Racing Series and beyond. Ferri will assume the role of head engine builder for Gray Motorsports as the two entities continue to operate individually while sharing information and experience gathered through respective R&D programs.
Gray Motorsports, established in 2009 by Gray's father, veteran drag racer Johnny Gray, is anchored by a state-of-the-art facility just outside of motorsports hotspot Charlotte, N.C., and is fully equipped to develop a top of the line program geared towards winning NHRA championships in the extremely competitive Pro Stock category.
Late last year, Freeman's Elite Performance, along with established engine builder Ferri, acquired JNR Racing Engines, a business that Ferri helped build and where he led the JNR Mopar program with Roy Simmons in 2012. Ferri began a career in drag racing in 1986, and his extensive efforts have contributed to multiple Pro Stock world championships.
"You know, it just makes sense," said Gray. "We have a lot invested in the Gray Motorsports in-house engine program, and we are in no way looking to give up what we've already accomplished. But to move forward and strengthen our program, we felt it would be a wise decision to form a partnership with Richard and Nick where we can all benefit.
"This is not a situation where we are leasing engines; we're in this with a more long-term approach. We will continue our R&D efforts at the Gray Motorsports shop in Denver, N.C., and Elite Performance will continue R&D at their engine shop located in Oklahoma, and we look forward to what we will all be able to accomplish together."
In 2010, his first season competing in the category, Gray qualified in the top half of the field at 12 events and won the season-ending NHRA Finals in Pomona. The following year, the developing driver added another trophy to the collection with a win in Topeka. Now, with solid experience in the category and an emphasized intention of achieving top-level performance with their own in-house engine program, Gray believes that joining forces with Elite Performance will effectively help them achieve their goal.
Freeman, head of Elite Performance and its sister company, Elite Motorsports, will be devoted to Gray's program for all 24 events on the Mello Yello Series tour and also move forward with a commitment to provide engines to Pro Stock returner Rickie Jones for 10 NHRA races in 2013.
Freeman explained that Gray Motorsports will continue R&D on the DRCE-3 engine that they have run in the past but will begin the season with a DRCE-2 complemented by CFE Racing Products from Carl Foltz. Throughout the year, the group will collectively continue to assess which engine is most effective.
"Everything that happens in the Gray Motorsports engine shop and everything that happens at Elite Performance will be shared," Freeman confirmed. "What this will do is give Shane the opportunity to really focus on just driving the car. I've been friends with the Gray family for a long time, and I'd like nothing more than to see Shane succeed."
Ferri agreed, saying, "We know it's going to take a little while to get up on our feet, but with the experience that we bring to the table and the resources provided by Gray Motorsports, we feel that we can accomplish what we set out to do. Our goal is to be in the top 10 by the time we get to the U.S. Nationals in Indy and run for the championship."
The partnership is already proving positive as the two groups tested their combined forces at a recent test session in Florida.
"We definitely like what we see," said Gray. "There is a lot of potential. We're taking this year to really get everything in order and like Nick said, we think we can situate ourselves in the top 10. But next year, that's when we'll be expecting to really run hard."
(Photo by Roger Richards)