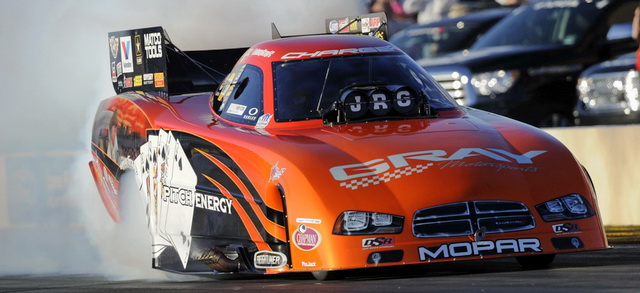 At first glance a lineup of six playing cards from the spades suit painted on the side of a race car would make one think that that car has been specially constructed for racing in Las Vegas, the world center of gambling and entertainment.
However, Johnny Gray will head to the The Strip at Las Vegas Motor Speedway with that exact design on his Pitch Energy Dodge Charger for the SummitRacing.com NHRA Nationals, April 5-7, and the veteran driver doesn't expect to gain any lucky Vegas mojo from the design that is a tribute to his father, the late John R. Gray, who enjoyed playing the card game Pitch.
Still, Gray is hoping the momentum his team produced by winning the last event on the circuit – the tradition-rich Amalie Oil NHRA Gatornationals in Florida – will roll over and push him to a second-straight victory in the NHRA Mello Yello Drag Racing Series. Spencer Massey (Top Fuel), Robert Hight (Funny Car) and Allen Johnson (Pro Stock) are the defending winners of the event that will be televised on ESPN2HD.
"I don't think having any cards on the side of my car is going to help me one bit out in Vegas, this sport is pretty fickle," Gray said. "The team has momentum right now and we just like to go out there and have fun. We have a blast at the track and we have a good running hot rod right now, so I like our chances to go there and double-up."
Gray raced to an emotional victory at the Gatornationals two weeks ago. It was a race that he definitely wanted to check off his NHRA Bucket List before he hangs up the gloves and helmet at the end of this season.
"That was a real special win for me because I have a home in Florida now and have been spending a lot of time down there," said Gray, a New Mexico native. "We had a lot of friends and family at that race and it felt great to win it not only for (team owner) Don (Schumacher), but because that is such a real prestigious race and it was my last time to get it done and I am glad we did."
Gray says he will retire from racing the full NHRA circuit at the end of the year, so he's also anxious to keep checking items off that bucket list. Up next is The Strip at LVMS. He has claimed two runner-up finishes at Bruton Smith's state-of-the-art multi-purpose motorsports complex that sits just north of Las Vegas.
"The team has great chemistry right now and just as important all the parts on the car seem to have great chemistry right now too," Gray said. "If the parts on the car can continue to get along and stay in a good mood we'll be fine because the guys have a great handle on the car right now and we're having some fun."
Gray says the smooth racing surface that The Strip at LVMS provides makes some of the crew chiefs in the nitro pits hungry to throw everything at the track. From a driver's perspective, he says it is literally a blast to race there.
"I had one of my biggest explosions at Vegas, so I always kid (crew chief Rob) Wendland that on every run at that track I like to close one eye at about 800 feet (downtrack) just in case," Gray said with a chuckle about his spectacular explosion that sent his carbon-fiber Charger body high into the air at the Oct. 2011 race at LVMS. "Vegas is a great race track where you can generate a lot of power and our cars like to run there, so we are anticipating having a great time."
If Gray is going to add an LVMS victory to his bucket list and start an early-season winning streak, he'll have to hold off a tough group of challengers including defending event winner Hight, defending world champ Jack Beckman, Winternationals winner Courtney Force, five-time LVMS winner Ron Capps, ultra-quick Cruz Pedregon and 15-time world champ John Force, among others.
"It's crazy how competitive it is right now," Gray said. "It's just really great to be a part of all the excitement and win some races and I am just going to do my best to win a bunch more races for Don this season."
(Photos courtesy NHRA/National Dragster; Click to enlarge)