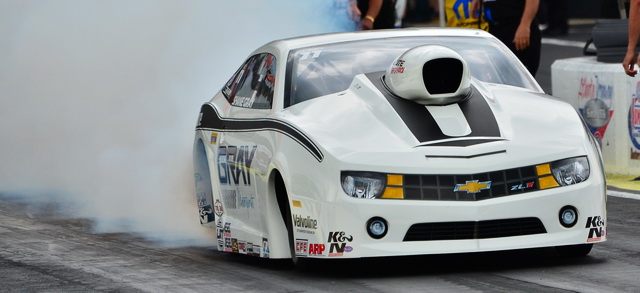 Shane Gray brings his Gray Motorsports Chevy Camaro to this weekend's O'Reilly Auto Parts NHRA Northwest Nationals presented by Super Start Batteries at Pacific Raceways riding a wave of momentum and feels like he is on the verge of earning his first win of the season.
To secure a victory Gray will have to hold off a tough field of factory hot rods as he and all the NHRA Mello Yello Drag Racing Series drivers look for wins at the NHRA Mello Yello Drag Racing Series event, Aug. 2-4 at the scenic multi-purpose motorsports facility just south of Seattle. Steve Torrence (Top Fuel), Courtney Force (Funny Car), and Erica Enders Stevens (Pro Stock) were winners last year at the event which ends the grueling Western Swing. 
Gray is fourth in Pro Stock points on the strength of three runner-up finishes which is a single season career best for the four year veteran. He's pleased with the success the team has had this year and believes they have a shot at winning each time they pull into an event.
"I'm real proud of this team," said Gray, who has two career victories on his racing resume, his last coming in 2011 at Pomona, Calif. "Justin [Elkes, crew chief] and the guys are doing a great job out here. It's a lot of pressure on the driver when you have the fastest car in the place. It takes a different mindset to have the luxury of racing with that kind of a car. But I'm working on it. I'll get it. The Gray Motorsports team is heading to Seattle and we think we've got a chance to win."
Led by Elkes, the team has qualified second at three events this season and at the recently completed NHRA Sonoma Nationals they were a mere .006 of a second from the top qualifying position. They earned a bit of bragging rights at the event when during his first round of eliminations he posted a performance of 6.523 seconds, which was the quickest E.T. recorded during the entire weekend.
"The guys came on the radio and told me what we'd run," Gray said. "At first I thought I didn't hear it right, then I thought maybe they didn't read the scoreboards right. Then I looked at the time slip when we got up there, and I said 'Holy Moly!' That was something."
Shane is a second generation racer with his father currently racing for Don Schumacher Racing in the Funny Car category. Johnny is fifth in Funny Car points and is a serious contender for a championship in his final full-time season. Shane is excited to see the success of his dad and hopes Johnny can hoist a championship trophy at the season ending event in Pomona.
"I think it's awesome that my dad has had so much success already this year," he said. "They have a great team over there with the potential to hand him a championship car. If they can get a few breaks, they've got a really good shot at the championship. And wow, I don't know what could be better than stepping out of the car as the champion."
Located in the Pacific Northwest, Pacific Raceways is one of the most scenic tracks the NHRA Mello Yello Drag Racing Series visits each season. The track is nestled among large wooded areas, which can provide the perfect conditions for these naturally-aspirated hot rods.
"Weather is a big factor at that racetrack," Gray continued. "It can change dramatically. Hopefully, the weather will cooperate and we'll be able to keep building on what we've got. We've had a fast car in a lot of different conditions – from the mile-high conditions in Denver then back down to sea level in Sonoma. Hopefully we can keep that going and get what we're after before too long."
Other pre-race favorites in the 200 mph category include series points leader Mike Edwards, who has four wins and 11 No. 1 qualifying positions this season at the controls of his K&N Filters/I Am Second Chevy Camaro and a trio of Dodge Avengers driven by defending world champ Allen Johnson, four-time world champ Jeg Coughlin and Sonoma winner Vincent Nobile. Greg Anderson, Jason Line and V. Gaines are also among the Pro Stock drivers looking to grab a victory in Seattle.
(Photos by Ian Tocher; Click to enlarge)