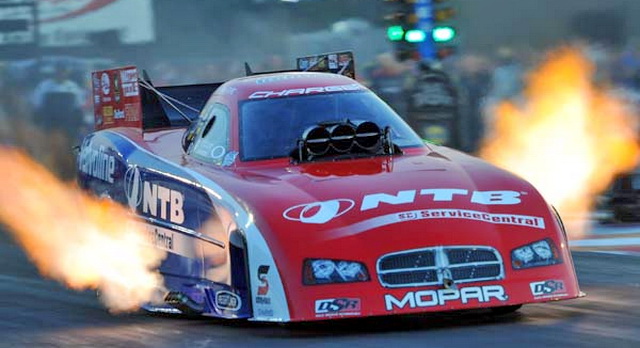 Funny Car driver Johnny Gray's NTB/Service Central Dodge had the quickest hot rod on the property on the first day of qualifying at the 6th annual Summit Racing Equipment NHRA Nationals in Norwalk, and as reward, his 4.094 at 306.33 mph recorded in the second session was worthy of the provisional pole.
The Artesia, New Mexico-based Gray was set up for success after clocking a strong 4.260 at 293.03 mph in the exceptionally warm first session, where track temperatures were nearing a blazing 150 degrees Fahrenheit. As third-quickest in the opening act, Gray was designated to one of the last pairs of racecars to go down the track in the second round of qualifying.
"We had much better track conditions because we were in the back of the pack," said Gray. "We knew the NTB/Service Central car had a pretty good shot at going to the pole, we took the shot, and we got away with it."
Just prior to the final run of the day, crew chief Rob Wendland took a walk on the racetrack out to 800 feet, and on his journey he determined that the tune-up in the box was not going to be a good fit. Wendland returned to the NTB/Service Central car in the staging lanes, and for 15 minutes he and the tireless team worked to make changes to the set-up. Their efforts produced very pleasing results, and the 4.09 that came up on the scoreboard was exactly what Wendland was aiming for.
"That was a good run," said Gray. "The car left hard and ran hard until just about 3.8 seconds into it, and then it actually knocked the tires loose and went up on the rev limiter. It might have run a 4.08 at 312 or 313 [mph] if it hadn't come loose down there, but Rob was getting all the goodie out of her."
If it holds, the No. 1 qualifying position will be Gray's second of the season – he was No. 1 at the NHRA Arizona Nationals in Phoenix at the beginning of the year – and the third of his career. The additional bonus points awarded for topping the line-up will go in the pot towards getting ahead of Don Schumacher Racing teammate Jack Beckman in the Full Throttle Series Funny Car standings; Beckman was a slim 14 points ahead of Gray entering the event.
"We're always thinking about those points at this time of the season, and every little bit helps," said Gray. "We'll take our NTB/Service Central car back out there tomorrow and see if we can't pick up a few more."