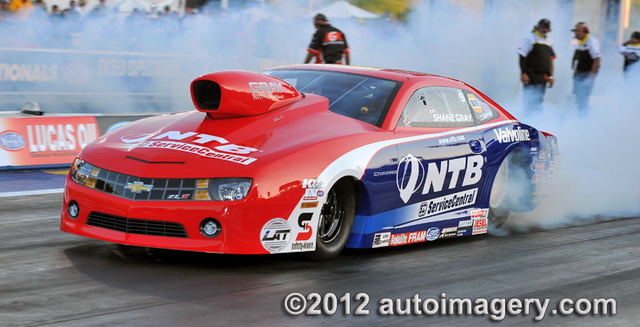 Shane Gray and the Gray Motorsports team finally seized the opportunity to debut the NTB/Service Central Racing Chevy Camaro at the 15th annual NHRA Thunder Valley Nationals at Bristol Dragway, and although the first two runs down the racetrack didn't produce monumental numbers, they now have a foundation to build on.
In the first qualifying session, Gray clocked a 6.754 at 202.45 mph that was 11th quickest for the session, and in round two, the NTB Service Central Camaro improved to a 6.725, 203.49.
"Overall, we're happy," said crew chief Justin Elkes. "It's going down the track, and it's making nice runs. There is definitely room for improvement in the car, but there always is."
When the team returned to their pit area after the second run and examined the data acquired, they made the decision to swap engines in preparation for a greater push on the second day of qualifying. Gray is both realistic and optimistic regarding getting their new ride up to speed.
"We know it will take time to iron everything out, but it's sure fun to drive this NTB Service Central Camaro," said Gray. "We're going to get some rest tonight, and then get back to it tomorrow morning. I'm looking forward to getting another couple of runs under our belt."