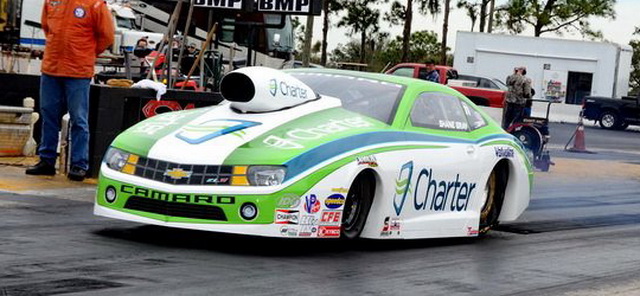 When it was announced last October that Gray Motorsports would merge with Cagnazzi Racing for the 2014 season, there was no doubt the result would be a powerful team capable of winning races and championships.
So far, the expanded Gray Motorsports group is right on target with Shane Gray (above) behind the wheel of the sleek Charter Communications Chevrolet Camaro and Dave Connolly rounding out the driving duo as the pilot of the Gray Motorsports Chevrolet Camaro.
In each of the two test sessions that the Gray Motorsports team has participated in since combining firepower, they have shown tremendous potential. With their formidable Chevrolet Camaros barely cooled down following the 2013 season, the team ventured to Bradenton, Fla., to test the waters of a newly rejuvenated program. Pleasing results followed, and at the most recent session test session, again at Bradenton Motorsports Park – a prime location for winter testing – the Gray Motorsports Camaros were at the top of the pack on each day.
Gray's best time during their successful three-day excursion was a stout 6.46 that corrected to a blazing 6.43 (the correction factor was just below sea-level). While Gray's time could not be bested by his competitors on days one and two, Connolly clocked an attention-grabbing 6.451 on the final day of the test. And the competition was certainly tough: among those stretching their legs at Bradenton were the J&J Racing team of Allen Johnson and Jeg Coughlin, Summit Racing's Greg Anderson and Jason Line along with KB Racing customer Vincent Nobile, and V. Gaines.
"I would certainly give the Gray Motorsports team an A+ for that test session," said Gray. "The Charter Communications Camaro looked real good out there, and so did the Gray Motorsports Camaro driven by Dave. I will tell you that we don't gauge ourselves against the competition in testing, though. We go out there just trying to pay attention to ourselves and make sure we're happy with what we've got going on, not focus on what anybody else is doing."
The consensus in the Gray Motorsports race shop in Denver, N.C., is that although the team's numbers in Bradenton looked exceptional, the true test will come when the 2014 Mello Yello Drag Racing Series begins. An early indicator of how the team will fare at the season kick-off could be how they perform and what they learn over the course of three days at the recently upgraded quarter-mile track at Wild Horse Motorsports Park just outside of Phoenix. Gray Motorsports will be joined by a handful of other Pro Stock competitors there in Phoenix in the days before the Circle K NHRA Winternationals at Auto Club Raceway Pomona, Feb. 6-9.
Typically, the Pro Stock teams have made a stop in Las Vegas for one final practice session before the season begins, but the newly revamped Phoenix facility was chosen this year due to weather that is predicted to be a bit more favorable. It will also give the teams an opportunity to make a few laps on the fresh racing surface in preparation for the Car Quest Auto Parts NHRA Nationals in Phoenix two weeks after the Pomona event.
"Bradenton is a real good place to test your progress with motors and things like that, but the chassis set-up is different there, and it can get you a little bit off base," explained Connolly.
"You have to be careful because there is only maybe one track we actually race at that will have those similar conditions. It will be interesting to see how we do in Phoenix. There are a few things we need to get ironed out with suspension, and this will be a good opportunity to see how we run on a track that is more similar to an NHRA-prepped track. We'll take a couple of days to work on the things we want to get ironed out, and then our plan is to take one day and bring all of our best equipment and knowledge to the plate, make a few good runs, and really get prepared for Pomona.
"As a whole, the Gray Motorsports team has adapted really well, and everything is really starting to jell. I couldn't be happier with the way things are going so far. We've had a very productive off-season, and there are still a few things on the table for us to do. But if our early test sessions are any indication of what's in store for us, I think we're in pretty good shape."
Gray will begin the season in the Chevrolet Camaro that he drove to victory in Las Vegas this past fall to secure the third win of his career, and Connolly will drive the Camaro wheeled by Erica Enders-Stevens in 2013. The horses in the stable will be shifted, however, early in the season – probably in time for race 3 of 24 on the NHRA Mello Yello circuit, the Amalie Oil Gatornationals in Gainesville – as Gray Motorsports recently took delivery of a brand new Jerry Haas-built Chevrolet Camaro.
Connolly also plans to drive the GMPartsNow.com Chevrolet COPO Camaro in Gainesville for the first in a string of Stock Eliminator appearances. Notably, Connolly was the first driver to win in a COPO Camaro (at the Lucas Oil event in Atlanta in 2013), and he and the Gray Motorsports team are eager to build upon the scorching early success.
"We have a lot of great things happening already," said Gray. "It's an exciting time for Gray Motorsports, and I'm ready for this season to start – as ready as I'll ever be. We all are. I couldn't be happier with where everything is today; this place is finally showing the potential that it's capable of. We're coming to Pomona with guns loaded."
(Photos courtesy Gray Motorsports/Richards; NHRA/National Dragster; Click to enlarge)