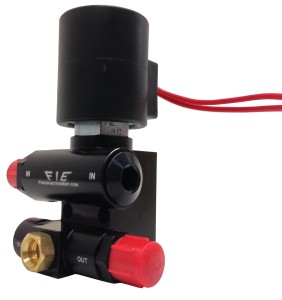 Are you too rich?
Most mechanical fuel injections run rich at higher rpms resulting in power loss and excessive oil dilution. This lean and mean FIE electronic valve allows racers to accurately control the fuel mixture. It has a 12VDC solenoid that can be triggered with a  momentary switch, by a timer or RPM activated switch. Once opened, an Enderle bypass pills control "how much" the system will be leaned out. Great for racers looking to achieve higher rpms without sacrificing low-to mid range power. Commonly referred to as a High-Speed.
This valve can also assist with staging. Simply connect to the trans brake and the valve will lean the engine while one is up on the convertor. Release the brake and the system returns to full rich. Clutch cars also use it to keep the engine from loading up during staging when under no-load and partial throttle conditions. The result is amazing improvements in 60′ times.
The aluminum body is hard anodized for durability and has AN6 fittings for connecting your hoses. Has provision for 2 mounting bolts. Valve comes with gas and methanol compatible seals.
Contact: Good Vibrations Motorsports,
8858 Painter Ave, Suite E, Whittier, CA 90602.
800.576.7661  GoodVibrationsMotorsports.com