Get ready, folks. Keith Berry, Mr. WOOOO! Nation himself, is about to make his grudge racing debut and the world may never be the same.
Taking a detour from his 2015 "Tour of a Champion" class racing schedule, Berry will head to Jackson, South Carolina, this weekend for Mike Hill's 2nd annual "Baddest of the Badd" event at the "House of Hook" Carolina Dragway where he'll throw down against hometown hero Jeff Miller.
A little exposure for Berry on grudge racer Willie Dog's radio show, and some Internet tough talking from Miller (whose motor wasn't even in the car at the time the challenge was made) was all it took to get the match set for April 25th.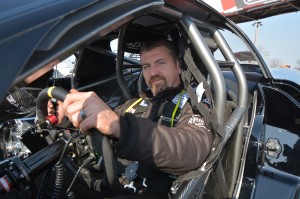 And although they've never met, Berry and Miller agreed to the no-time race and a coin toss will determine who gets which lane. A pro tree will be in effect for the start and the two racers will be sticking to track rules as far as what counts as a disqualification (crossing the center line, hitting the wall, etc.). No wheelie bars will be permitted, and each car will be outfitted with 29-inch slick tires. Otherwise, it'll be a heads-up, no-holds-barred fight to the finish between Berry from Georgia and Miller from South Carolina with $1,500 cash up for grabs next Saturday night.
The two cars feature relatively similar setups, so who will come out ahead of the bowtie battle is a tough call to make. Berry's car, a sleek black C5 Corvette built by Bell Chassisworks, features a 454 Pro Line Racing LSX motor with twin Precision turbochargers, the latest EMS system from FuelTech, and a transmission from Mark Micke at M&M. Meanwhile, Miller built his yellow 2010 Camaro in-house at his shop, Affordable Performance, along with his son Patrick. His car, known as "Bumblebee," houses a Honeycutt Engines 526 Hemi with twin 88-millimeter turbos, and 2-speed TH400 from Neal Racing Transmissions with a Cameron torque converter.
Miller's familiar with slick tires as he's run quite a bit in local Pro Mod races over the years as well as countless grudge matches, but radial tire guru Berry isn't worried in the least about having to switch rubbers.
"We're going to be on the awesome new 29s from Mickey Thompson, the same ones we tested earlier this year in Bradenton," he confirms. Miller won't have much of an advantage with the tire, however, as he hasn't had a lot of experience with it himself. Despite his limited testing on the M/T 29-inch slick, Miller says he did very well with it, and that the resulting runs were "good enough to be able to pick on Berry."
As for what Berry expects from the race, he's pretty clear that he's counting on dominating the competition. "I'm not nervous at all," he says. "Racing is racing, and I don't care if it's grudge racing or not. When the tree drops, we'll just do what we do. I expect Miller to run somewhere around 4.30, or a high 4.20, and we'll probably run somewhere around 4.05. He seems like a nice guy, but we'll crush him for sure. Either way, it's a win-win situation for me. If I win the race, it'll be huge for me in the grudge world. But, if I lose, they'll all give me the big respect for racing with him [Miller]."
Berry's never run a grudge race before, and he's never even been to a grudge event. "I've just seen 'em on video," confirms the 2014 NMCA Radial Wars champion. "It seems like it's a big deal, and I'm excited to go do it."
He plans to arrive at Carolina Dragway early on Friday and make some test hits that night as well as on Saturday, then run the big race on Saturday night.
"I've seen anywhere from $20 to $1,000 being offered on side bets for this race, but I've only seen one person bet on Miller so far," laughs Berry, who is always happy to stir the pot. "Even some of his grudge racing buddies are betting on me!"
Regarding the prize money, Berry asserts that he really doesn't care about it at all. "After I pay my crew chief Ryan Rakestraw, and put fuel in the RV, there's no way I can make money off this race. I'm just going because Miller called me out, and I won't back out." He's planning to arrive in the Palmetto State armed with a big brick of cash, though, and will be looking to book some more grudge races while he's in town.
Similarly, if Miller gets the win, he'll use the cash to line up some more races as well. "We're going to turn WOOOO! Nation into the BOO HOO Nation," the challenger predicts.