To say that Cary Goforth, driver of the Dean's Casing Service Pro Stock Camaro, has a good year, would be an understatement at best. This season alone he's had numerous wins across two organizations. He currently holds a sizeable points lead in both PDRA Extreme Pro Stock and IHRA Pro Stock.
While this is a new year for all classes with the PDRA's inaugural tour, after a four-year hiatus it also is  a 'welcome back' year for Pro Stock with IHRA. Both organizations have just one race left to determine their 2014 champions and these races will be held on the same weekend, one just outside of Richmond, Virginia, and the other close to Memphis, Tennessee.
While mathematically Cary Goforth stands a pretty good chance of winning both the PDRA championship and the IHRA championship without showing up to either event, he's not willing to take that chance. It's clear he's had to go to great lengths and put in long hours to be in the position he is, but his greatest task might still lie ahead of him.
"For the championship in each organization, Cary has to run two guys named John," explained Cary's dad and team owner Dean Goforth. "In the PDRA it's John Pluchino. We have to show up at Richmond and make one run down the race track. That's all we have to do. John Pluchino would have to win both of the races, qualify number one and set a world record. That would be pretty impossible, but we know John Pluchino, and he's pretty good. He could possibly do all these things. Sure as the world we wouldn't show up, and he would do all those things, and we would lose the championship.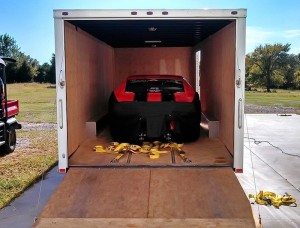 "Cary is going to take his car, in a smaller trailer with a dually pickup, to Richmond. And he's going to make one run. About a mile north of Richmond track there's an airport, and, thank God, we just happen to have a little ol' airplane. So he's going to leave the track Friday, get on the plane there, and fly to Memphis that night.
"I'm going to be in Memphis with two cars–my car and our back-up car. All he's gotta do at Memphis is the same thing he's gotta do at Richmond. At Memphis, though, it's a different John, John Deflorian. John Deflorian has got to do about the same thing John Pluchino's got to do, but if we didn't show up he might do it. And this is the kind of thing that ain't gonna' happen to a person too many times in their life–getting the chance to run for two championships in one year. But, hey, you're pretty fortunate to get to run for one.
"Anyway, I got two guys coming with Cary to Richmond," Dean continued. "And as soon as they get the car in the trailer they're going to take off back to Memphis and try to get that car back to Memphis for Cary so he won't have to drive the back-up car. But I'm taking the back-up car just in case, because Cary will only get one qualifying session at Memphis. The first two will be run Friday night when he's in Richmond. We're trying to cover every base."
If it's possible to run two events in one weekend that are over 800 miles apart, it's Team Goforth that can pull it off. Cary explained how they overcame difficulty at the beginning of 2014 to have their best season yet.
"We had our crew chief from the last three years quit on us right before the Tucson race after telling us all winter he was on board. That left a bitter taste in my mouth and I think it will for a long time. I don't think anybody can blame me for that," Cary Goforth said.
"On a day-and-a-half's notice Todd Hoerner said he thought he could get Jeff Dobbins to come. Jeff said 'Let me get some stuff together and get stuff arranged and I"ll get out to Tucson.' This is a relationship that has been really good, and I hope it will last for years to come. Jeff and (his wife) Cindy and (son) Jeffrey are really good people. They're really sharp at doing what they do.
"We've had a good year. We've had an outstanding year. Actually, we've had the best year we've ever had with Jeff on board. We feel like we gave away three or four races, but that's normal. That's hard to gripe about. I'm very appreciative of my crew. We think, how can next year get better than this and we used to think how can this year be better than what we had last year?
"I wanna' be a force to be reckoned with for years to come. Everybody has rough years, but I'm going to fight to keep that from happening. You would be an a-hole to gripe about this year. It started out shaky, of course, but we got Jeff to come over here and we picked up right where we left off. It's been an incredible year."
"Hey, we're tickled to death to be where we are with both sanctions," added his father. "We've not missed but one race either side with both organizations. We've been gone as long as five weeks in a row. And now Cary is helping Richie Stevens in NHRA. I don't think we've seen him since Rockingham (early in September). We've had a very busy season."
"Since I was a little kid all I ever wanted to do was drive a mountain-motor Pro Stock car and I've already done way more than I ever thought I would do," Cary said. "Winning races was way more than I thought I would do. I got to thinking about it a couple weeks ago and I got to adding this up and I thought, pulling this off is gonna make you a five-time champion in Pro Stock. Right now that comes to mind more than anything, because that puts you in company that's pretty elite.
"Everybody says how do you want to be remembered? When it's comes that my time's done, I just want people to know I gave all my heart and all my soul to this deal. The sacrifices we've had to make, being away from family, the sacrifices they've had to make without us there. Five championships–thinking about what it takes to do that–we were gone a helluva' long time away from home since we started this back in 2006. It took three years for us to start doing well. Kids these days want to start out winning immediately. They don't want to work their way up the ladder or pay their dues, but it just don't work that way, especially in drag racing. You've got to have a program and that just takes time. It takes a lot of heartache and parts break, too. Right now, I wouldn't say I know what I'm doing, but I've learned a heck of a lot since I started.
"Dad told me first round at Rockingham [PDRA Dragstock]–we had car trouble and I barely got in. I was number eight and he was one–he said, 'I'm going to give you this round and you're going to win this championship.' That's not something we normally do. I told him I didn't want him to do that. He said, 'I don't care. You have no choice, you have no say. Look, Cary, everything I've done here in this deal is for you. It's not for me; it's for you. If I win a race or qualify number one every now and then that's just a bonus.'
"And, ya know, what do you say to that? First thing you want to do is cry. Everybody on this team has worked hard. I've worked hard, but he's been the one to make the most sacrifices and put in the hours that I could never do. I don't have what he has, and I wish I did. He's a great man for working hard and doing what it took to be competitive again. It took almost 20 years to get back to the top. That's a long time. There was a lot of hard work, sacrifices, late nights, 24/7, 365. No birthdays, holidays, no time off. That's just the way the industry is. I'm so thankful to him for giving me that chance."
Cary had hoped to clinch his PDRA Championship at the Dragstock event in early September. However, when the event was rained out and postponed until the PDRA Championship Finals, he was one short round away from making that dream come true. Now, however, he has the opportunity to win two championships from two organizations on the same weekend.
"Jason and Mitchell Scruggs, Bob Harris, Gene Hector, Tommy Franklin, Roger Henson, they all took on a new organization, including us [Pro Stock] when they didn't have to," continued Cary. "Being the first champion of an organization like that, that sticks in your mind. And being the first IHRA champion since they've had us back is on my mind, too. You're kinda' shooting for two perks here. Hopefully, with the good Lord's help we can do that."
"We appreciate both sanctions," added Dean. "Both of them have worked hard to keep us both running and we are thankful that we've had the opportunity to compete in the PDRA and IHRA and now have a chance at two championships."
(Photos by Ian Tocher; courtesy Goforth Racing/Facebook)