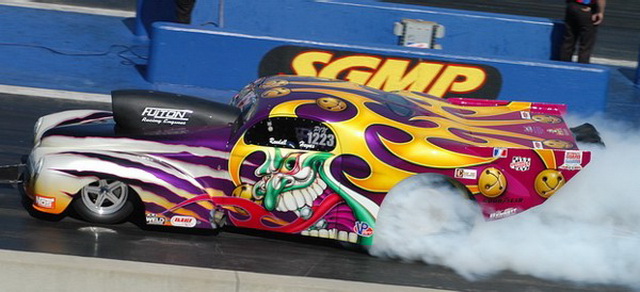 By Ian Tocher
Second-generation drag racing star Billy Glidden confirmed to DRAG ILLUSTRATED Aug. 27, that he will be behind the wheel of Brian Shaw's wild-looking Pro Nitrous '41 Willys (above) for Dragstock X, the ADRL's oldest and most prestigious event, Sep. 6-8 at North Carolina's historic Rockingham Dragway.
Glidden, the 2008 ADRL Extreme 10.5 world champion and a regular in the class until it was dropped prior to the start of this season, has been racing this year in the rival X-DRL's Pro Nitrous class, but the Dragstock event will represent his first time entering the Pro Nitrous arena in the ADRL series.
"Brian and I have been friends for quite some time now and this is something he and I have been talking about off and on since about the middle of last year," Glidden said. "I knew this was going to happen and I told (ADRL president) Kenny Nowling about it at least a month ago."
Shaw, the owner of OTG Racing in Moseley, Virginia, said there have been extensive changes made to the Pat Bennett-built car since it was last campaigned in the 2011 ADRL season with Chris Patrick at the controls.
"I guess the biggest change you can actually see is the zoomie headers," Shaw said of the new exhaust exits on the Fulton Competition engine that's fitted with four stages of nitrous-oxide injection. "But really, just about everything's new, right down to a new paint job, but it was still done by Chuck B at Banshie Studios."
Glidden said he will be concentrating only on working with Shaw at Dragstock X, partially because his own 2009 Mustang doesn't fit into any of the current ADRL classes since it doesn't have a floater rearend, but also because he damaged the engine in it this past weekend (Aug. 23-25) in the NMCA Pro Street race at Norwalk, Ohio.
"I screwed up both of my engines," he said. "Trying to run quarter mile is a big part of it and trying to run quarter mile competitively is even bigger. I'm actually the quickest to the eighth mile over there right now, but unfortunately that's just part of the race. I'm only making it to 11-hundred, 12-hundred feet and the engine is pissed off by then. So I'm having issues and now I'm dealing with the disasters I created."
Glidden said he'll be approaching the Dragstock event with optimism, but added "it would be totally ridiculous to go out there with expectations."
"There are several people who are really figuring out how to run these big-motor nitrous cars. There are several people who are really starting to run very quick and fast," he said.
"I've been quicker by lots than Brian's car has ever been; they ran a 3.93 with it at Ennis (TX) a couple of years ago, I think, but other than that they've struggled at times just to get down the track. We'll just do our best and see what happens this time."
(Photos by Ian Tocher; courtesy OTG Racing; Click to enlarge)