To say this season has been difficult for PDRA Top Sportsman racer Aaron Glaser would be a vast understatement. But, as with any valley, the trials cause the brighter moments shine that much more.
The year started out on a high note for the Glaser family as they welcomed their second son, Brady, into the world. The timing of this caused the 2013 ADRL Top Sportsman Champ to miss PDRA opener, the Spring Drags at Rockingham Dragway.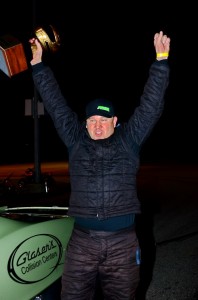 A family man first, Glaser was happy to put racing on hold, but was ready to get his season started by the time the PDRA made its second stop on the tour. A series of parts breakage ensued for the team and Glaser was out in round one of both the Georgia and Memphis Drags.
Despite the rough road, Aaron had high hopes for the Summer Drags at US 131 Motorsports Park in Martin, Michigan. Being a closer event for the Kentucky natives, the Glasers would go to the race track for the first time together as a family of four. Unfortunately, more difficulties still lie ahead.
"Even Martin started out rough," Glaser said. "I blew a tire just south of Indy. Then drove about another hour and blew another tire. I didn't have another spare so I had to backtrack to Indy to get a tire. When I fixed the tire the second time there was a pothole there and I didn't see it. I stepped in it and twisted my ankle. Then when we got up there we hurt another torque convertor in qualifying. We switched converters. Then the next pass we broke a flywheel in the motor so we had to pull the transmission out again. So the trip up there and qualifying was testing for us, but once we got to eliminations things came together."
Glaser qualified fifth at the Summer Drags with a stout 4.08 in the Glaser Collision Center '69 Camaro, which proudly bears the number "1" from winning the ADRL championship. But with Glaser having yet to win a round in 2013, he and his team remained anxious to shake off the demons plaguing them.
So when he got past Boyd Beyer in round one without breaking anything, the team was able to breathe a quick sigh of relief before focusing on round two. He put friend and competitor, Glenn Butcher, on the trailer and marked his path to the semi finals, where he met up with Curt Fredrich. Another win light and Glaser was back in the final round, where he would face off against fellow Kentuckian Eric Burnett.
"Me and Eric grew up together," Glaser said of his final-round competitor. "I've raced with him my whole life. They're a great family. I've painted all their cars.  It's pretty cool to be in a final at a national event like that and race someone from your home town."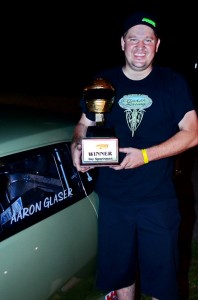 Although Glaser and Burnett may be friendly off the track, that is all pushed aside when the helmets go on. Glaser drove like the champion he is and earned his first PDRA trophy.
"We've been struggling this year so [the win] really helped pick morale up for the team. We've got the car sorted out now. As long as we don't have any more breakage I think we'll be good. The car's running well, really well. The big thing for us is consistency," Glaser said.
"I couldn't do this without my crew," he continued. "Joe Riggs is a really good friend that goes to all these PDRA races with us. My father does most of the tuning on the engine, calls the shots, keeps the car running well. My mom takes care of the dial-in prediction, downloads the Racepak, takes care of all the computer stuff. It's great because it's the same group of us that goes to all the races. We've all got our jobs. We all do the same thing.  We've been doing this so long together and we're such good family or friends, I can trust them to do their jobs. I don't have to worry. I can focus on driving the car and doing what I need to do because my crew is spot on. They are awesome. We've got a great car and a great crew.
"Part of what made this win special was that my whole family was there," Glaser added. "Usually my wife, Heather, stays behind to take care of the boys and the businesses so I can go play. I owe a lot to her. It makes it a lot better when you have the whole family there to celebrate."
Adding to the cool factor was a unique repeat in history for the Glaser family.
"It's pretty cool that we won Martin because when my oldest son Connor was two or three months old we won an IHRA race at Martin and we have a picture there with him in the winner's circle and now we got to do it all over again with my youngest. Pretty neat to have the same picture at the same track with both boys when they were each just a few months old."
Now Glaser's oldest is nine and is following in his father's footsteps. "It's pretty cool [to have Connor racing]," Glaser said. "He has a big ol' time with it. He's raced a lot locally, but this was his PDRA debut."
When Glaser and his family aren't racing together, they're running the family owned-and-operated Glaser's Collision Centers and enjoying quality family time. "If I'm not racing or working I'm playing with the boys. My older son is big into basketball. All winter long we're doing the basketball thing with him. We're real big on family. If we're not racing, we're all still together."
The Glaser family businesses support the race team. Aaron also credits a few other companies in the industry with aiding in his success.
"We were struggling a little bit with our engine program and hooked up with Pat Musi last year. He's helped us quite a bit so we want to thank him. We switched to a Jerry Bickel car last year also, and, without a doubt, it's been the best and most consistent car we've ever run," Glaser said. "Without those couple of companies and my crew we couldn't do this by any means."
Gloaser also singled out his competitors as a major reason he loves the Top Sportsman class.
"All the guys we race with – like Bruce Thrift, Cheyenne Stanley, Billy Thomas, and Glenn Butcher – they're all very good competitors. These guys are tough," he said. "It's amazing the competition, because they're great guys and competitors, but some of the best friends you'll ever meet. In fact when we won the race every one of them was down there high fiving and congratulating us. I can't say enough about the competitors we race with."
Among those competitors, Glaser himself is one of the toughest. Besides the 2013 ADRL Championship, he also owns two IHRA Division 3 Championships. Although an experienced and decorated veteran of the sport, Glaser is still younger than much of his competition. Looking to the future, he hopes to one day compete in Pro Nitrous, the class he admires the most. But for now, Glaser is content.
"Once my boys get older and my business is a little more established I'd like to take a run at Pro Nitrous," he said. "I'm the type that if I can't do it right, I don't want to play. Right now [in Top Sportsman] I've got the equipment, crew and ability that when I roll through the gates I've got as good a chance or better than anybody. I know I can win.
"I've got great kids, a great wife, couple cool race cars, good business so I'm happy right now. Life is good, real good."