The off season is the perfect time to reflect on the previous season, taking stock of the season's pros and cons in preparation for the season to come. For Matt Giangrande, this was an important season on which to reflect. After being out of the driver's seat for a large part of two years, 2017 was Giangrande's comeback year. Suitably, it was also a comeback year, of sorts, for the class he chose to run.
The Long Islander-turned-North Carolinian became a door car fan from his youth and has never swayed from that first love. He's driven and served as crew chief in both Pro Mod and Pro Stock. He sold his Pro Nitrous car in 2014, which began his break from driving. When he chose to jump back into the driver's seat this year, he did so in PDRA's Extreme Pro Stock. Knowing the recent history of mountain motor Pro Stocks, Giangrande took the bull by the horns, so to speak, and helped organize and unify the class to have a strong showing with the PDRA this season. His efforts paid off both personally and with the class as a whole.
"It was so satisfying to see everyone racing there and having a good time," Giangrande expressed. "We had 16 or more cars multiple times this year. There's a lot of excitement going into 2018. I know that Bob, Tommy and Jason from the PDRA were happy with what we accomplished in 2017. There were quite a few unknowns [prior to this season], but I think that the PDRA saw support in ways that they've never seen before, and I think we had to do that as a group. We were able to go out and put on a good show. We got great feedback from the fans. It's obvious that they love the normally aspirated hotrods with clutches. As a group we always want more cars and we always want more participation, but I feel like this year no one had to pick up our slack. We held up our end of the bargain.
"I forgot how much fun it is racing with those people – Montecalvo, Carr, Eman, Goforth, Morton, O'Brien, Pluchino, Cooper, Boone, Deflorian and Powers. We definitely, from time to time, had our share of controversy, but when it comes right down to it, anybody will do anything for you almost more so than I have seen in any other class. It's really a tight knit group."
Giangrande finished sixth in his first season back and feels like he has much to be thankful for from this kickstart season.
"My wife, Jennifer, is the most important person in this whole deal," he said of his wife of 11 years. "Anybody that knows me knows we're inseparable. We do everything together and racing is no different. She loves it as much as I do. She's a super important part of everything that goes on. She works on the car in between races, not your typical female, very car oriented. She'll help me with the engine, the clutch, and with every aspect of the car. When we weren't racing, I think she missed it almost more than I did.
"My buddy Jered and his wife Jody Gall are the other half of our team," Giangrande continued. "Jered is my right hand man. The four of us do it together. It's two husband and wife teams that run this Pro Stock deal, which is pretty untypical of the people we're competing against. We all take pride in finishing sixth in the points. We set our goal to finish in the top 10 this year and we accomplished that. And at just about every race this past season, we went out and set a new personal best."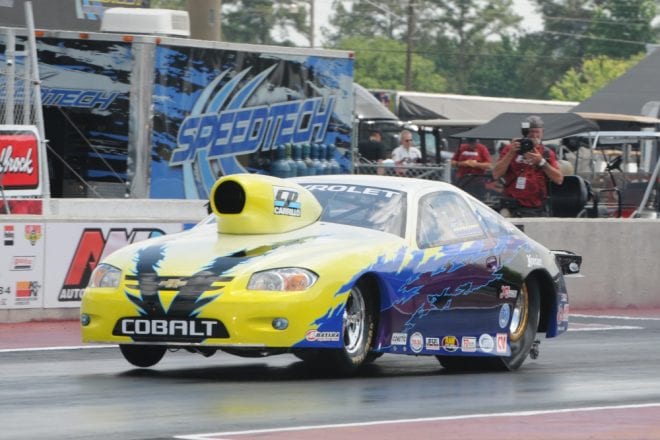 The team focused this year on getting a baseline and hopes next year to continue closing in the gap on the Pro Stock frontrunners.
"I hadn't done anything with a Pro Stock car for almost ten years now. So this was kind of a reinitiation to Pro Stock for me. I had to get reacclimated with driving and tuning a Pro Stock car. It is very different from anything else out there. This was a learning year for all of us on the team."
Giangrande is a self-proclaimed underdog, wheeling a nine year old car and twelve year old powerplant. He's been able to compete close to the top teams by paying close attention to all of the details regarding the tuning of the car, not just the engine. "When you don't have some sort of power adder, such as nitrous, supercharger or a turbocharger, a premium is put on every aspect of the car" he added. "You can't leave anything on the table in the clutch, transmission and suspension department.
"We did our own motors this year," Giangrande continued. "We take a lot of pride in doing a lot of this ourselves, because I'm really racing in a class that I should not be racing in from a monetary standpoint. But when you're a car guy, and you love racing, you just figure out a way to get it done. That's why the vendors that help are just so important.
"I work at CV Products and XceldyneTechnologies. Xceldyne is our manufacturing division. CV is our distribution portion. Really without them I can't get it done because they allow me the time off of work to represent our companies at the track. We're involved sponsorship-wise with PDRA, and we hope to grow that in 2018. Xceldyne provides me with all of the valvetrain components for my race car. Xceldyne provides the highest quality titanium parts, which includes the valves, retainers, a lot of other internal engine components.
"I've also formed a relationship with CP Pistons and Carrillo Connecting Rods over the last eight or nine years. They're like my family. Cindy, Snake, Richard and the whole group out there at CP and Carrillo take care of me like I'm one of their own. They're very instrumental in getting me the absolute best and most current parts I need for my engine. PSI Valve Springs, Maxima Racing Oils, and VP Racing Fuels are all essential parts of our program. Those companies provide me the best products to help us compete against the fastest naturally-aspirated door cars in the country."
Giangrande also expressed tremendous gratitude for partners Total Seal Piston Rings, Cometic Gaskets, Clevite Bearings and T&D Rocker Arms. These companies played a key role in Giangrande's successful return, and he's looking forward to growing his program in the coming years.
"We're working on our engine program right now. Unlike last year where we were just trying to develop a baseline, this next year we're trying to make some more horsepower. Our approach to the engine will be very different this next year as we try to close the gap between us and the frontrunners. Instead of being a big underdog, maybe we'll be a bit less of an underdog."