NHRA's Western Swing is coming to a close this weekend with the Sonoma Nationals at Northern California's Sonoma Raceway. This also marks the end of the Salinas family's three-week motorcycle road trip as they come home to San Jose – marking nearly 3,500 miles on their journey.
And with Sonoma being the home track for Scrappers Racing, there's no better time to take a moment and get to know team owner and driver, Mike Salinas. The 62-year-old father of four daughters (Jasmine, Jaquelin, Jianna and Janae) and husband of wife, Monica spent time answering 10 questions and a bonus 11th prior to the Sonoma race weekend to give fans a glimpse into the mind of a successful business owner and Top Fuel driver.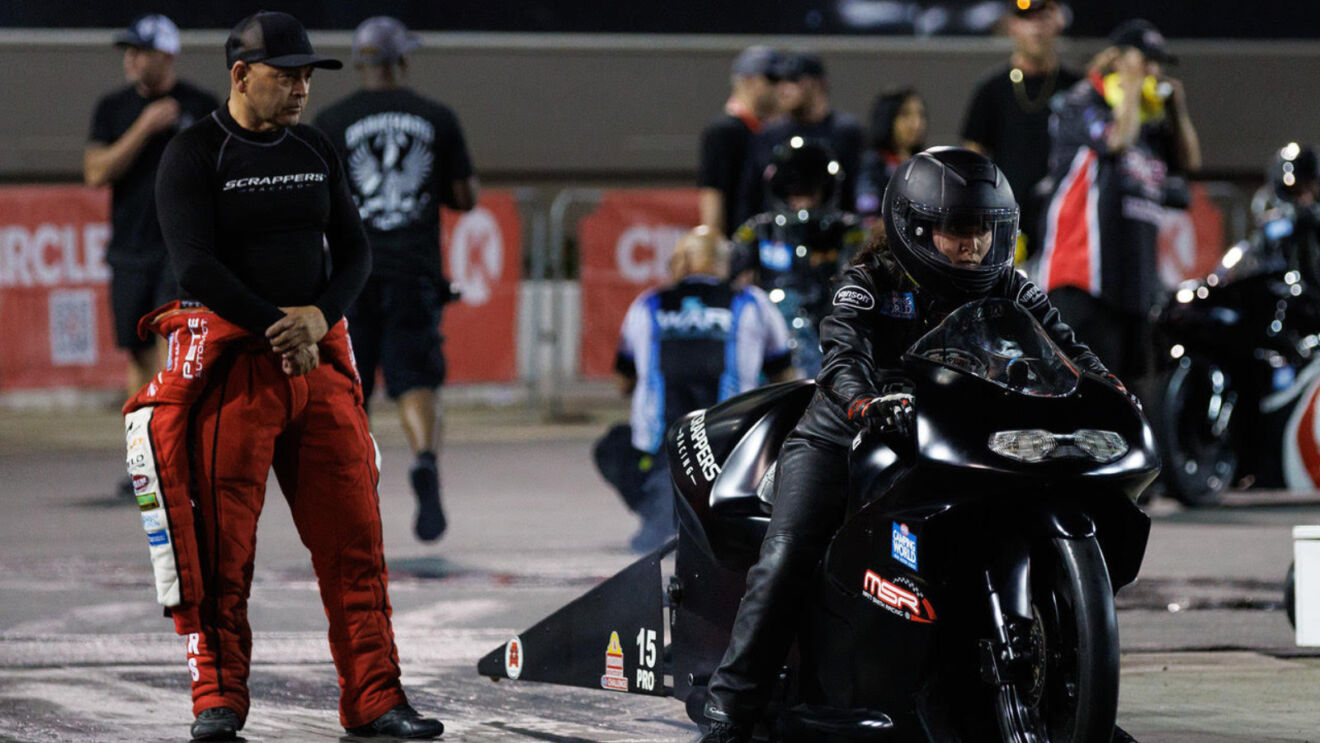 10 Questions with Mike Salinas
Why did you choose Top Fuel and not Funny Car?
"Because Top Fuel is the king of the sport. You don't buy a penthouse on the bottom floor."
What are your racetrack rituals?
"Relax, have fun and make sure you enjoy yourself. Before I get in the race car, I always hit the chutes, the tires and the injector – every time. Those are signs to remind me of something. I have little things to remind myself and everything I do is steps to remind myself of something."
Describe a normal day when you're not at the racetrack.
"Controlled chaos."
What's it like being surrounded by your wife Monica and four daughters?
"It's awesome actually. It's like being in high school and harassing our friends and of course getting harassed back. It's great."
Best advice you can give someone.
"Integrity, happiness and harmony in life will allow you to see the positive side of things and allow you to do good in your life."
What made you want to become a NHRA Top Fuel driver?
"I saw somebody else doing it and Janae (Salinas) told me at nine years old, 'I don't think you can do it.' So, I said, 'Let's go see, I can do it.' That's actually how we got here. We were watching it on TV and J.R. Todd was driving way back when and Janae and I saw him qualify number one at Sonoma and we were watching the drag races and she says, 'How come you don't go do that?' And I said, 'We can.' And she said, 'I don't think you can.' That's how it started."
Do you get more nervous racing your Top Fuel car or watching your daughters compete?
"Not nervous at all for any of it. You have to trust that you've put them with the right people and you have the right people behind you. If you're nervous or scared, you can't be in this sport because you'll get hurt."
What is your favorite vacation destination, and when you're on vacation, are you able to unwind?
"Kauai, Hawaii, is my favorite because we already know people there. I can't unwind, but I'm trying really hard to learn how to relax."
What is the secret to your success in the business world and life overall?
"Be positive, have integrity and do the right thing when nobody is looking."
What was it about NHRA drag racing that initially got your attention?
"I used to come do this to relax and it started out as relaxation. But it turned into another business."
Bonus Question – What is something no one knows about you?
"I like serenity, and I like being by myself. I like just being a great person, that's all."