In a class where the entries consistently almost double those entered in Top Fuel, Funny Car, and Pro Stock car, Pro Stock Motorcycle's popularity is gaining traction all across the globe and especially in the NHRA.
George Bryce has been a staple in the NHRA Pro Stock Motorcycle community for nearly 40-years and through his positive nature and history in the class, he has his own thoughts on why the class is growing in interest, more racers are coming into the class, and why the class' future is as bright as ever.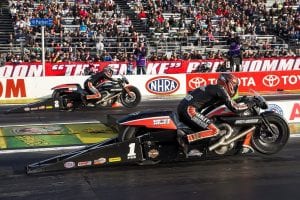 "First thing, one reason Pro Stock Motorcycle is seeing a huge growth in popularity is the personalities involved in our class; they're pretty unusual," Bryce says. "We have some unusual competition, too. We have the Vance and Hines team that is very high in funding and talent but it's not just those two bikes. There is a lot of room for new stars and even more room for new drivers and teams to fill in the class."
Another reason Pro Stock Motorcycle is seeing expansion in riders and new teams is the diversity between the different bike combinations a person can run in the class.
"We have diversity in our class just like the Pro Mod class with their different car and tuning combinations," Bryce adds. "We have two cylinders versus four cylinders and higher RPM motors versus two cylinder twins. Also, you can choose to ride a Buell, Harley, Suzuki, etc."
Along with unique personalities and the ability to run many different styles of motorcycles in the class, Bryce acknowledges that the FOX Sports 1 (FS1) television coverage has been monumental for the class.
"Probably the biggest reason Pro Stock Motorcycle has become so popular as of late has been because of the switch to FS1," reveals Bryce. "The NHRA production and the FOX Sports network has done a great job at portraying our class. It requires a lot of work to make a good run possible in our class by the crew chiefs and the drivers and the FS1 really shows that."
Pro Stock Motorcycle in 2016 has seen an average of 24 riders competitive for the coveted 16-bike field and there doesn't seem to be showing any signs of slowing down.
"Back in the day, there was a big gap between the best and the worst and now, there is eight people going home after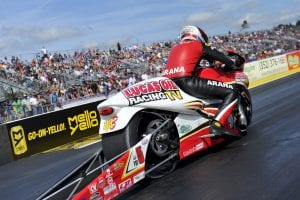 first round and they're only a couple seven- or eight-hundredths between No. 1 and No. 16," Bryce beams. "I think Pro Stock Motorcycle is so popular with just racers because it's a serious combination platter of three things: the coverage is great, the potential for being involved is unbelievable and it's the best bang for your buck. If you want to run a pro category in the NHRA, you can get in cheaper with our class than you can Top Fuel, Funny Car, and Pro Stock Car. It allows the entry level racer a better chance of getting in."
As a team owner with a duo that consists of the winningest female racer in all of motorsports and a rookie rider that's just getting his feet wet in the sport, Bryce feels he's got the best of both worlds. Bryce's team is a prime example of how diverse the class is and how the class is evolving into an extremely competitive class that can cultivate new and seasoned racers.
"Having Angelle and Cory on my team is what you want as a team owner," he says. "Jackie [wife] and I always say we're a farm for our sport because we've introduced a lot of people to our sport. Having Cory come in as the new crop and having Angelle, Jerry Cooper, Ken Johnson, Jackie and myself there, we've given Cory kind of an advantage helping him realize mistakes before he makes them so he doesn't have those obvious trips when you stumble as a rookie. He's still going to make rookie mistakes as he goes on but I'd like to think we helped him jump over some of them. It's fun to see both sides of it from both of their perspectives."
"I've noticed that a lot of the car guys are watching our class more than they used to," Bryce smiles. "The thing that's neat is Cory's mom and dad are the sponsors of the Pro Mod Series, J&A Services, and I've noticed more Pro Mod racers watching our class and paying attention to us and that may be why. We have a lot of fans that we've gotten by kind of cross-pollinating due to the association with Cory and his parents being so involved in other classes."
The last piece of the puzzle is put together with the NHRA All Access channel. Coverage typically begins on Friday morning as soon as Stock Eliminator hits the burnout box and doesn't end until the last car goes down the track every night. NHRA All Access can be accessed all over the world and the global impact is already being seen.
"The NHRA All Access has been great too," he adds. "A good example is Jackie just got back from Santa Pod in England and you wouldn't believe how many of them are following it and how many new subscribers are coming on board overseas every week. We're getting good coverage combined with the TV deal."
Pro Stock Motorcycle is making all the right moves and being the most accessible professional class for racers to enter in, it doesn't seem like the class' popularity is losing steam anytime soon.
Story by Sadie Floyd
NHRA photos
This story originally appeared in Drag Illustrated Issue No. 111, the State of Drag Issue, in July of 2016.