In its 14th year, the Street Car Super Nationals has become a legendary bucket list drag racing event. Not for the weak of heart, whether you be fan or you be racer. It starts Tuesday at The Strip at Las Vegas Motor Speedway with testing and finishes Sunday night in the Winners Circle. Cars are broken, drivers are tested, records are shattered.
And now, there are two more lanes.
Promoter Mel Roth wasn't going to let that go to waste.
Friday night, four racers— Jay Boddie, Giuseppe Gentile, Eric Kvilhaug, and Mark Woodruff—lined up side by side by side by side to race into SCSN history. A true grudge match, each driver anted up $2,500 each, the winner taking home ten large.
Gentile earned the victory and the cash after crossing the finish line first in the no-time race. About 24 hours after the win, he wasn't very forthcoming about where the money was spent.
"I don't want to say because my wife might read the interview!" he said, laughing.
Despite knowing his actual ET, he wasn't real forthcoming about that, either.
"We got a time slip, they rolled one out for us," he said. "It ran good. It ran really good."
The primary complaint about 4-Wide racing, especially from the participating drivers' doorslammer cousins in NHRA Pro Stock, is the staging process. Focusing on four bulbs instead of two can be challenging, especially when you've never done it.
But Gentile was a bit of a ringer. He had raced 4-Wide here already, you see. And won.
"I actually did the National event, a 4-Wide grudge race here and I won that, in eight-car (field)," he said. "It was good. I already had an idea on that, so I had a little advantage there."
Twenty-five hundred bucks isn't just petty cash for most race teams. The four teams involved Friday are no exception. All understood the rules and the stakes. First to the stripe wins it all. Period.
All four launched simultaneously, but Gentile, one by one by one, was able to outgas and outlast his competitors. After the race, all four were stoked about what they had just done.
"We all talked, it was pretty cool and everybody was just pumped up," Gentile said. "Everybody was excited, obviously I was excited because we won, but everybody was pumped up about the 4-Wide and it was just a cool, cool deal."
Long before Friday, Roth knew he wanted to take advantage of the new layout. He also knew there would be added expense, the need for added personnel, and the fact when something new is introduced, anything can happen.
As it turned out, Kvilhaug would call Roth to introduce the idea: A 4-Wide grudge race featuring two Big Tire cars and two Radial vs. The World cars, winner take all.
"I said it sounds great, but I didn't think we could do it because it takes extra staffing, so I said I would ask (Director of Drag Racing Operations) Jeff Foster," Roth said. "I asked Jeff Foster, he said he would think about it. Couple days later, he called and said let's do it. He knew it was going to be a big deal, so Jeff made it happen and history was made."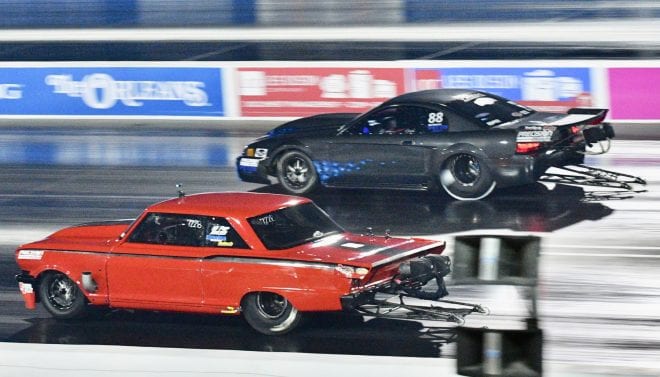 This being Vegas and Street Car Super Nationals being a destination weekend for racers and fans the weekend prior to Thanksgiving, it was crucial for it to be a legitimate grudge race. Not a situation where a sponsor puts up the money and no one is out anything if they lose.
It's a little more real when it's your money, you know?
"There's so many of these races where these guys say they're racing for ten grand or whatever and they really don't," Roth said. "I told them they all have to put (the money) up, they have to get locked in so we can go ahead and try to promote it as best we can and winner take all.
"They knew they were on the big stage and the world was watching."
Next year?
"I don't know," he said with a grin. "Maybe try something different, but who knows. We'll get together with the team here at Las Vegas and I'm sure we'll come up with something crazy and exciting and try to pull it off."