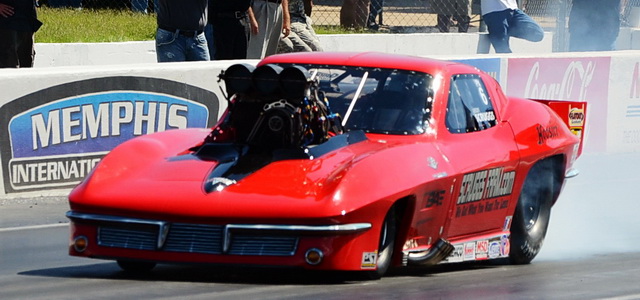 They were among the quickest and fastest through each round of qualifying and eliminations all weekend long and when it came time to settle the Pro Extreme (PX) final Sep. 8, for the ADRL Memphis Drags III, number-three qualifier Jason Scruggs (above) and number-five Brandon Pesz faced off in a pair of Garret Race Cars-built machines.
"It was a great feeling to go to the starting line knowing I couldn't lose; I felt like (NHRA multi-car team owner) Don Schumacher," joked Garret Livingston, founder and president of Garret Race Cars in Marble Hill, Missouri. "Seriously, though, it was very cool and very exciting to see two of our customers running so well. I was proud of my guys back at the shop, too, knowing how much work they put into building these cars."
Unfortunately, the blower belt on Pesz's '58 Corvette jumped a pulley at the first flash of green, allowing Scruggs and his '63 Corvette to streak unopposed to a third win this year in 3.73 seconds at 207.34 mph over the Memphis International Raceway eighth mile. It also marked the ninth PX win of the two-time world champion's career, making Scruggs the winningest driver in the class and moving him to within just one round of the current points leader.
Former PX champion Bubba Stanton also qualified his Garret '69 Camaro ninth before going to the quarter-finals, while Todd Martin, team owner for Pesz, placed his Garret-built '68 Mustang 13th, with Randell Reid immediately following in his Garret '57 Chevy.
"All of our Pro Extreme cars qualified in Memphis, which is a pretty big deal since it was the third-quickest field in ADRL history," Livingston pointed out.
Additionally, Garret Race Cars had a trio of '68 Camaros entered in the ADRL Top Sportsman class, with Glenn Butcher reaching the semi-finals, Aaron Glaser making it to the quarter-finals and Lee Adkins performing some shakedown runs in the debut of a brand-new ride for car owner Tom Smith.
"It was a big weekend for Garret Race Cars and I have to thank my customers again for making us look so good," Livingston said.
"We do all we can to give each and every one of them the very best car out there, but it really comes down to their talent and skill to get the job done. It's an honor to compete alongside them."
(Photos by Ian Tocher; Click to enlarge)