It is not a surprise for Mother Nature to play tricks with the first Big Dog race of the season. Rain or cold temperatures are usually the culprit, but high wind cancelled the Big Dog April event until the second Thursday of April. No worries, just more time to get those new cars put together and have all of the bugs worked out. As any racer will tell you, there is never enough time and you always feel you have forgot something during your offseason thrash. New cars were put together by Cam Clark and Brett Nesbitt. Both were in attendance at Piedmont Dragway for the Big Dog race. Mike Graham did not get his car together but still affected the race as it unfolded. That's why we don't race on paper.
Qualifying went as follows: Ronnie Gardner and Tim Lawrence were in at 4.030 and 4.041. Then came Brett Nesbitt and Jason Harris in their new cars at 4.101 and 4.109. The other four competitors were Bubba Turner; winner of last year's finale, Larry Pearce; Cam Clark and Brian Schrader. On the outside looking in was John Lassiter with gremlins galore. It was a day of oddities, though, so when Turner and Pearce broke, it was Mike Graham who helped Lassiter and partner Jeff Miller get into the field.
The first round featured the closest race of the day with Lassiter and Harris locked into a 4.09 race with Lassiter's quicker light winning the day. Gardner started his march to the final with bracket-like driving with his second 4.03 to defeat Schrader. Lawrence also charged to the semifinals with a 4.035 et over Clark. Nesbitt got a single.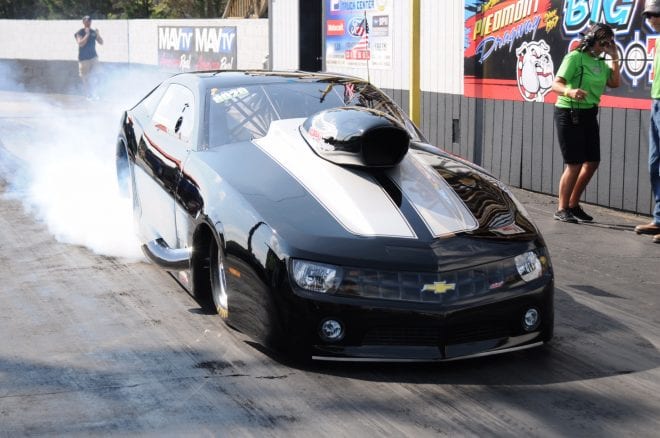 In the semifinals, Gardner unloaded another 4.0 with a .009 light to end Lassiter's run at the title. Lawrence also advanced with a 4.06. In the finals, "Superman" Gardner lived up to his nickname with a .014 light and a 4.08 to defeat Lawrence's black Camaro's slower 4.16. This gave Gardner and car owner Jack Gaddy a consecutive winning two seasons.
As for the 60th season festivities, April's race was to highlight a match race between multi-time Piedmont winner Chris Rini in the ATI Black Magic Camaro and Tony Wilson, who was filling in for Ty Tutterow.
The 6.0 and 7.49 Index classes and Outlaw Door Slammers hit the curfew and were run later. Those results will come in the May event coverage. May will also feature the newest sensation, the Nostalgia Pro Stocks, in competition for the first time ever.
Story and photos by Greg Burrow