There have been only two unique winners in GALOT Motorsports Pro Boost this season and both of those also happen to come from the GALOT Motorsports camp. Kevin Rivenbark came out swinging this year, winning the first three events. Teammate John Strickland ran beside him in the Dallas final. At the most recent Summer Drags at US 131 Motorsports Park, Rivenbark went out in round two, meaning that for the first time this year someone else would walk away with the Pro Boost trophy. Strickland continued to march through the competition, taking out Todd Moyer, Steve Summers, and Ric Fleck before meeting EKanoo Racing's Gary White in the final. White had been the one to put Rivenbark on the trailer earlier and as the world's quickest and fastest import car, was making a big splash in Pro Boost competition. White was unable to best two GALOT drivers on race day, however, as the machine couldn't make the staging call and Strickland cruised to victory, unopposed, posting the quickest time of the day, a 3.822. Coupled with his .030 reaction time, he would have been hard to beat.
Strickland's performance this year isn't too shabby considering this is only his second full year behind the wheel of any race car. Strickland got his start with GALOT Motorsports on the tractor pulling team, in which he still competes today. When Earl Wells started fielding drag race teams as well, Strickland was given the opportunity to add a completely different type of competition to his resume` and jumped right into the seat of a 200 mile per hour drag car.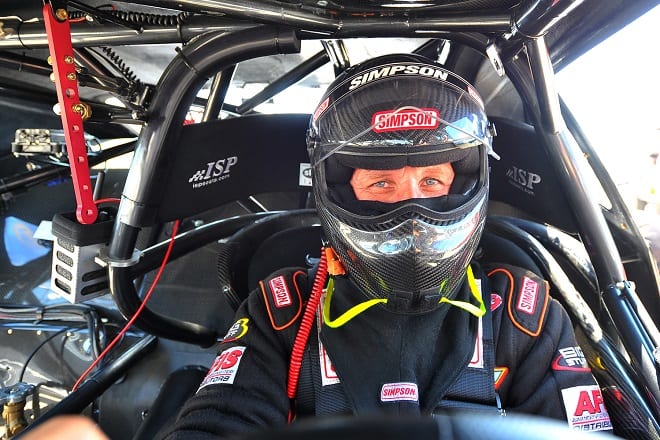 "I was pretty nervous about it," Strickland said of first getting behind the wheel. "I'd tell you a lie if I told you I wasn't still nervous. I think that anybody that does something like that, if they're not a little bit nervous, they probably shouldn't do it anymore, because [these cars] can be dangerous. It took me a little bit to get used to the feel of the car. It happened so fast. I'd be almost to the finish line before my vision could catch up to where I was. Me starting out going that fast – my first pass I ever made was like a 3.80 – it took a few of those before my vision could even catch up to where I was. But now I have time to process it and think about it. The more you do, the more you get used to and the easier it gets."
Strickland also pointed to teammates Rivenbark and Todd Tutterow (PX) who helped make the transition from tractor pulling to race car pilot.
"We've got a real good bunch of guys behind us, that's the main thing. Todd, Jeff, Brad, all those guys are very good at what they do, making the car safe and competitive. It makes it a whole lot easier for somebody like me to jump in and be successful when you've got guys like them behind you. You've got a lot of experience and years of know-how behind you and that helps the learning curve go by a lot faster. Of course, without Mr. and Mrs. Wells it wouldn't be possible for any of us. They've put a lot into it financially. They've put together a great team to make it successful."
Rivenbark echoed Strickland's praise for their team and team owners in his own success. He currently tops Pro Boost points. Strickland sits in second, trailing by 741 points after missing the season opener.
"It hasn't even really dawned on me how big it is to win three races in a row," Rivenbark admitted. "Going into each race, though, my points lead has been big enough to relieve some of the pressure, unlike at Virginia last year when I was 13 points in front of number two. This has led me to be more relaxed and worry about going A to B every time and doing my job rather than getting all excited about it.
"I want to go to the semifinals or finals at every race, but all good things come to an end," Rivenbark said of his win streak ending. "We just had one bad run and it cost us. For John to get his first win is great."
With GALOT Motorsports' domination so far this year, they have gained both confidence and a certain bullseye on their backs. Rivenbark welcomes the competition. "To dominate a class like this so far is just unbelievable," he told. "There's no words to describe feeling that confident going into a race, knowing you can be a top five car – a top three car – going into it, as long as the driver does his job. When you get on top people are gunning for ya. Just like when Gary White put me out in the second round. I had him on the tree, but my car got loose. They felt like they had won Indy. You get on top and people are gunning for you, which is understandable, good even. A little controversy is good for our sport, for the class, for the PDRA. We need diversity in the sport. I'd love another chance at him."
Rivenbark said that much of their success has come from R&D with lock ups over the last two years. They made the decision to go that route and with much hard work, it has certainly paid off.
"We got the lock ups working for the blowers, and it's really excelled us. For it to come out and actually work and put us ahead like this has proven our hard work put into it has paid off. Some people have complained about the lock ups being in [our cars]. There's been a lot of development in blowers and electronic fuel injection. We chose to do lock ups. If EFI had worked so well, we wouldn't have complained. We would have just got on board and went with it and figured it out. Fortunately, we chose the right thing and it excelled us."
For Strickland, who's no stranger to winning tractor pulls (he has won state championships and finished second in the Grand National Championship multiple times) getting his first win in Pro Boost hasn't altered his humble attitude.
"I'm just tickled to get to go down the track," he told. "Any time I can go and be a part of it is just a real fun, exciting thing for me to do. Just to be able to qualify – because everybody out there is real good and got a lot of experience – then go rounds is success to me, whether I win or not. To have gone to the finals every race I've run this year except one it's hard for me to complain. I couldn't be sore about not winning [before Martin] because of the success I've had with no more experience than I've got. I feel pretty blessed.
Strickland asserts that he will be involved in drag racing as long as he has the opportunity and doesn't plan on slowing down with pulling either. Between the two forms of motorsports, he'll be at events nearly every weekend throughout the season.
Fellow GALOT Motorsports teammate and tuner for all the cars, Todd Tutterow, has done well in Pro Extreme this year, sitting only 200 points out of top three in points and in good position for a late season championship run. With three solid cars, GALOT Motorsports has certainly made its presence felt in 2016. Look for more from all three GALOT machines as they continue on at the North-South Shootout, July 14-16 at Maryland International Raceway.