The start of this season brought major changes to the Funny Car team of Bob Tasca III, with two new crew chiefs coming into the fold for the 2023 NHRA Camping World Drag Racing Series season. Tasca, though, was excited about the potential, and it hasn't taken long to see why.
With Todd Okuhara and Aaron Brooks now calling the shots on Tasca's 11,000-horsepower Ford Mustang, the veteran has enjoyed a fast start to the season, winning a race and sitting just outside the top five in the loaded category.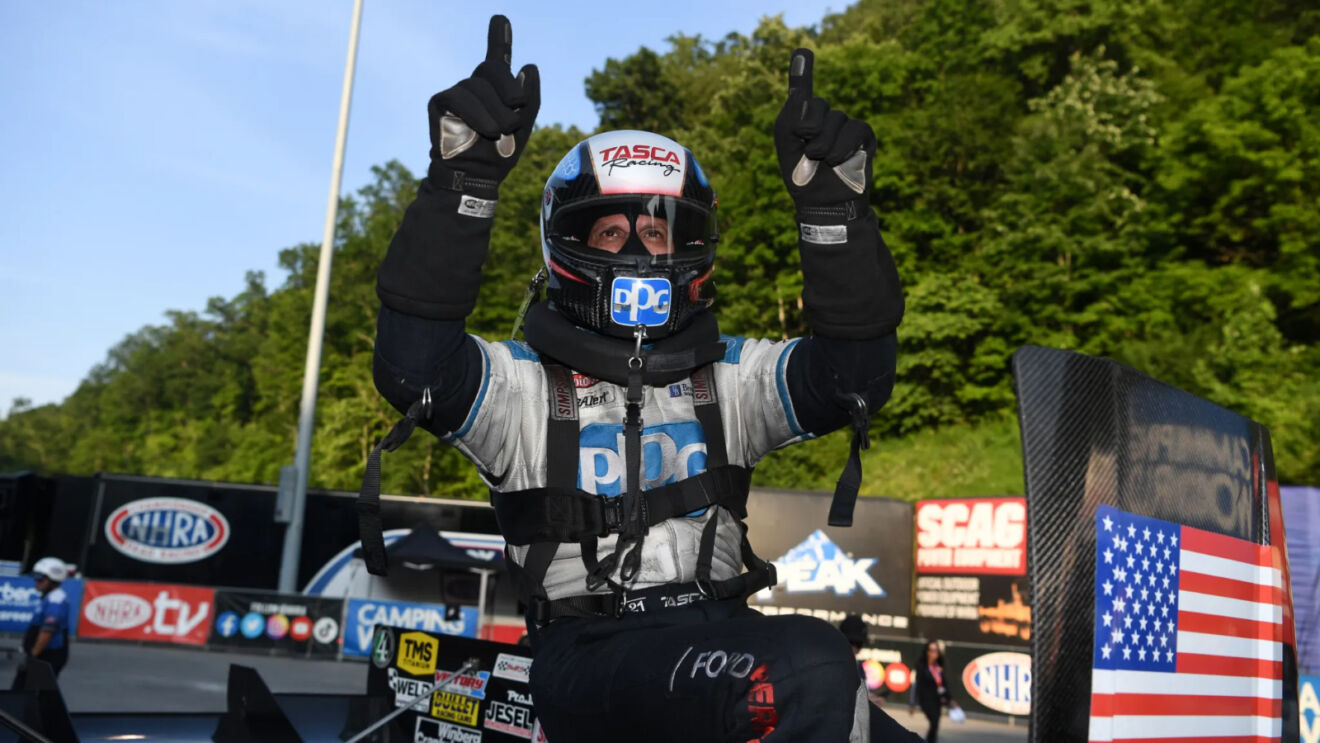 Tasca advanced to the final round last year at Summit Motorsports Park, the site of this weekend's 17th annual Summit Racing Equipment NHRA Nationals, which only adds to the confidence level he feels approaching the midway point of the 2023 season.
"We've just felt like this whole season has been building for us," Tasca said. "I'm just so impressed with Todd Okuhara and Aaron Brooks. They changed everything and this car is nothing like it was last year. This team has put in an incredible effort. I knew I wanted to race with Todd. I've always wanted to race with him, and I just love Aaron's style. He's an aggressive guy and I just love listening to both of them in the trailer. There's spirited dialogue back and forth on what they think, and you see the result with how this car runs."
Mike Salinas (Top Fuel), Robert Hight (Funny Car), Erica Enders (Pro Stock) and Angelle Sampey (Pro Stock Motorcycle) won the 2022 event, and this year's race be broadcast on both FOX and Fox Sports 1 (FS1), including eliminations on FOX beginning at 4 p.m. on Sunday, June 25. It is the ninth of 21 races during the 2023 season and the annual race at Summit Motorsports Park is always a favorite for fans and race teams.
That holds true for Tasca as well, especially considering how well the team has performed to open the year. He's already qualified No. 1 twice this year, advancing to the semifinals in Pomona and then breaking through in Bristol, winning the NHRA New England Nationals as part of a doubleheader weekend.
But Tasca is far from satisfied, confident in a team he believes is capable of racing for a championship. He got hot last year, winning three events in a four-race span last summer (also advancing to the final round in five of six races from late June through August), but Tasca knew he needed a car that could perform at an elite level during the Countdown to the Championship.
Against a loaded field that includes back-to-back world champion Ron Capps, Robert Hight, Matt Hagan, Chad Green and Alexis DeJoria, Tasca feels like he has that this year, hoping to make more moves in Norwalk. He's currently less than 45 points out of fourth with big plans in mind this weekend.
"Being top five going into the Countdown, that's a good goal to have to get yourself in a position to win. Going in first is even better, and we're going to do the best we can," said Tasca, who has 13 career Funny Car victories. "I'm just excited about how this car has performed to start the season, and I think we're going to be a force come the (Countdown to the Championship)."
In the Mission #2Fast2Tasty NHRA Challenge on Saturday in Funny Car, which offers a bonus purse and bonus points, Capps will rematch Green, and DeJoria takes on Hight.
Top Fuel's Salians will look for a repeat win in Norwalk while also trying to stop points leader Justin Ashley, who has rolled to four wins in the first eight races. Other top names include reigning world champ Brittany Force, Antron Brown, Austin Prock, Leah Pruett, Josh Hart and Steve Torrence, while Ashley and Prock, and Brown and Doug Kalitta will face off in the Mission #2Fast2Tasty NHRA Challenge.
In Pro Stock, Enders picked up her second straight win in Norwalk a year ago en route to her fifth world title. After winning in Bristol, Enders will look to keep rolling in Norwalk against the likes of points leader Dallas Glenn, Deric Kramer, Matt Hartford and Aaron Stanfield. Enders races Greg Anderson in the Mission #2Fast2Tasty NHRA Challenge on Saturday, with Kramer taking on Cristian Cuadra in the other matchup.
Gaige Herrera has dominated in Pro Stock Motorcycle this year, winning the first three races of the season in the category. He fell to Steve Johnson in the finals in Bristol, while others to watch include defending world champ Matt Smith, Joey Gladstone and Eddie Krawiec. In the Mission #2Fast2Tasty NHRA Challenge on Saturday, Herrera will take on Angie Smith and Johnson will meet up with Hector Arana Jr.
The event also will feature thrilling competition in the NHRA Lucas Oil Drag Racing Series, as well as the FuelTech NHRA Pro Mod Drag Racing Series presented by Type A Motorsports and Flexjet Factory Stock Showdown. After nitro qualifying on Friday, fans can enjoy a fireworks display that has been the perfect capper to night qualifying over the years. Autographs will also take place during the weekend at the Suzuki, Dodge and Mission Foods Midway Displays.
Fans are invited to the Nitro Alley Stage, which will help create a festive atmosphere leading into Nitro Alley. The Nitro Alley Stage will be the main entertainment hub in the pits when the Camping World Drag Racing Series competitors are not on the track, hosting Nitro School, meet and greets and much more. As always, fans get an exclusive pit pass to the most powerful and sensory-filled motorsports attraction on the planet in Norwalk. Fans can see their favorite teams in action and servicing their hot rods between rounds, get autographs from their favorite NHRA drivers, and more. They can also visit NHRA's Manufacturers Midway, where sponsors and race vendors create an exciting atmosphere that includes interactive displays, merchandise, food, and fun for the entire family.
Race fans Norwalk can enjoy the special pre-race ceremonies that introduce and celebrate each of the drivers racing for the prestigious Wally on Sunday and includes the fan favorite SealMaster Track Walk. The final can't-miss experience of any NHRA event is the winner's circle celebration on Sunday after racing concludes, where fans are invited to congratulate the Norwalk event winners.
NHRA Camping World Drag Racing Series qualifying will feature two rounds at 4:30 and 7:30 p.m. ET on Friday, June 23 and the final two rounds of qualifying on Saturday, June 24 at 1 and 4 p.m. Final eliminations are scheduled for 11 a.m. ET on Sunday, June 25. Television coverage includes qualifying action on FS1 at 5:30 p.m. ET on Friday, 7 p.m. on Saturday, and then eliminations on FOX at 4 p.m. ET Sunday.