Defending Pro Nitrous world champion Tommy Franklin ran the first leg of a new national record during Friday qualifying at the Professional Drag Racers Association (PDRA) Drag Wars at GALOT Motorsports Park, the seventh of eight stops on the all-eighth-mile series' 2017 tour.
Also leading the PDRA's professional categories after Friday's three qualifying sessions are Mattias Wulcan in Pro Extreme, Jose Gonzales in Andy McCoy Race Cars Pro Boost, John Montecalvo in Extreme Pro Stock, and Ronnie Procopio in Drag 965 Pro Extreme Motorcycle.
East Side Auto Transport Extreme Outlaw 632, a class joining the PDRA for the third time this season, is led by Johnny Pluchino with a 4.374 at 160.94 in his '06 Ford Escort.
The PDRA's sportsman classes are led by Billy Albert in MagnaFuel Top Sportsman and Jeremy Creasman in Lucas Oil Top Dragster. Marissa Bickford tops the Campers Inn RV Pro Junior Dragster field with a 7.903 pass. MegaCorp Top Junior Dragster rookie Ashley Franklin is the provisional low qualifier with her perfect .000 reaction time.
PRO NITROUS
A 3.665-second pass at 205.66 mph put Tommy Franklin in a position to reclaim the Switzer Dynamics Pro Nitrous presented by MoTeC elapsed-time national record in his "Jungle Rat" '69 Camaro. Currently held by Lizzy Musi, the record would be lowered by a hundredth of a second if Franklin can back up his 3.665 with a 3.702 or better during Saturday's fourth qualifying session or in eliminations.
"We're hoping we get a chance to back up that run," Franklin said. "The track was stellar and the air was good tonight. Our Pat Musi power is really showing off right now. The car was hiking the front end up and it was pulling hard. It was nice to get out there and lay down that run, but as always, I thank the Lord for the opportunity to do this."
Pat Musi Racing Engines president Lizzy Musi is second after posting a 3.677 at 204.88 in the AAP/Lucas Oil '15 Dodge Dart. Richie Stevens Jr. sits third in his Musi-powered AAP Camaro with a 3.694 at 202.42. Past Pro Nitrous world champion "Tricky" Rickie Smith is sixth in his first 2017 PDRA appearance.
PRO EXTREME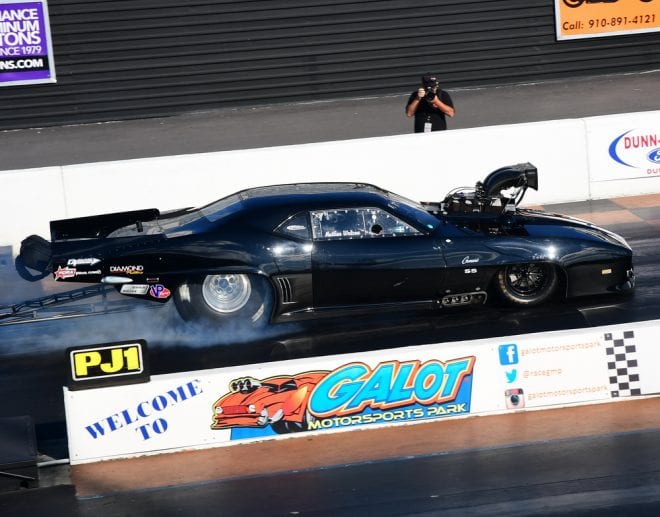 The PDRA's quickest and fastest class, Pro Extreme, is led by Mattias Wulcan, one of three Swedish racers competing in the class this weekend. Wulcan's supercharged "Black Bird" '69 Camaro charged to a 3.552 at 213.43 Friday night, taking the top spot from Pineville, North Carolina's Terry Leggett, who ran a 3.576 at 217.11.
"It's amazing that we can go so steady and so fast all the time," Wulcan said. "The crew is doing a great job right now. We come together more and more, and we can go do great things together. It's a big team effort – we're only four guys flying back and forth (from Sweden). We're feeling really good right now."
Points leader Mike Recchia is third behind Leggett with a 3.579 at 213.60 in his Agrow Fresh '69 Camaro. The other two Swedish racers in the Pro Extreme field are Mikael Lindahl in sixth and Stefan Holmberg in eighth.
PRO BOOST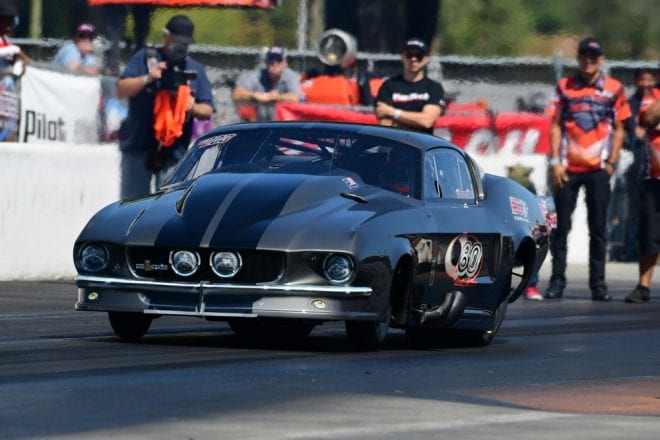 For the fourth time this season and the second time in the two races, points leader Jose Gonzales drove the turbocharged El General Racing/Q80 Racing '67 Mustang to the Friday-night top spot in Pro Boost. His Pro Line-powered entry nicknamed "Eleanor" covered the GALOT Motorsports Park eighth mile in 3.673 seconds at 215.55 mph, improving both ends of the Pro Boost national record.
"We came here only a round ahead in points," said Pro Line Racing co-owner and tuner Eric Dillard. "We lost a lot of it through a few races where tough breaks just happened. Being only a round out, it feels good to go out and qualify No. 1 and feel like you have something for these guys, but they're all right on our tail – .67, .68, .69. But that's what it's all about – you want to win and you want to earn it."
Gonzales ran a 3.698 at 214.45 earlier in the day, which was quick enough to back up the 3.673 for the new national record.
Last year's Pro Extreme world champion, Brandon Snider, holds the second spot in his supercharged AAP '69 Camaro with a 3.688 at 203.49. Indy event winner Ty Tutterow is third with his 3.696 at 202.09 in the supercharged GALOT Motorsports "Tom Cat" '69 Camaro.
EXTREME PRO STOCK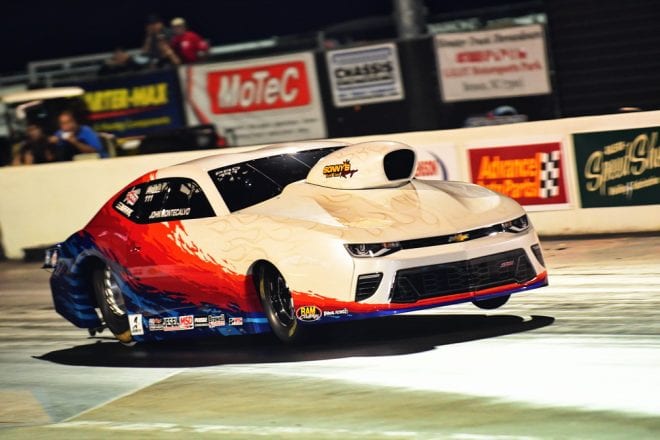 Two-time mountain-motor Pro Stock world champion John Montecalvo posted a 4.057 pass at 178.59 to take the No. 1 spot during the third Extreme Pro Stock qualifying session. It was his best pass yet with the Haas-built '17 Camaro he unveiled at the Indy race in July.
"My only regret is I didn't buy this car sooner," said Montecalvo, who is second in points. "I think the points situation would've been totally different if we had this car in the beginning of the season. We brought this car out at Indy, its first time out, and it's been fast ever since. Ninety percent of the time it's the fastest car down the track. It's a great car with big Sonny's Racing Engines power. We've got Tommy Lee, Wayne, William, Cory – we've got a really good team, an intelligent team, and our old car wasn't making us look that intelligent. It was a very fast car, but it was a little bit on the inconsistent side. I think we gained that consistency back with this new car. We've got a little bit of a wider tuning window, and man, I'm just looking forward to finishing the year in good shape, and I can't wait for next year to start."
Sonny's-powered entries follow Montecalvo in second and third, as J.R. Carr ran 4.061 at 177.58 in his '15 Camaro, while points leader Cary Goforth recorded a 4.075 at 177.23 in his Dean's Casing Service '14 Camaro.
PRO EXTREME MOTORCYCLE
Local real estate developer Ronald Procopio rode Terry Schweigert's '10 Hayabusa to the No. 1 spot in Pro Extreme Motorcycle, posting a 4.017 at 175.89 during the third session. Procopio, who is at his first PDRA race of the season, was called in to ride for Schweigert, a Canadian dairy farmer and longtime Pro Extreme Motorcycle rider.
"We want to thank Terry Schweigert for putting the whole race program together for us so we can come out here and run with the PDRA," said Dan Wagner, Procopio's tuner. "Terry couldn't make this race because of business commitments, so he sent Ronnie out here to support the PDRA, keep the bike count up and put on a good show. Ronnie and I are running this together with Terry's equipment. We're just picking away at it, really trying not to wear out any parts."
Valdosta low qualifier Ashley Owens is in the No. 2 spot with his 4.042 pass at 174.82 aboard his McKinney Motorsports '11 Hayabusa. Chris Garner-Jones is third with a 4.057 at 174.82 on his T.T. Jones Racing '15 Hayabusa.
TOP SPORTSMAN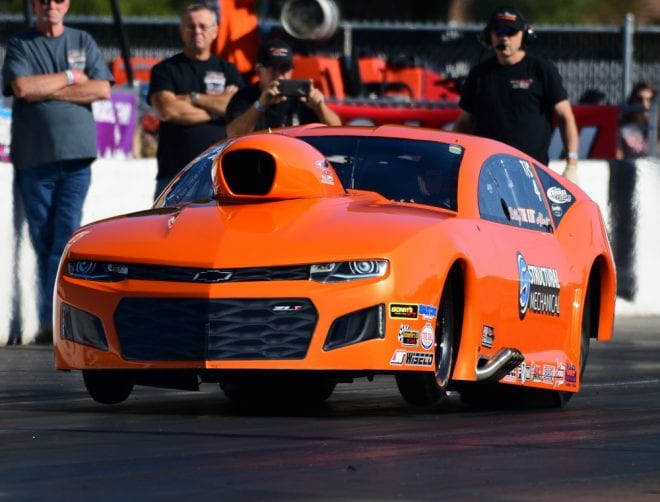 For the second consecutive race, Wytheville, Virginia-based engine builder Billy Albert drove Stan Nance's nitrous-assisted '17 Camaro to a 3.802 at 196.64 to claim the provisional top spot. Aaron Glaser in his '68 Firebird is in second with a 3.936 at 188.41, followed by points leader Randy Perkinson in third with his 3.959 at 184.42.
TOP DRAGSTER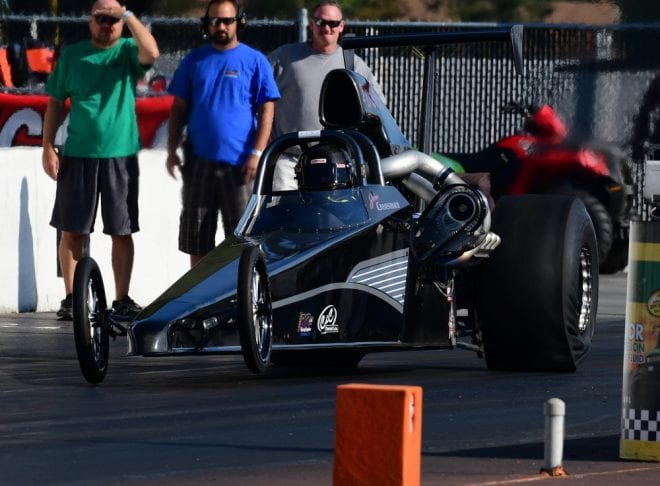 North Carolina is represented well in Top Dragster, where Asheville's Jeremy Creasman holds the top spot with a 3.731 at 191.84 in his ProCharger-equipped Maddox dragster, followed by Jacksonville's Chaz Silance in his supercharged Worthy dragster with a 3.795 at 191.76. Defending world champion Justin Kirk in his supercharged Spitzer entry posted a 3.826 at 187.91 to sit third.
PDRA Drag Wars at GALOT Motorsports Park will continue Saturday with a final qualifying session for all categories, beginning with Edelbrock Bracket Bash at 9 a.m. Pro eliminations begin at 4:30 p.m.