Defending Pro Nitrous world champion Tommy Franklin started his second championship defense season with a No. 1 qualifying effort in his "Jungle Rat" '69 Camaro at the Professional Drag Racers Association (PDRA) East Coast Spring Nationals at GALOT Motorsports Park.
Also qualifying No. 1 in the professional classes are Jason Scruggs in Bryant Industrial Pro Extreme presented by Pro Line Racing, Tommy D'Aprile in Moroso Pro Boost, Jeff Dobbins in Liberty's Gears Extreme Pro Stock and Terry Schweigert in Drag 965 Pro Extreme Motorcycle. Phil Sliskovic is the No. 1 qualifier in Atomizer Injectors Outlaw 10.5, while Dillon Voss leads East Side Auto Transport Pro Outlaw 632 heading into the class's third and final qualifying session on Sunday morning.
After two qualifying sessions, the PDRA's sportsman classes are led by Billy Albert in MagnaFuel Top Sportsman and Brian Bednar in Lucas Oil Top Dragster. Mocksville, North Carolina's Noah Cornatzor tops the Coolshirt Pro Jr. Dragster field with his 7.901-second pass. Chris Powers II was nearly perfect with his .001 reaction time to earn the provisional No. 1 spot in Gilbert Motorsports Top Jr. Dragster.
Though the event schedule called for professional final qualifying and eliminations for all classes on Saturday, an overwhelmingly negative weather forecast forced race officials to postpone the balance of the event to Sunday, April 8.
PRO NITROUS
Franklin and rival Jay Cox laid down consistently quicker side-by-side passes through Friday's three Switzer Dynamics Pro Nitrous presented by MoTec qualifying sessions. The duo capped off the final session with Franklin's 3.668 at 204.50 and Cox's 3.671 at 201.64 in the "Pumpkin" '69 Camaro. Franklin faces Andrew Handras in the first round.
"I like the excitement of going right into eliminations," Franklin said. "Nobody gets a test hit at the track before first round. There might be some upsets – we might be one of them. But I like going out there not really knowing what to expect. The weather should be cool, so the numbers will be fast. This track is always good no matter what the weather looks like, so I'm sure we'll see some big numbers in eliminations."
Cox, the No. 2 qualifier, races John Hall. Lizzy Musi recorded a 3.681 at 204.60 in Frank Brandao's "King Kong" '15 Dodge Dart to qualify No. 3, setting her up with a first-round race against Brian Shrader.
PRO EXTREME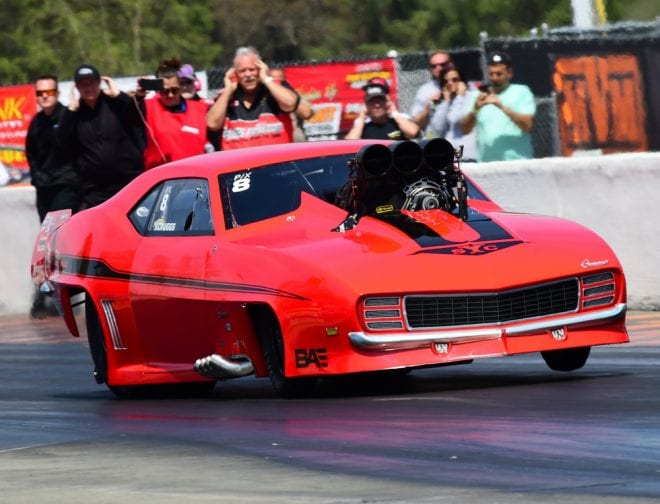 Past Pro Extreme world champion Jason Scruggs made a memorable return to the PDRA's quickest and fastest class when he fired off a 3.521-second blast at 219.83 mph in Roger Henson's '69 Camaro. The screw-blown entry suffered some damage when it went into the sand trap after the run, though the Saltillo, Mississippi-based driver and his team, led by his father, Mitchell, are making the necessary repairs to return for eliminations on Sunday.
Sweden's Adam Flamholc took the No. 2 spot with a 3.648 at 211.03 in his screw-blown '63 Corvette, followed by local favorite Terry Leggett and his Leggett Logging & Trucking '71 Mustang with a 3.694 at 207.91.
PRO BOOST
Longtime Pro Extreme standout Tommy D'Aprile made the switch to Pro Boost over the winter, teaming up with tuner and car owner Al Billes to field a Roots-blown '69 Camaro with a Noonan Race Engineering power plant and Billes supercharger. After solid performances at the Florida winter series races, D'Aprile kicked off his PDRA season with a 3.678 at 201.04 in the final session.
"We went to Florida for the first race and ran very well but we had to make some changes," D'Aprile said. "We came out for the second race and ended up qualifying No. 1 and winning the race. To come here and qualify No. 1 again against a tough class like this, I'm just blown away."
D'Aprile will race Kurt Steding in a first-round match-up. GALOT Motorsports driver John Strickland is second after running a 3.709 at 201.28 in his blown '69 Camaro and will race Colby Barber's turbocharged entry. Carolina doorslammer racing hero Todd "King Tut" Tutterow qualified third with a 3.717 at 201.07 and will face Eric Donovan.
EXTREME PRO STOCK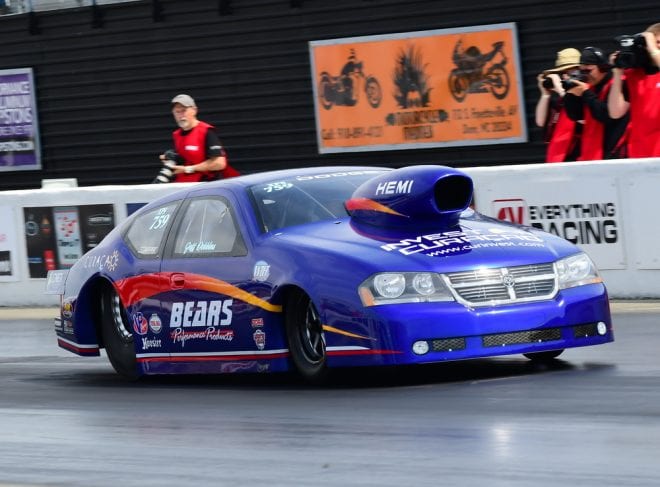 Jeff Dobbins made it known that he was serious about becoming the first Extreme Pro Stock driver to break into the 3-second zone when he posted a 4.00 in pre-race testing on Wednesday. Dobbins and his Bear's Performance '14 Dodge Avenger were the closest to the historic mark in qualifying with a 4.058 at 178.54, though the Liberty's Gears 3-Second Club is still awaiting its first member going into race day.
"I like to think we're going into race mode," Dobbins said, "but our team is going to race as fast as we can every run. We're not going to go out and lay up. We're going to do the best we can. If the track will hold it, I don't see a 3-second run being a problem. You'll see a 3-second run on Sunday because the weather will be cool and hopefully the rain will clean the track."
Dobbins will go head-to-head against Chris Powers in the Liberty's Gears '14 Camaro in round one of eliminations on Sunday. Past world champion John Pluchino qualified second after a 4.06 at 178.80 in his Commack, New York-based '13 Mustang and faces Elijah Morton, while North Carolinian Steven Boone ranked third with a 4.065 at 178.24 and races John DeFlorian Jr.
PRO EXTREME MOTORCYCLE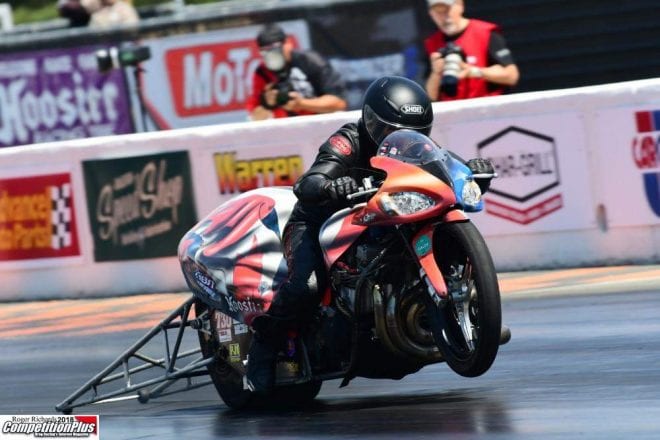 Terry Schweigert, a perennial favorite in the PDRA's two-wheeled class, qualified his Canadian Suzuki atop a strong 16-bike field with a best of 4.029 at 173.67. He faces Ricardo Knights in the opening round.
"This is a good way to start the year, especially with the two turbo bikes out here," Schweigert said, referencing an offseason rule change to allow turbocharged entries in the class for the first time. "To run that pass at the end of the day feels good. It's a nice way to end the day and go into eliminations from the top spot."
Drag bike chassis builder Brunson Grothus rode his Indocil Art '14 Suzuki to a 4.048 at 173.74 to take the No. 2 spot and take on George Whitaker on Sunday. Ronnie Smith is the No. 3 qualifier with his 4.049 at 171.25 and will face John Davis Jr.
PRO OUTLAW 632
Defending world champion Dillon Voss in his Voss Racing Engines '17 Corvette raced to the top spot in Pro Outlaw 632, posting a 4.302 at 165.70 after two sessions. Jeff Ensslin and his unique '37 Chevy are No. 2 with a 4.323 at 163.59, followed by Matthew Buck's 4.326 at 163.83 in his '15 Camaro. Pro Outlaw 632 will get one final qualifying session on Sunday morning before moving into eliminations.
OUTLAW 10.5
In the first of five Outlaw 10.5 appearances on the 2018 PDRA tour, Phil Sliskovic tops the eight-car field with a striking 3.984 at 189.31 in his Musi-powered '15 Camaro. Baltimore-based John Decker Jr. is second in his supercharged '02 Camaro with a 3.995 at 193.82, followed by John Carinci's 4.00 at 195.90 in third.
TOP SPORTSMAN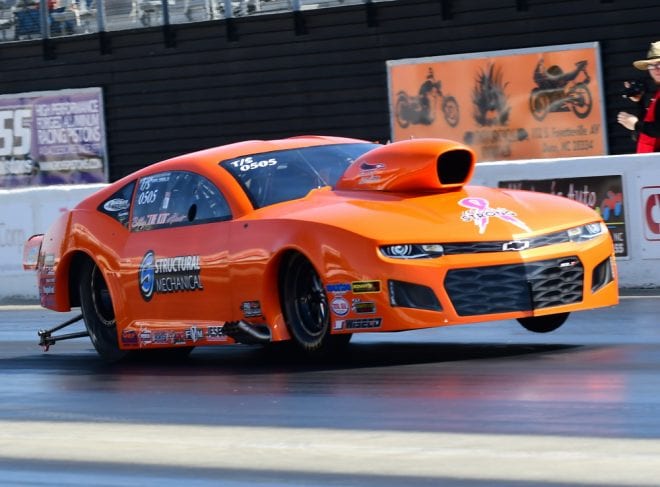 Billy "The Kid" Albert settled into his familiar top spot in Top Sportsman when he ran 3.849 at 194.69 in Stan Nance's Albert-powered '17 Camaro. Championship runner-up and fellow Virginian Randy Perkinson followed in second with his 3.93 at 193.74. Scott Duggins enters Sunday's third qualifying sessions as the No. 3 qualifier with a 3.944 at 188.02 in his '63 Corvette.
TOP DRAGSTER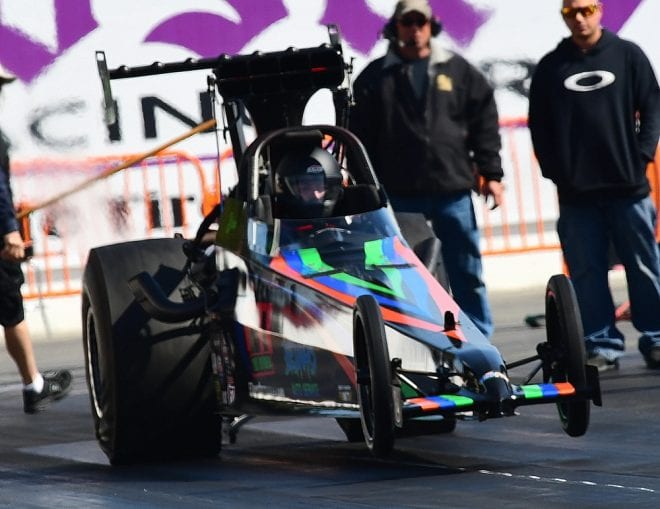 Brian Bednar piloted his supercharged FTI Converters-backed Spitzer dragster to a 3.705 at 196.47 to lead a 37-car Top Dragster qualifying order. Bednar is followed by Jeremy Creasman and his ProCharger-equipped Maddox dragster with a 3.725 at 192.88 in No. 2. The third spot is held by Jody Stroud and his Chesterfield, South Carolina-based "Zombie" dragster with a 3.732 at 194.60.
The PDRA East Coast Spring Nationals at GALOT Motorsports Park will continue Sunday, April 8, with sportsman final qualifying at 9 a.m. Eliminations will begin at noon.