A pair of two-time PDRA Pro Nitrous world champions, Tommy Franklin and Jason Harris, reached the winner's circle at the third race of the PDRA's 10th season Saturday night at the DeCerbo Construction American Doorslammer Challenge presented by Callies. Racing at Summit Motorsports Park, Franklin earned his first Switzer Dynamics Pro Nitrous win of the season, while Harris was victorious in WS Construction Pro Boost presented by P2 Contracting and Ty-Drive for the first time in his career.
The series also awarded professional class "660 Man" trophies to first-time winners Alan Drinkwater in Liberty's Gears Extreme Pro Stock presented by AED Competition, Scott Kincaid in Menscer Motorsports Pro Street presented by Afco, and Blake Denton in Afco Super Street presented by Menscer Motorsports. Ohio's own Jeff Melnick, who won the season opener in M&M Transmission Pro 632, collected his second win in three races.
Sportsman victories at Norwalk went to Donny Urban in MagnaFuel Elite Top Sportsman presented by PAR Racing Engines, Pete Maduri in Laris Motorsports Insurance Elite Top Dragster, Gary Wojnowski in MagnaFuel Top Sportsman presented by Corbin's RV, and TG Paschal in Laris Motorsports Insurance Top Dragster.
The always-competitive Jr. Dragster classes also competed at the American Doorslammer Challenge, with wins going to Gabe Wojnowski in Coolshirt Systems Pro Jr. Dragster presented by PRP and James Beattie III in Classic Graphix Top Jr. Dragster presented by PRP. With Pro Jr. Dragster running a 32-car field for the first time, Wojnowski had to last four rounds before the final round, where he ran a 7.904 in his Medina, Ohio-based '15 Halfscale dragster to beat Zach Shirkey's 7.911, both on a 7.90 index. The Top Jr. Dragster final round was decided on the starting line when Colin Masullo went red by .043, while Beattie ran a 9.252 on a 9.22 dial-in in his ATI Performance '22 Mike Bos dragster to get the win.
PRO NITROUS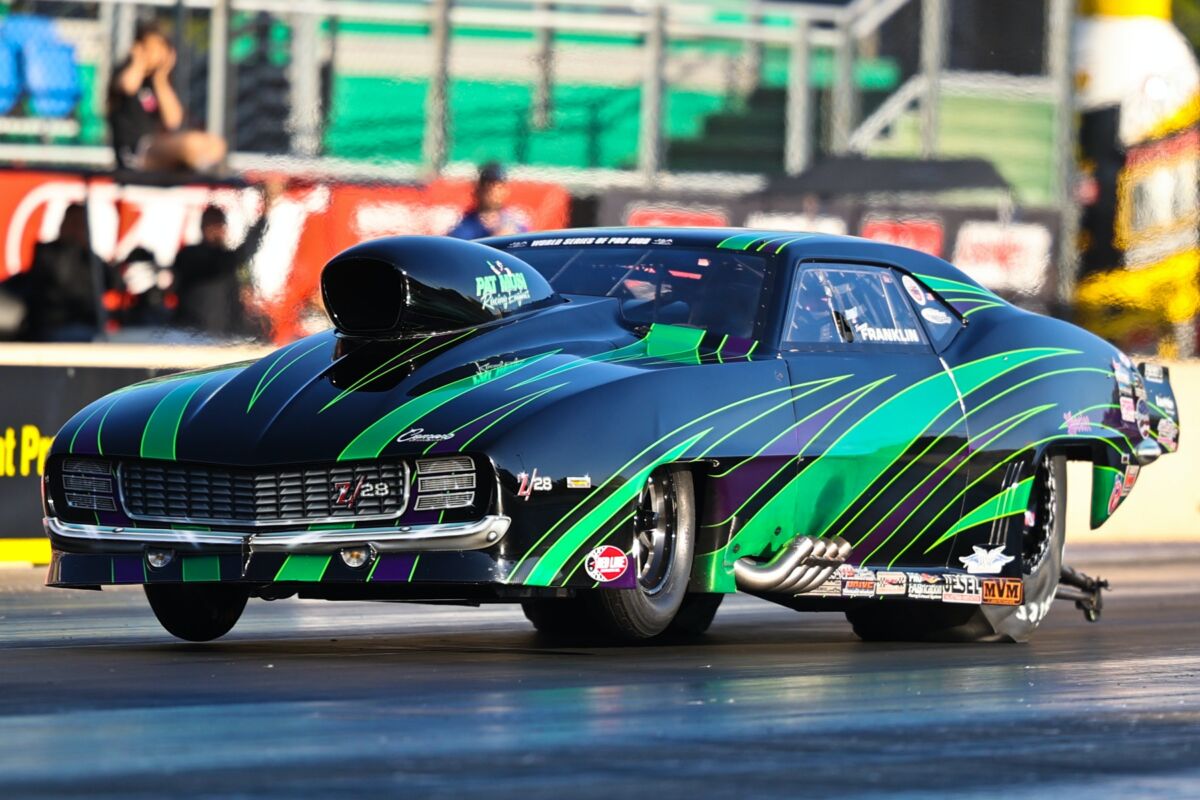 Two-time Pro Nitrous world champion Tommy Franklin hasn't reached the winner's circle since he won the American Doorslammer Challenge a year ago. He broke that winless streak Saturday night, knocking out the dominant Jim Halsey in the semifinals and defeating Marcus Butner in the final round. Butner, appearing in his first career final, made his best run of the weekend, a 3.683 at 205.69, but it wasn't quick enough to get past Franklin's 3.656 at 206.45 in his Musi-powered "Jungle Rat" '69 Camaro.
"This means everything. We won. We won Pro Nitrous. That's what we did. We won PDRA Pro Nitrous," Franklin said. "Every team out there is just awesome. Obviously, Halsey, they're the best out there right now and we're trying to change that. Any time that you can beat them, that's a good day. But the racetrack was stellar, great crowd, great car count, great everything about it. That's just it. I say it all the time: This is the best series of racing and I'll stand behind it every day.
"I thank God for everything that we do," Franklin added. "This win is dedicated to my dad. I lost him in July and that's the first win since then. It's been a long time to get back to it. You start questioning whether you'll ever get that chance again, but it was good for me to be able to do that, and I'm just thankful for it all."
Franklin qualified No. 4 before running a 3.712 at 204.17 to defeat John Vergotz and his 3.836 in the first round. He dipped into the 3.60s in the second round, beating a slowing Blake Housley with a 3.69 at 204.79. In the semifinals, Franklin paired up with points leader and four-time world champion Jim Halsey for a rematch of last year's Norwalk final round. Franklin left the starting line first with a .013 reaction time and made his best run of the weekend, a 3.641 at 206.70, to stay ahead of Halsey and his 3.672 at 206.89.
Butner went into eliminations in the No. 6 spot in his Musi-powered Butner Construction "Heartbreaker" '69 Camaro, using a 3.721 at 203.12 to move on past a red-lighting Dave Roemer. A side-by-side race with "Tricky" Rickie Smith followed in the second round, with Butner leaving first by five thousandths and running a 3.703 at 203.95 to beat Smith's 3.704. That set up an all-Butner Motorsports semifinal pairing with Jay Cox. The race was over on the starting line when Cox went red by .024, throwing away a 3.68. Butner ran a 3.685 at 205.16 in the other lane.
PRO BOOST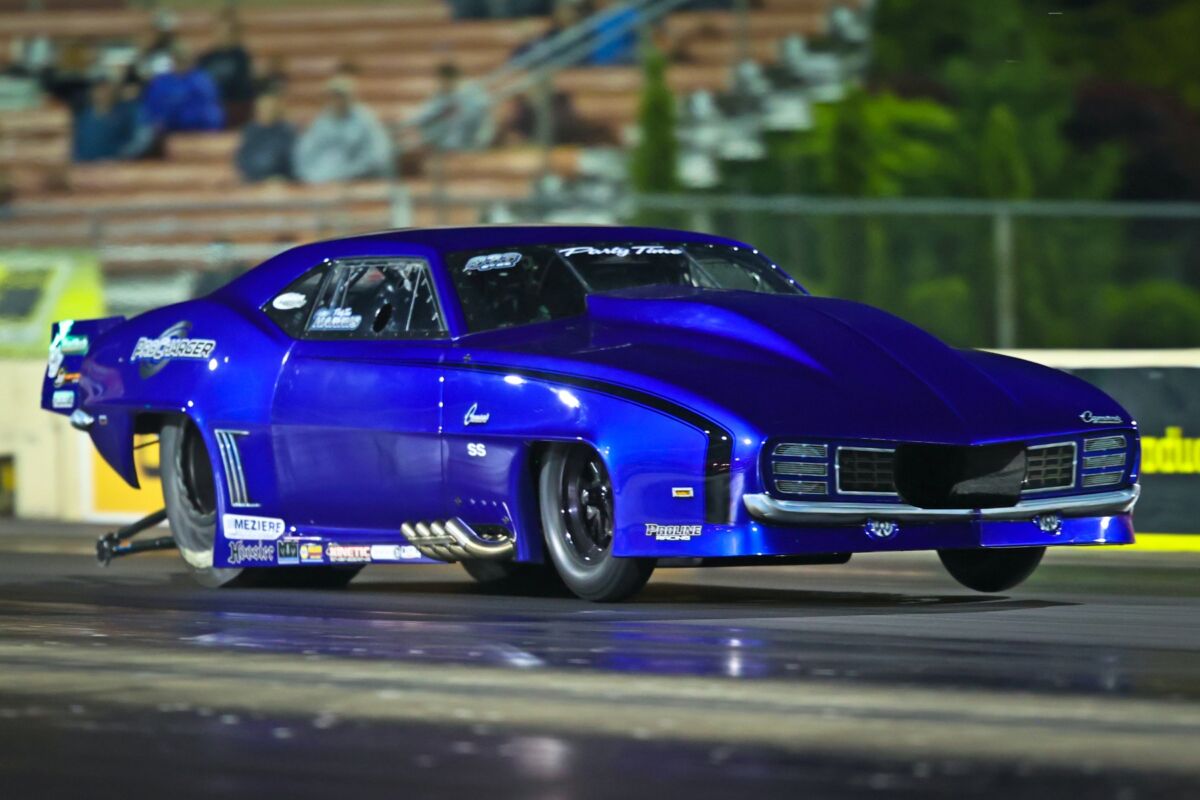 As a two-time world champion, Jason Harris is one of the winningest drivers in PDRA Pro Nitrous history. But this season, he's focusing on the ultra-competitive Pro Boost class, and he's already picked up his first career win in the class at the third race of the year. Harris was dominant in his ProCharged "Party Time" '69 Camaro, qualifying No. 1 and laying down a string of low 3.60s. In the final round, he was second off the line with a .010 reaction time behind Kurt Steding's .007 light. He made his quickest pass of the day, though, a 3.615 at 207.18, while Steding slowed to a 3.804 at 160.10.
"We unloaded on Wednesday and I just felt good," said Harris, who credited racing partner Jack Gaddy, Pro Line Racing, and Hoosier Tire. "Norwalk has been good to me. I won my first national event here back in God knows when, 2001 or something, in Top Dragster. The track's awesome. PDRA is awesome. I just knew when we unloaded and the car went down the racetrack every time that we had a hot rod that we could contend with.
"I've run Pro Boost before," Harris continued. "I've runnered-up a bunch. This is my first win. All I can say is once you put these combinations together, I promise you I can drive. I drove my ass off this weekend, and that's what it takes. Pro Boost is so tight. I can't thank everybody enough for standing behind me because it's been a long road to get here."
Harris' road to the final round started with a .003 reaction time and a 3.644 at 206.32 to beat William Brown III and his 3.794 in the first round. Second-round opponent Spencer Hyde went red on a 3.656 pass, while Harris improved to a 3.627 at 207.05. He stepped up yet again in the semis, laying down a 3.616 at 207.30 to defeat Roderjan Busato and his 3.649.
Steding started the day with a 3.663 at 207.94 to get the first-round win over Rob Cox. He was the second-quickest of the second round with his 3.637 at 209.39 to beat Ken Quartuccio's 3.657. He cut a perfect .000 reaction time in the semifinals, following through with a 3.629 at 210.11 to win over "Nova Joe" Albrecht and his 3.671.
EXTREME PRO STOCK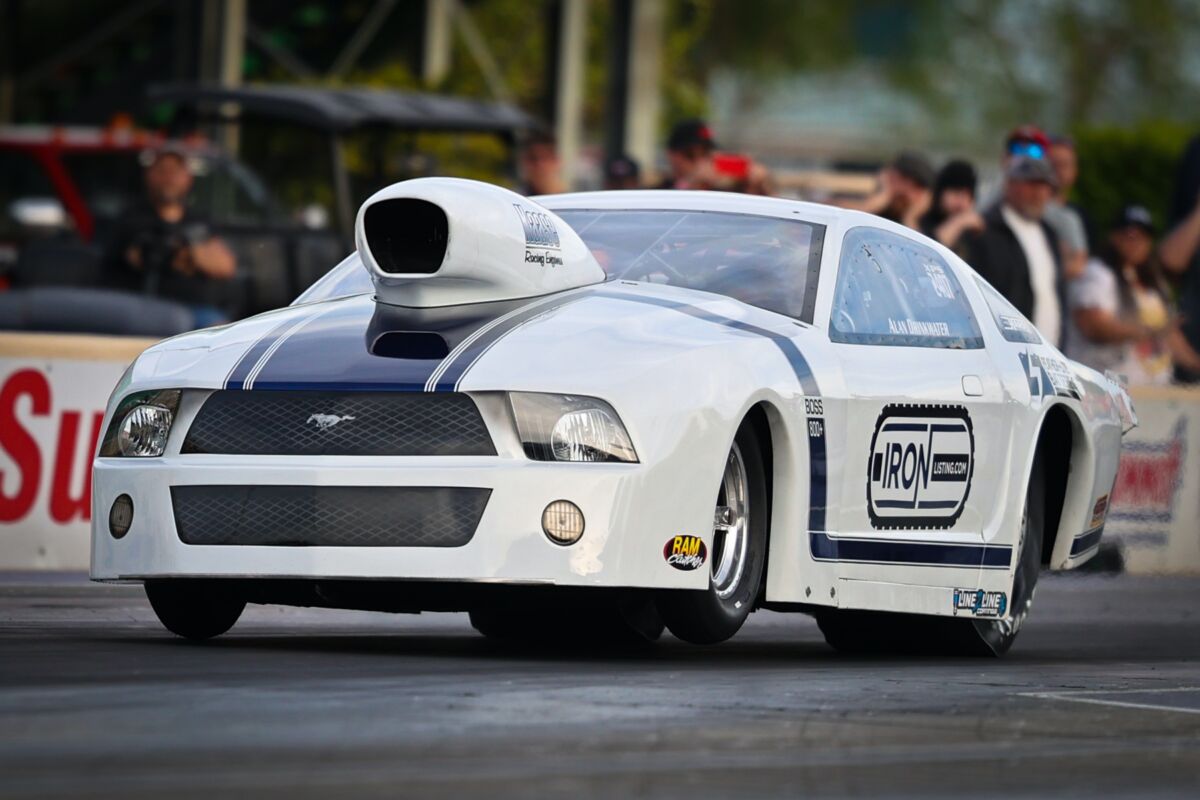 Just over a year after Alan Drinkwater won in his Pro 632 debut, the Florida young gun secured his first Extreme Pro Stock victory in just his third appearance. Driving the Kaase-powered IronListing.com '13 Mustang tuned by reigning world champion Johnny Pluchino, Drinkwater qualified No. 2 on Friday and raced consistently on Saturday to get the win. While final-round opponent Jeremy Huffman wasn't able to make the call, Drinkwater still cut a .009 reaction time and recorded a 4.08 at 177.44 to put an exclamation point on the day.
"This takes a team of great people, reliable horsepower from Jon Kaase, Ram Clutches, Feather-Lite Batteries, and everybody that's helped us along the way," Drinkwater said. "Johnny Pluchino has this thing on rails. We can go up and down the racetrack when everybody else is having problems. We're just fortunate to have great people around us, and luckily we've been able to have a little success. It's a blast. I grew up watching guys like Tony Gillig, John Pluchino, [John] Montecalvo, Elijah Morton. It's unreal, really. I'm sure in the morning it will sink in more then, what we've accomplished, but it's a great feeling."
Drinkwater's worst run of the day, a 4.096 at 177.77 over Douglas Kittrel's 6.28, was the quickest pass of the first round. He continued to set low E.T. of the next two rounds, starting with a 4.073 at 177.98 over Dennis Firkus and his 5.75 in the second round. He beat Dave Hughes in the semifinals with a 4.074 at 178.05 to Hughes' 4.547.
Huffman, who has also won in Pro 632 competition, qualified No. 9 in his 3V Performance-powered '10 Cobalt. He used a 4.223 in the opening round to beat Dwayne Rice, who won the season opener. A .002 reaction time and a 4.11 at 175.87 gave him the second-round win over No. 1 qualifier Tony Gillig, who coasted to a 9.442. Huffman was unopposed on his 4.697 in the semis, as opponent Derrick Reese didn't make the call.
PRO 632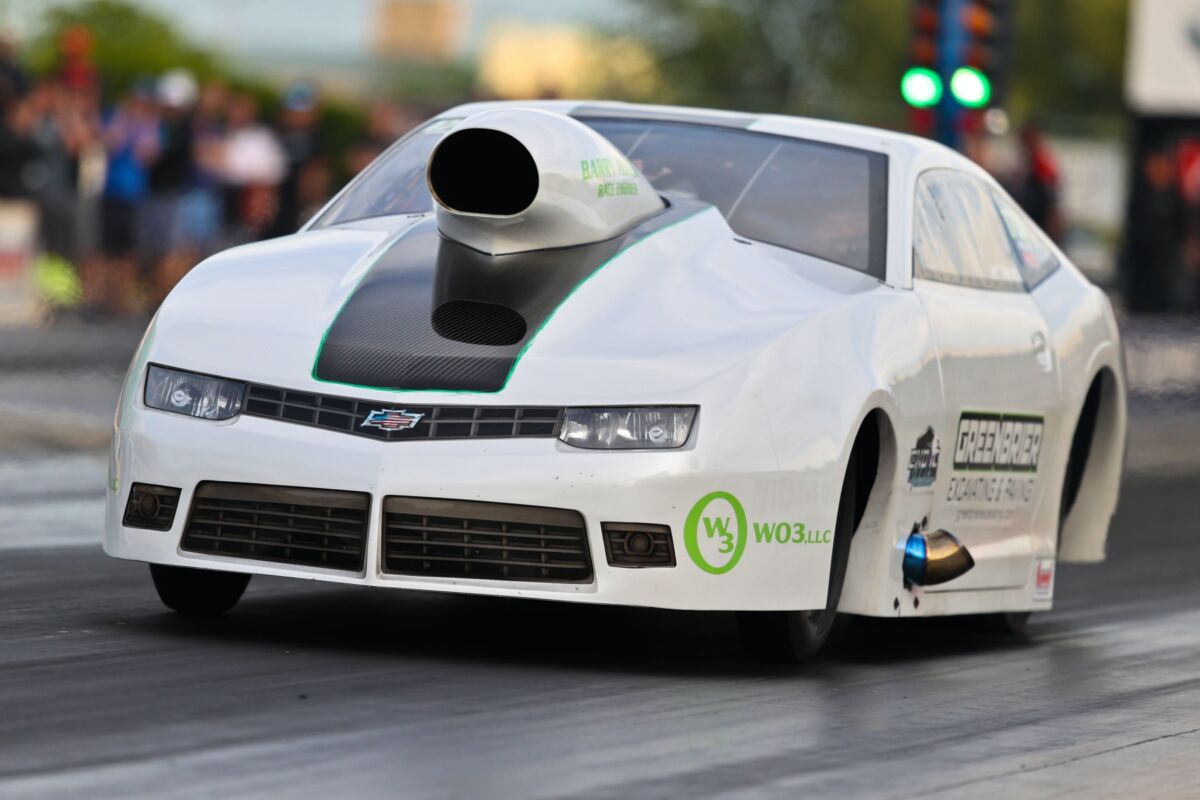 Just days before the American Doorslammer Challenge, Pro 632 championship contender Jeff Melnick was sitting in the Cleveland Clinic undergoing tests to determine the cause of intense back, neck, and arm pain. He was cleared at the last minute to continue driving Alan O'Brien's AMC-powered Greenbrier Excavating & Paving '20 Camaro. Melnick made the most of the opportunity, qualifying No. 2 and winning in the final round by inches. Melnick left the starting line .010 seconds ahead of No. 1 qualifier Doug Nicholl, making all the difference when both drivers crossed the finish line with 4.128-second E.T.s
"They're all special, believe me," said Melnick, who won the season opener in just his second Pro 632 appearance. "Every win you get your whole life is special. Whether it's at a local track winning in No Box, it's special. To come to a PDRA race and to win in a professional category is something I never thought I would do my whole life. To do that on a week like this where you're stuck in a hospital bed, you're staring out the window, and you don't know what tomorrow's gonna bring, good or bad, it's awesome.
"Doctors are scratching their heads trying to figure out what's wrong with me," Melnick added. "I go back next week; they think they'll have some test results by then, so we'll go from there. I don't know how much racing I'll be able to do the rest of the year. We'll see what's wrong with me and see what the treatment plan is, and hopefully we can continue to race. Right now, we're leading the world championship standings, so as long as there's air coming in these lungs, I'm going to strap myself in the car and let her eat."
It was a home-track win for Melnick, who hails from Hubbard, Ohio. He started eliminations with low E.T. of the first round, a 4.17 at 167.95, over Tony Lasky's 5.536. A 4.142 at 169.55 set low E.T. of the second round and beat Walter Lannigan Jr. and his 4.26. Melnick then simply broke the staging beams on his semifinal bye run.
Nicholl, who earned his first career low qualifier award on Friday night, drove his Musi-powered Nicholl Motorsports '68 Camaro to a 4.186 at 171.64 on a first-round bye run. Tuner Troy Russell gave him a consistent car for the next two rounds, running a pair of 4.154s to beat Jason Ventura's 4.634 and Lexi Tanner's 4.207.
PRO STREET
The father-son duo of Tim and Scott Kincaid have excelled in numerous small-tire classes, but they came into Pro Street with a clean slate this weekend. With Scott driving and Tim calling the shots on the roots-blown '69 Camaro, the Tennessee-based team raced to the final round, where they knocked down points leader and defending event winner Bill Riddle. Kincaid left behind Riddle, but he powered ahead with a winning 4.003 at 185.56. Riddle had to lift, losing with a 4.165 at 169.02.
"Quite a bit of hard work goes into this," Kincaid said. "It feels good. We got lucky a couple rounds, but you gotta have a little luck to make it to the end. So I'm happy with our first time out. My dad did a good job on the keyboard today, that's all I know."
Kincaid qualified fifth and was second-quickest of the opening round with his 4.073 at 187.44 over Ron Stang. Second-round opponent Nick Agostino was shut off after the burnout, while Kincaid posted a 4.031 at 186.15. He had a bye run in the semis, using it to lay down a 4.01 at 184.52.
Riddle qualified No. 1 for the second time this season in his roots-blown Corrigan Race Fuels '89 Camaro. That gave him a bye in the first round, where he coasted to a 10.03. The Michigan driver settled back into the 3.90s with his 3.954 at 188.38 over Bill Lutz's 4.11 in the second round. His best run of the day, a 3.941 at 188.96, took out Ty Kasper and his weekend-best 3.998 in the semis.
SUPER STREET
The two quickest drivers in Super Street qualifying, Blake Denton and Dan Whetstine, were left standing in the final round. After winning the Shakedown Nationals at Virginia Motorsports Park just a few weeks ago, Denton went on to secure his first-ever PDRA victory with a wire-to-wire win in his nitrous-fed, Musi-powered '76 Camaro out of the Tommy Franklin Motorsports camp. The low qualifier was first off the line and lit up the scoreboard with a 4.713 at 156.72, while Whetstine pedaled to a 4.901 at 153.37.
"This is my first '660 Man' ever, and I've been racing PDRA for around seven years now," said Denton, who thanked Pat Musi, Mark Micke, Hoosier Racing Tires, Tommy and Judy Franklin, and girlfriend Amber Franklin for their support. "To get it this way is even better because it's a professional win and it's just a big deal. I ran both Jr. Dragster classes, Top Dragster, and now Super Street, so I've been in here for a while now."
Denton slowed to a 5.723 on a first-round single, then posted a 4.721 at 155.58 to beat inaugural Super Street winner Wes Ervin and his 4.899 in the second round. A 4.723 at 156.32 in the semifinals beat fellow Virginian Matt Schalow's 4.901 and gave him lane choice over Whetstine in the final round.
Whetstine, who qualified second in his ProCharged '91 Mustang, set low E.T. of the opening round with his 4.833 at 153.39. He stepped up with a 4.776 at 154.79 to defeat Super Street newcomer Phil Hines and his 5.11. The Maryland driver then lifted to a 6.284 on his semifinal bye run.
TOP SPORTSMAN
The Elite Top Sportsman final round was a bottles versus boost matchup, with North Carolina's Donny "Hollywood" Urban staging his nitrous-assisted '69 Camaro against Arizonan Bryan LaFlam in his supercharged '67 Mustang. Both drivers broke out, but Urban got the win with his 3.785 on a 3.79 dial-in. LaFlam posted a 3.793 on a 3.80 dial-in.
After five rounds of Top Sportsman 48 competition, Ohio drivers Gary Wojnowski and Andy Horne met up in the final round. Horne wasn't able to make the run in his '18 Mustang, while Wojnowski ran a 4.285 on a 4.26 dial-in in his '09 Cobalt to collect the home-track victory.
TOP DRAGSTER
Past Elite Top Dragster world champion Pete Maduri returned to the winner's circle after knocking out Elyria, Ohio's Robert Pickens in the final round. Pickens left .010 seconds too soon in his supercharged '07 Pickens dragster, then ran a 3.773 on a 3.73 dial-in. Driving the Bauer family's ProCharged Dynabrade '15 Chrome-Worx dragster, Maduri ran a 3.751 on a 3.74 dial-in for the win.
A huge field of Top Dragster racers was narrowed down to finalists TG Paschal and Rikki Molnar. Paschal, a past world champion from North Carolina, left the line first and posted a 4.312 on a 4.28 dial-in to turn on the final win light. Ohio's Molnar dialed a 4.22 and ran a 4.239 in the runner-up effort.
The PDRA will be back in action in three weeks at the Fulton Racing Engines North vs. South Shootout presented by Penske Racing Shocks, June 15-17, at Maryland International Raceway in Budds Creek, Maryland.