Two-time and defending world champion Tommy Franklin led the field in Switzer Dynamics Pro Nitrous presented by MoTeC Friday night at PDRA Drag Wars at GALOT Motorsports Park. Franklin used a 3.71-second pass at 202.12 to earn his second No. 1 spot of the season.
Also leading the professional classes going into Saturday eliminations are Tommy D'Aprile in Moroso Pro Boost, John DeFlorian Jr. in Liberty's Gears Extreme Pro Stock, Ronnie Smith in Drag 965 Pro Extreme Motorcycle, and Johnny Pluchino in East Side Auto Transport Pro Outlaw 632.
With a third and final qualifying session left to run Saturday morning, the PDRA's sportsman classes are currently topped by Billy Albert in MagnaFuel Elite Top Sportsman, Erica Coleman in Top Sportsman 32, Jeremy Creasman in Lucas Oil Elite Top Dragster and Bruce Mullins in Top Dragster 32. Kaylee Love is the provisional No. 1 qualifier in Coolshirt Pro Jr. Dragster with her 7.903-second pass, while Brandon Guiderise is leading Gilbert Motorsports Top Jr. Dragster with a .006 reaction time.
PRO NITROUS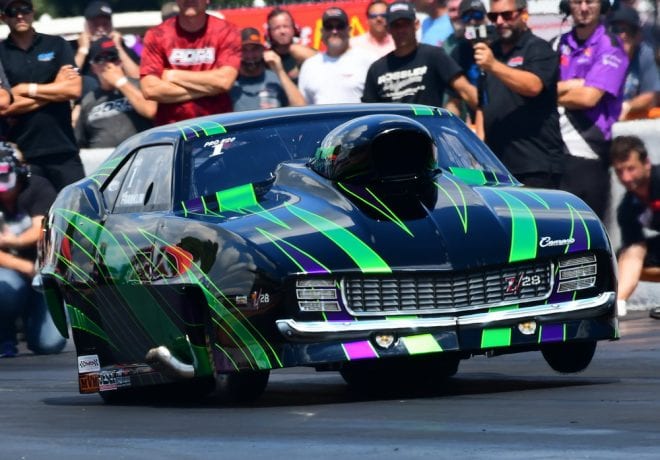 While Tommy Franklin is certainly not new to qualifying No. 1 in Pro Nitrous, the same can't be said for his new Musi-powered '69 Camaro. Nearly identical to the "Jungle Rat" '69 Camaro that he drove to the last two Pro Nitrous world championships, Franklin's new ride glided to a 3.71 at 202.12 to earn the top spot.
"This new car is starting to come around," Franklin said. "It doesn't want what the old car wanted, so we're re-learning a lot. It wasn't like we could just put in the tune-up from the old car. We're taking baby steps to get there, but tonight it showed a lot of promise. With it being a new car, we just don't know what it'll take, so I was in uncharted territory on Q3. It stuck and it was gone. As soon as I let go of the button, I knew it was on a pass. The track was killer – it was killer all day – but the air finally came around to match the track in the night session."
With his second No. 1 qualifying effort of the season, Franklin also helped engine builder Pat Musi secure the 2018 Flatout Gaskets Nitrous Wars championship. Franklin will line up next to Tyler Jenkins to begin eliminations Saturday afternoon.
Mooresville, North Carolina's Lizzy Musi continued her impressive string of performances at GALOT, claiming the No. 2 spot with a 3.727 at 205.04 in the Edelbrock '15 Dodge Dart. Points leader Jason Harris finished the day in the No. 3 slot after driving the Boone-Harris Racing "Party Time" '69 Camaro to a 3.733 at 200.80.
PRO BOOST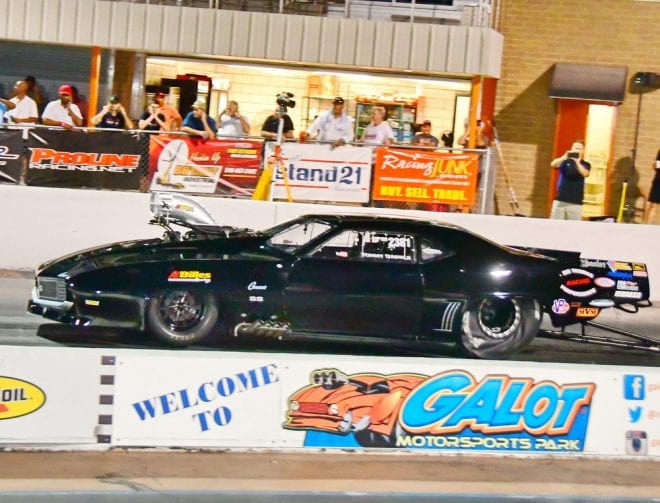 As the Pro Boost No. 1 qualifier at now four of the five contested races this season, Tommy D'Aprile has become familiar with entering eliminations with a target on his back. Driving a supercharged '69 Camaro owned and tuned by Al Billes, D'Aprile posted a 3.756 at 199.64 at the end of the final qualifying session to reclaim the No. 1 spot momentarily taken by Melanie Salemi.
"My confidence is high because of the team I'm a part of, but you never really know until you go down the track," D'Aprile said. "I stayed in it past the finish line just to be sure. Today is my dad's 80th birthday, so I wanted to get that No. 1 for him today. It was really cool to be able to do that. This is a great team and I'm humbled and blessed to be here with them."
D'Aprile will line up against Larry Higginbotham in the first round. Salemi, who was the No. 1 qualifier at Virginia in June, qualified second in her Strange Engineering "Purple Reign" '68 Firebird with a 3.77 at 198.26. Marc "Rodfather" Caruso qualified No. 3 with a 3.786 at 196.76 in his Caruso Family Racing '69 Camaro.
EXTREME PRO STOCK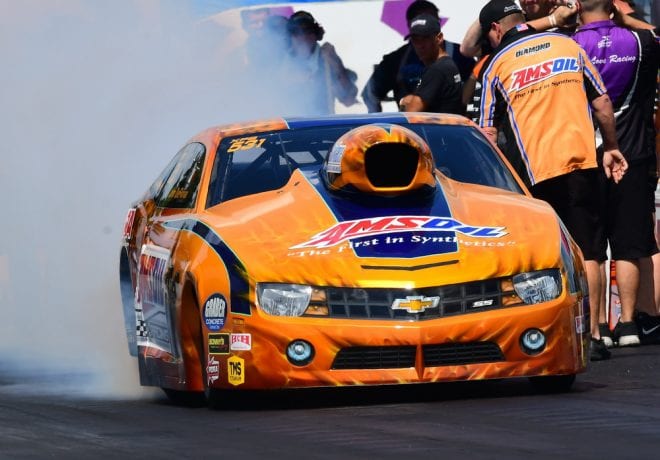 John DeFlorian Jr. returned to the No. 1 qualifying position in Extreme Pro Stock after continuously leading the pack in his Amsoil '16 Camaro during all three qualifying sessions, eventually finishing the day with a 4.071 at 177.16. After a long break from the driver's seat, it was exactly what DeFlorian needed to start off the second half of his championship chase.
"We had this momentum when we left Virginia (in June), then the Ohio race was rained out. Since we sat for two months without racing, that momentum was lost," said DeFlorian, who's now qualified No. 1 three times this season. "Then anybody can gain that momentum back starting here. We really need to pick up the momentum we left off on at Virginia and keep it going. Fortunately we made three phenomenal runs today, so I think we're off to a good start."
DeFlorian's opponent for the first round of eliminations is Jeff Dobbins, who was the No. 1 qualifier at the PDRA season opener at GALOT in April. Chris Powers in the Liberty's Gears '14 Camaro is the No. 2 qualifier with a pass of 4.102 at 174.89. Elijah Morton's new Morton Brothers Motorsports '18 Mustang made a strong first impression, carrying the spring race winner to the No. 3 spot with a 4.11 at 174.96.
PRO EXTREME MOTORCYCLE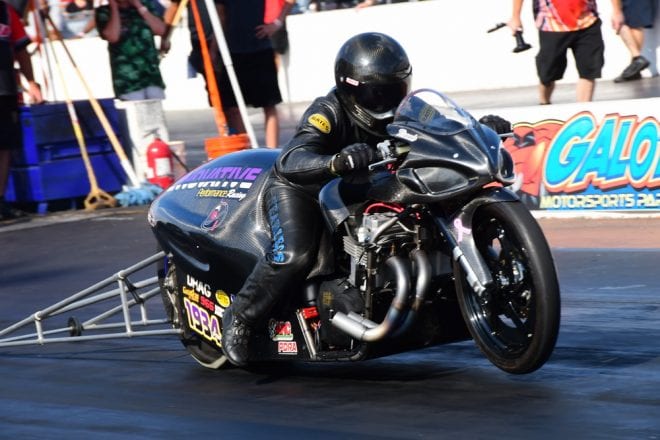 A pre-race test session paid off for Ronnie "Pro Mod" Smith, as the Maryland-based rider fired off a 4.025 at 175.43 to qualify No. 1 and set himself up on the right side of the eliminations ladder to potentially earn a semifinal bye run. Smith will face Terry Wynn in the first round of eliminations.
The turbocharged Williford Racing '18 Suzuki Hayabusa carried Virginia winner Ehren Litten to the No. 2 spot with a 4.034 at 181.79. Past event winner Brunson Grothus ended up third with a 4.053 at 175.84 on his Indocil Art Hayabusa as he looks to add to his pair of 2016 PDRA "660 Man" trophies.
PRO OUTLAW 632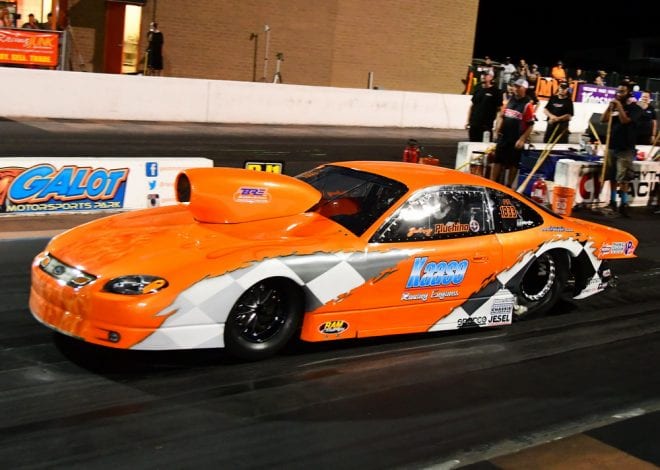 For the second race in a row, New York's Johnny Pluchino led a field full of the Southeast's best Pro Outlaw 632 cars when he recorded two of the quickest passes of the day in Dominic Addeo's '06 Ford Escort. He drove the naturally aspirated, Kaase-powered entry to a 4.258 in the first session, then lowered the boom with a 4.242 at 167.80 to wrap up the final qualifying session.
"We weren't able to make Q2 because we hurt my dad's engine (in Extreme Pro Stock) on Q1, so all of our resources went to fixing that," Pluchino said. "I didn't have a graph on Q1, so we went up there and seat-of-the-pants'ed it, felt what we felt and made a decision. With the changing conditions, we figured we could run a high .23 or low .24, but it doesn't always work out that way. We would've been No. 1 anyway with the .25, but it was nice to go out there with a .24 going into race day."
Pluchino will start eliminations with a competition bye run Saturday afternoon. Defending world champion Dillon Voss follows Pluchino in second with a 4.262 at 167.53 in the Voss Racing '17 Corvette. Jordan Ensslin is just a hundredth behind him with his pass of 4.272 at 166.85 in his Lakeland, Florida-based '02 Pontiac Trans Am.
TOP SPORTSMAN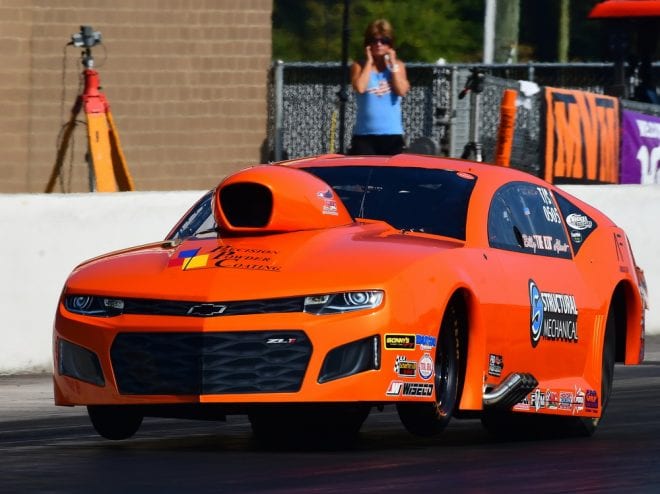 Engine builder Billy Albert powered to the top in Elite Top Sportsman behind the wheel of Stan Nance's Structural Mechanical '17 Camaro, recording a 3.818 at 197.54 to hold a sizable lead over No. 2 qualifier Don Klooster and his 4.008 at 183.42 in his Michigan-based '68 Camaro. Virginia's Jordan Wood is third with a 4.011 at 187.73 in his nitrous-assisted '14 Mustang.
With 53 Top Sportsman entries attempting a run during Friday qualifying, a 32-car Top Sportsman ladder will be set in addition to the 16-car Elite Top Sportsman field after the final qualifying session. Erica Coleman is the Top Sportsman 32 provisional No. 1 qualifier with a 4.164 at 179.09.
TOP DRAGSTER
Leicester, North Carolina's Jeremy Creasman blasted to a 3.813 at 186.72 in his ProCharger-boosted '15 Maddox dragster to hold the provisional No. 1 spot in Elite Top Dragster. Kyle Harris is chasing Creasman with a 3.858 at 190.81 in his supercharged '32 Bantam altered, as is No. 3 qualifier Alan O'Brien in his AMC-powered Race Tech dragster with a 3.93 at 188.31.
Bruce Mullins and his '07 American dragster will lead the second 16-car Top Dragster field into Saturday's final qualifying session.
The 2018 PDRA Drag Wars at GALOT Motorsports Park will continue Saturday, Sept. 8, with sportsman final qualifying at 9:30 a.m. Pre-race ceremonies are scheduled for 1:45 p.m., followed by first round of eliminations at 2 p.m.