Continuing the family legacy of drag racing, Mason McGaha and Berkley McGaha, son and daughter of NHRA Pro Stock racer Chris McGaha, attended Frank Hawley's Drag Racing School and enjoyed the insightful education of the School's popular two-day Super Comp course.
Having raced in the Jr. Drag Racing League as a youngster himself, and with 16 years of Comp Eliminator experience under his belt, Chris had attended the School in 1995. He made his NHRA Pro Stock debut in 2011, and his son Mason joined him in 2020 when the fellow former Jr. Dragster racer took the wheel of a second Harlow Sammons Racing team entry.
However, it was Chris's 16-year-old daughter, Berkley, that inspired the group to enroll in the School in the first place. "She raced a Junior a few times but never got too involved because she was focused on cheer and dance, but wanted to know what it was like to drive a big car," explained Chris of what motivated his decision to sign his children up for the experience. "I wanted Berkley to have the best experience possible before she decided to continue or not. I should have sent Mason before he started racing with me, too, to give him an advantage."
Together, the family traveled from their home in Texas to Florida's Gainesville Raceway so that the third-generation racers could attend the December 27-28 session.
Mason, 21, has already enjoyed a career in the NHRA Pro Stock doorslammer ranks alongside his father but wanted to see what driving a dragster felt like. "I figured I might as well get my Super Comp dragster license and I knew I would learn a bunch, too," added Mason, who enjoyed the new feeling of driving an open-wheel car.
Thanks to the classroom portion of the School's program, both Mason and Berkley were given the gift of valuable insights to use on the track and in life. "Frank [Hawley] really teaches you how to clear your head and not worry so much. I already knew how to drive, but his advice and philosophy really gave me an extra edge," Mason noted of the inspiring lectures. "In the car and in life, when something goes wrong, you can only change what you can control. There's no point in getting upset about anything else."
Berkley also appreciated the life lessons, as the high school student has been focusing on going to college and her impending career in business. "Frank [Hawley] gave me a lot of skills that will help me get through life, and I've been trying to apply his advice ever since the School," she affirmed.
The group headed to the track to make a few passes and receive their post-run video reviews and improvement discussions. Unsurprisingly, Mason had no issues crossing over to a long wheelbase car and obtained his competition license at the end of the session. "It was totally different than Pro Stock, where my vision in the car is limited but with the dragster, I could see everything and the air was messing with the visor on my helmet," proclaimed the young man of the difference the open-air drag racing environment made. "I enjoyed it a ton."
Berkley, however, had only driven a Jr. Dragster a handful of times when she was younger and was surprised by how big of a change it was to step up to a full-size Super Comp dragster. "It gave me a whole new perspective and it was cool to learn about racing from someone who's not my dad or brother," she laughed. Berkley didn't acclimate as quickly as her more experienced brother, but her perseverance will pay off as she plans to continue practicing. "The School gives you a whole new respect for how difficult the sport is."
Chris, too, enjoyed being back in the classroom and hearing Frank's lectures once again. For him, though, the best part was watching his kids do something he's always enjoyed himself. "I know now how my dad felt watching me race," stated Chris, who is eagerly looking forward to seeing Mason win his first event.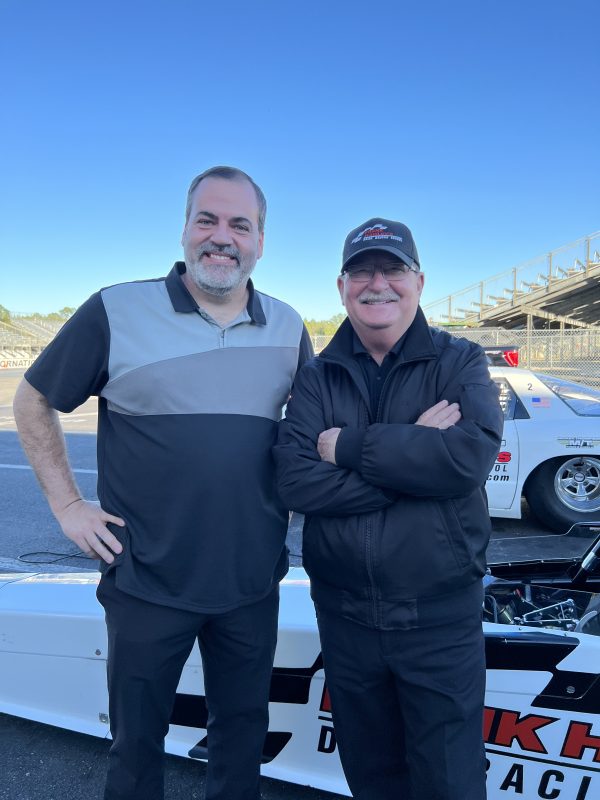 "I've followed Chris McGaha's career and he is one of the best Pro Stock drivers in our sport. I was honored to have him bring his kids to our school," shared the School's founder, Frank Hawley. "It was great working with both Mason and Berkley. They're bright young kids and with their dad Chris as their coach, they'll definitely do well."
Chris has been working on putting together a Dragster between Pro Stock outings so that Mason can dabble in the Sportsman ranks of Top Dragster, Super Comp, or Comp Eliminator if he eventually decides to do so. Regardless, the McGaha family will undoubtedly continue passionately racing in NHRA Pro Stock, but it will likely be only Chris and Mason making it happen as Berkley plans to keep the sport in more of a hobby role instead of as a professional pursuit.