There is a saying that goes like this: "That's why we don't race on paper." We can plan, plot, and scheme but when you roll up to starting line, all that planning can go out the window before you know it. As the day unfolded, points leader Cam Clark did not qualify. The gremlins jumped into the passenger seat of the beautiful H&H Camaro and the result was a No. 9 qualifying position.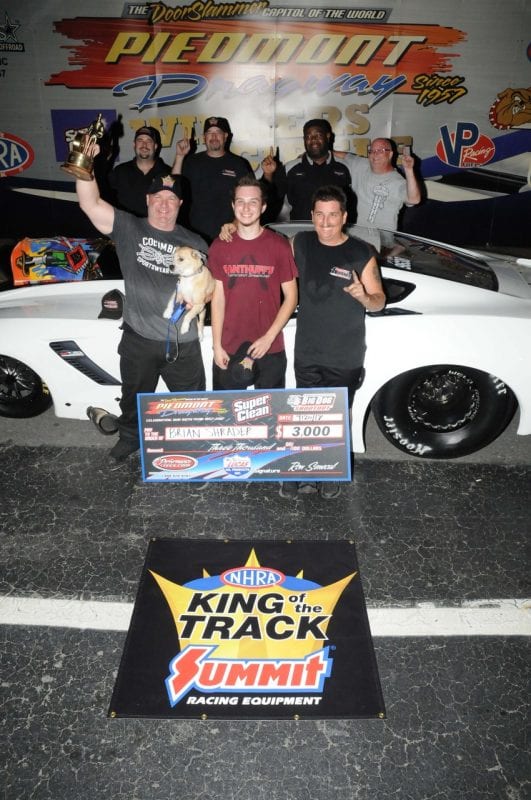 Brian Shrader would be low qualifier with Travis Harvey second and Tim Lawrence third. That meant the points for 2018 would be settled between Shrader and Lawrence if all went according to plan. Shrader's 4.001 paced Harvey's 4.02 and Lawrence's 4.022. Fourth would go to Brett Nesbitt at 4.031. Fifth was Bubba Turner at 4.032 with Justin Wall running a personal best at 4.075 for the sixth spot. Seven and eight were Danny Perry and Scott Lang, also at a personal best, with a 4.110.
First-round winners were Nesbitt, Lawrence, Harvey, and Shrader, with a 3.991. Second-round winners were Lawrence and Shrader to face off in the finals. Shrader received not only the dog trophy, but also the "Wally". This is the very first NHRA Wally ever awarded at the newly sanctioned track with three other winners also receiving the coveted trophy as part of the Summit "King of the Track" program, new for 2018.
Other winners were Chris Dean in O'Reilly Auto Parts Outlaw Door Slammer, Kyle Shipmon in the 7.49 Rico's Real Street presented by Deep Creek Motors, and Gerald Thomas won the 6.00 Raiders trophy presented by Carolina Classic Car Restoration.
This sets up the first-ever Big Dog Showdown presented by Bryant Crane & Rigging, and this event promises to have many twist and turns as it is a "Call Out Race". With positions awarded by running in the 3-second zone, then points, the order of callout will be the following: Brian Shrader, Tim Lawrence, and Bubba Turner, all having run in the 3-second zone during qualifying or eliminations. After that will come closest in points, Cam Clark. The bottom four drivers will be, in order, Brett Nesbitt, Travis Harvey, Jason Harris, and Justin Wall. Alternates will be Shannon Wilson and Scott Lang, respectively.
Other eliminators will be as follows: Top Eliminator to include 0 to 7.99 with door cars running door cars and dragsters running dragsters until no one is left. Real Street 7.49 will run as always with regular purse and the Classic Gear Jammers will be present.
All in all, a great year at the "DoorSlammer Capital of the World" with possibly the best yet to come. The date is October 11, with times on the Piedmont website. Be there for the final event of the year for the Big Dog competitors.
Story and photos by Greg Burrow