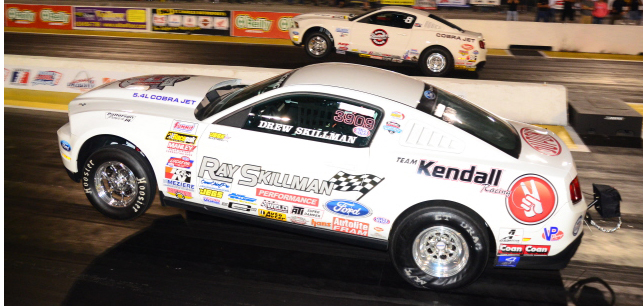 The American Drag Racing League's outrageous new SuperCar Showdown category crowned its third different champion in four completed events while the Ford Motor Company kept its unbeaten streak alive. Drew Skillman, the twenty-four year-old star who has been one of the hottest performers in the sport in 2012, earned his first SCS victory in a thrilling all-Ford duel with three-time World Champion Jimmy DeFrank at the ADRL Gateway Drags IV presented by CarSafe Automotive Repair Protection at Gateway Motorsports Parks in Madison, Illinois.
Skillman, whose most recent appearance at the ADRL Spring Drags in Bristol, Tennessee, resulted in a semi-final finish before the young Indianapolis-based racer went on to win three major NHRA titles in as many weeks, returned to all-out competition fully prepared for the ADRL's unique eighth-mile racing format. At the wheel of his Indianapolis Car Exchange 2012 Ford Mustang Cobra Jet, Skillman clocked a qualifying run of an astonishing 5.70 seconds with a finish line speed of 121.01 miles per hour to shatter the SuperCar Showdown World Records for Elapsed Time and Speed set in March during the inaugural event at Houston, Texas.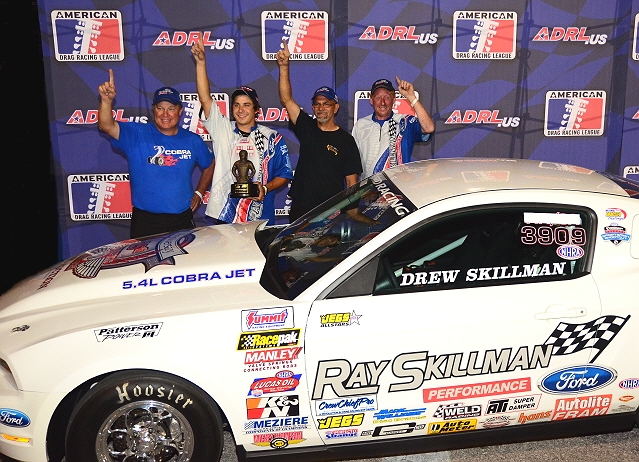 "When we last raced at Bristol, our Ford Mustang was set up for quarter-mile competition", said Skillman after the record-breaking effort. "Although my grandfather, Ray, was runner-up at that race, we knew there were ways to drastically improve our performance by preparing our team cars specifically to run the shorter eighth-mile distance. We went home and worked on a program to make the cars launch harder and run faster…and it worked".
While seventy year-old Ray Skillman was not in attendance at the Gateway Drags, Drew Skillman was joined in the program by his father, Bill Skillman, in an identically-prepared supercharged 5.4-liter 2012 Mustang which qualified third for the SuperCar Showdown with a career-best 5.87 seconds at 117.67 mph. Drew's white Cobra Jet and his father's blue entry boast the livery of Ray's huge chain of Indianapolis dealerships.
Leading the qualified field by a full six hundredths of a second over the most recent winner in the SCS series, Chris Holbrook and his record-holding Varsity Ford-sponsored Mustang Cobra Jet, Skillman opened eliminations with a blistering 5.73/120.44 victorious charge to meet Holbrook in the semi-finals. Despite Holbrook's quicker reactions, Skillman was able to chase down the Michigan driver to win by a mere 8.54 feet with another 5.73 blast at 120.61 mph.
Meanwhile, one of drag racing's most prolific champions was on a mission to meet Drew Skillman in the championship round. Jimmy DeFrank, at the helm of the Butner's Auto Sales supercharged Cobra Jet, was making an impressive debut in the SuperCar Showdown series. The owner of the California Car Cover Company clocked two consecutive runs of 5.82 seconds in eliminations, including a semi-final defeat of Drew's father, Bill. Most importantly, DeFrank had better reaction times than each of his initial opponents.
"I was more nervous before the final round than in any race in my life…including those NHRA races", confided Skillman. "Jimmy DeFrank is one of the best drivers in this sport and I knew his reaction times were excellent all through eliminations. I was sure we had a horsepower advantage but, because the ADRL races us on a professional starting system, I knew my reaction times would be critical against him".
The championship match found DeFrank producing the quickest reaction time to the green light starting signal of any driver in eliminations and the Chatsworth, Californian, led Skillman for the first third of the race. Halfway down the Gateway Motorsports Park strip, Skillman pulled alongside DeFrank and then barely nosed his opponent at the finish line by a mere 5.99 feet to win the quickest and fastest race in SCS history. Skillman recorded a victorious 5.72/120.90 to DeFrank's 5.78/120.03 which, ironically, was a career-best effort for the Butner's Auto Sales Mustang.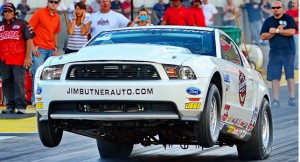 "We've been lucky to have won so many titles this year", said Skillman after passing a post-race technical inspection to verify his Mustang's compliance with SCS rules which mandate the engines, chassis and even tires of all entries remain in factory production trim.
"This race was special, though. To make a clean sweep of the event as the low qualifier while setting both the elapsed time and speed records and beating Jimmy in such a close race, it was really a dream weekend. My dad and our crew is elated and I'm sure my grandfather will be, too. Our sponsors Kendall Oil, DuPont Paint and, most of all, the Indianapolis Car Exchange make it possible to do this and to keep winning for them is our priority. Of course, Jesse Kershaw of Ford and our engine builder, Patterson Racing Engines, are going to be thrilled, too. This Ford Mustang made six straight runs over two days between 5.70 seconds and 5.75 seconds and every run was quicker than the World Record coming into this race! We're going to ride this wave as long as we can and I already can't wait for the next SuperCar Showdown!".
The next event in the 2012 SuperCar Showdown Series will be the American Drag Racing League's U.S. Drags V at Virginia Motorsports Park in Petersburg, Virginia, on June 22-23.
Story courtesy of Bret Kepner
Photos courtesy of Ian Tocher