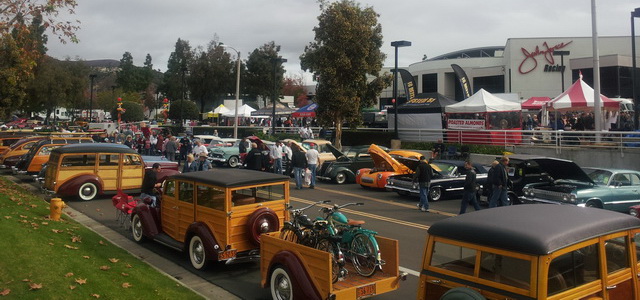 The 15th annual John Force Racing Holiday Car Show was a huge success, even if the weather did not cooperate. Intermittent rain showers dampened some cars, but not the spirits of the thousands of fans who turned out Dec. 2, at the team's headquarters in Yorba Linda, California.
Toys once again piled up for the California Highway Patrol's "CHiPs for Kids Toy Drive" and fans toured the 17-time NHRA Funny Car championship facility throughout the day. A number of John Force's early Funny Cars were on display for the first time, as well as the Destination Force Funny Car.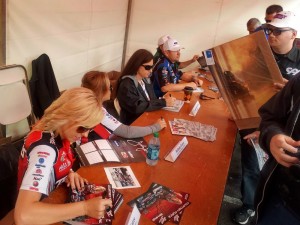 "I was really pleased with the turn-out and I knew Mother Nature wouldn't stop us," said John Force, 15-time Funny Car champion and host of the annual event. "I want to thank our sponsors Auto Club of Southern California and System 51 as well as the men and women of the California Highway Patrol.
"Special thanks of course, goes to Funny Car champion Jack Beckman, Cory McClenathan, and Tom 'Mongoose' McEwen for signing autographs with all our JFR drivers."
The Sunday event capped a four day coast-to-coast trek for Force who on Thursday morning was part of the 25th annual PRI breakfast with SPEED TV's Dave Despain, host of WindTunnel. Force entertained and Despain, brought out some compelling answers from the winningest driver in NHRA in front of the capacity crowd of over 3,000 attendees.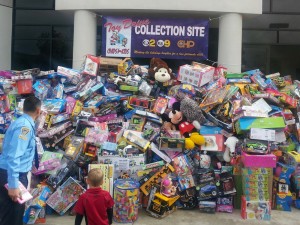 Immediately after the breakfast Force signed autographs and chatted with fans at the Ford Racing display before jumping on a plane to fly back to Los Angeles for a busy weekend.
Sandwiched between the PRI Show and the John Force Holiday Car Show was an appearance at the LA Auto Show on Saturday night.
Force was joined by 2009 NHRA Funny Car champion Robert Hight, Automobile Club Road to the Future winner and Funny Car rising star Courtney Force and anticipated rookie Top Fuel driver Brittany Force at the Auto Club exhibit. The quartet of drivers spent two hours talking with fans and signing autographs before touring some of the LA Auto Show.
"I don't do vacations very well. Robert and I were in Indy before the PRI Show already getting cars together to go testing in a couple of weeks in West Palm, Florida," Force said.
"Doing the PRI Show with Dave Despain was big because he is one of the biggest names in motorsports media. It was a great interview and I want to thank PRI and Dave Despain for having me out there.
"The LA Auto Show is always a big deal and to be able to do it right before our Holiday Car Show was nice. I saw a lot of people at the LA Auto Show on Saturday and then at our show on Sunday."