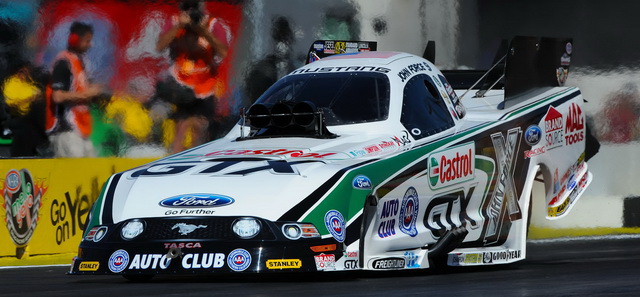 On a track on which he won his milestone 100th NHRA tour event, thereby becoming the first and only pro driver to reach that plateau, John Force this week tries to win for the 135th time and, in so doing, extend one of the most remarkable records in pro sports.
The 63-year-old straight-line racing legend sends his 10,000 horsepower Castrol GTX Ford Mustang into the 26th annual O'Reilly Auto Parts Spring Nationals with a legitimate shot at winning an NHRA tour event for the 26th season and for the eighth time at Royal Purple Raceway.
No one, not Richard Petty, not A.J. Foyt, not even Mario Andretti ever won at one of auto racing's premier levels over a longer period.  "King Richard" came closest with NASCAR Cup wins in 23 seasons.
The thing that really sets Force apart, however, is that he's still winning.  Not only did he win last year's season-opening O'Reilly Winternationals at Pomona, Calif., he also prevailed in the inaugural Traxxas Nitro Shootout, earning a $100,000 bonus in the process.
In fact, the former truck driver has failed to win an NHRA tour event in just one of the last 26 years and claimed the most recent of his record 15 NHRA Funny Car championships in 2010, at the age of 61. Furthermore, now that he is approaching what used to be mandatory retirement age, he shows no signs of slowing down.
So, even though he has advanced out of the first round just once in the season's first five races – and comes in only 12th in the Mello Yello Funny Car standings, Force is not overly concerned.
"As long as we can stay close, we'll be fine," said the 2012 inductee into the International Motorsports Hall of Fame.  "It's all about the Countdown (the NHRA's version of the playoffs).  We're just trying to get our hot rod right for those last six races."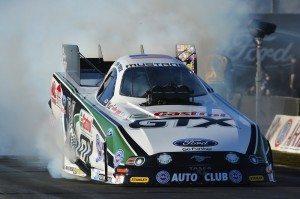 Despite his slow start, Force is excited to be back in Texas, not only on a track on which he has won seven times previously, but one on which his crew chief, Mike Neff, won last year when he was doing double-duty as both driver and crew chief.
"It's good to be back racing with Neff (with whom he won the 2010 championship) instead of against him," Force said.  "We've struggled but we're working through it.
"It's a different car and I'm trying to get comfortable with it.  We made some changes this week to make me a little more comfortable.  We're ready to get after it."
(Photos courtesy JFR; Click to enlarge)